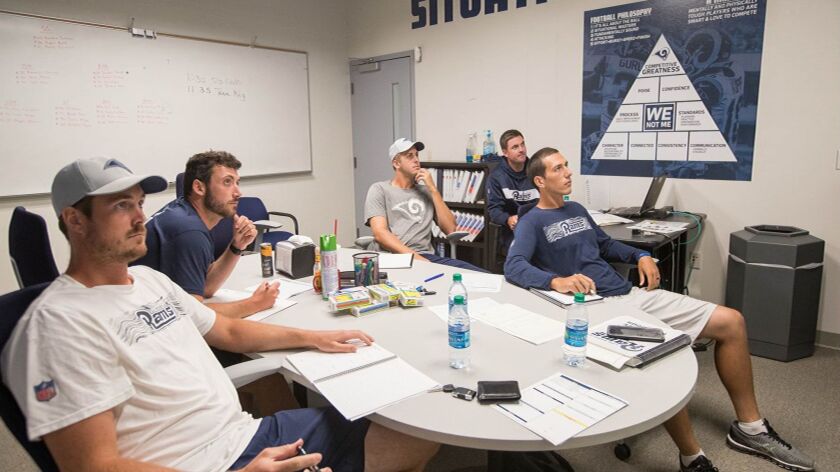 The night before every game of the 2017 season, Rams quarterbacks Jared Goff, Sean Mannion and Brandon Allen each picked a play they thought would result in the Rams' first touchdown.
To win, they had to choose the correct play, and the Rams had to win the game.
Goff was spot-on with his pick in Week 11 at Minnesota.
"I turned around and looked right at Sean on the sideline," Goff says.
But the Rams lost.
Rams quarterbacks will probably reprise the game within a game this season. It's among the diversions for a group that spends long hours together in the same room learning plays and concepts, absorbing critiques and dissecting opposing defenses.
"It has to be light," Mannion says of the atmosphere, "or you'd drive each other insane."
Since reporting for training camp in late July, the ironman baseball career of Nolan Ryan, the 2002 San Francisco Giants and the finer points of bowling lanes were among the topics Goff, Mannion, Allen and rookie Luis Perez discussed in the Rams quarterback room when coach Zac Taylor was not quizzing them.
"They know when it's time to flip the switch and we've got to get work done," Taylor says.
Most position groups feature multiple players on the field at the same time. One quarterback directs the offense.
In a best-case scenario, the other quarterbacks support him. But if personalities do not jibe in a place where they spend hours together preparing, it can make for "weird" dynamic, Goff says.
"It's a bunch of alphas in the same room that have played their whole life," he says, "and now only one of 'em is playing."
For the Rams that's Goff, a third-year pro coming off a Pro Bowl season. Mannion, a three-year veteran in the final year of his rookie contract, is a veteran backup. Allen is in his third NFL season, and Perez is trying to make the roster for his first.
All described their quarterback room as one full of collaborative spirit.
"We all have our input on things and I think we all have our strengths and bring different things to the room," Goff says. "Sean is extremely smart and helps me in a lot of ways. He knows things just being in the league a little longer and being in a pro-style system.
"Brandon brings his own style, and Luis in his way is learning and catching up to speed."
As he begins his third NFL season, Goff is playing for his third quarterbacks coach. Chris Weinke held the position under former coach Jeff Fisher. Greg Olson filled the role last season.
Taylor, 35, played quarterback at Nebraska, went to training camp with the Tampa Bay Buccaneers and spent a season in the Canadian Football League. He coached at Texas A&M, with the Miami Dolphins and at the University of Cincinnati before joining the Rams staff last season as assistant receivers coach. Coach Sean McVay promoted Taylor to quarterbacks coach when Olson left to become the Oakland Raiders' offensive coordinator.
"These are smart guys that teach me something every now and then," Taylor says of his charges.
Goff's introduction to an NFL quarterback room had all the makings for conflict.
In 2016, he was a rookie, the much-ballyhooed No. 1 overall draft pick and the future of the franchise. Case Keenum was the veteran and incumbent starter, Mannion a second-year pro.
Keenum eased a potentially difficult dynamic.
"He handled it like a pro," Goff says, "so it wasn't weird."
Last season, Goff was the starter in a room that worked together to learn McVay's offense.
Now they are attempting to master it.
Mannion, 26, said his role has evolved since walking into a St. Louis Rams quarterback room that included Keenum and Nick Foles.
"As a rookie, you're just trying to soak up as much as you can, try to find your footing and learn how the veterans prepare," he says. "You pick your spots.
"Now I'm the oldest guy in the room. I feel much more inclined to talk about a concept or say 'what do you think of reading it this way?' … You feel way more comfortable putting your two cents in there."
Allen considers it his job to help prepare Goff, whether that's taking extra reps, helping with reads or providing feedback.
He cannot let his mind drift, lest Taylor call on him with a question.
"He goes to everyone pretty much evenly," Allen says. "He makes sure that whole room is on point."
Perez, an undrafted free agent, contributes but picks his spots.
"I sit back, I learn, with something I do know I speak up," he says. "But if not, I'm just in there soaking everything up."
The Rams are preparing for the Sept. 10 opener against the Oakland Raiders on "Monday Night Football."
Once they get to game week, that will allow for an extra day of preparation.
Typically, Mondays in the quarterback room are spent reviewing the previous days' game and preparing for the week ahead. Players are off Tuesdays, but Goff says Rams quarterbacks come in for a few hours. They prepare for first- and second-down situations on Wednesdays, third-down situations on Thursdays and red-zone situations on Fridays before reviewing the game plan on Saturdays.
"Some of the best conversations we have are at the hotel on Saturday night," Mannion says. "By the end of it, maybe there's a call or concept that you didn't really totally feel comfortable with, but after that great discussion, you wind up feeling way better about it."
---