Rams linebacker Robert Quinn raises his fist during the playing of the national anthem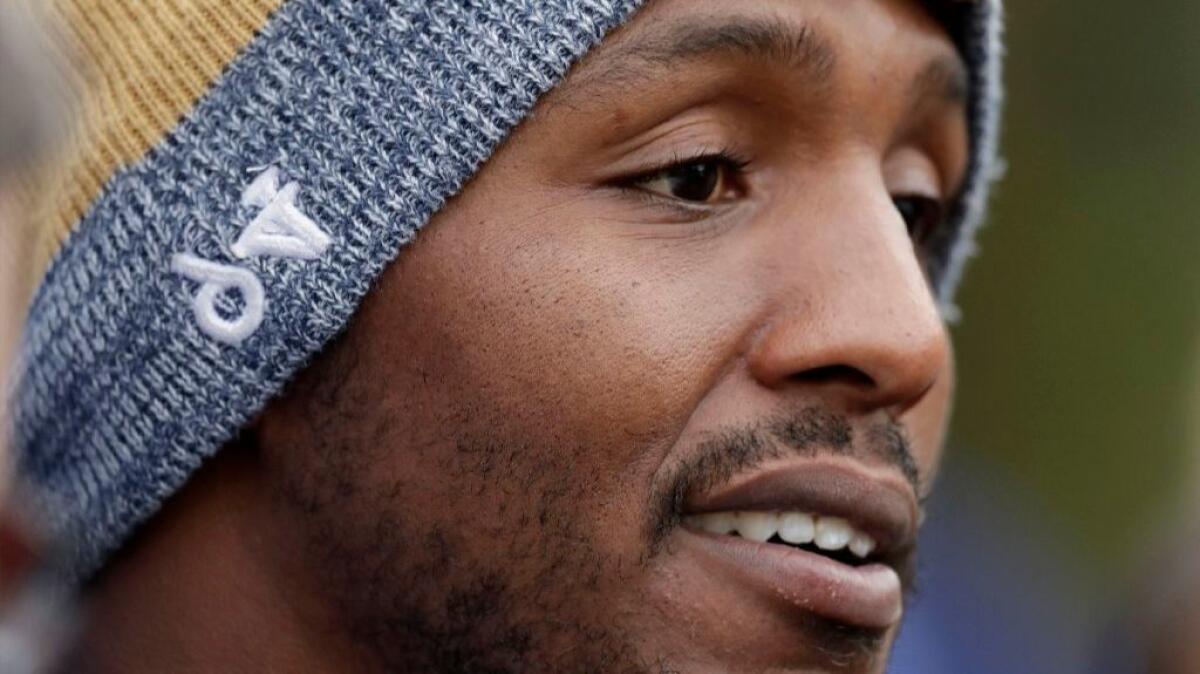 Rams linebacker Robert Quinn stood on the sideline and raised a fist during the playing of the national anthem before Saturday's preseason game against the Cowboys, continuing a practice he started last season.
"It's not to cause a scene," Quinn said Monday after practice. "To me, it's more awareness and a sense don't forget where you come from."
Last season, San Francisco 49ers quarterback Colin Kaepernick sat or kneeled during the anthem to protest what he says is police brutality and racial oppression in the United States. Kaepernick is now an unsigned free agent.
For Quinn, raising a fist represents more than a protest.
"It's… not only just a stance but an appreciation to honestly the ancestors that made the way for and gave opportunities for me and others that came along the way," Quinn said. "It's more of an appreciation and a stance that not all has been forgotten."
Quinn said he discussed raising a fist with coach Sean McVay to ensure he would not become a distraction. McVay, like former coach Jeff Fisher, insisted that he stand with the team, Quinn said, but did not discourage him from expressing himself.
"I've got a lot of respect for what the national anthem represents for our country but everybody has their own reasons or certain beliefs," McVay said. "I think you want to be respectful and mindful of that but I think we want to allow guys to express themselves in whatever way they see fit.
"And Robert's a guy that's well thought through. As long as it's respectful then I think everybody's entitled to handle it the way they want to."
Times staff writer Gary Klein contributed to this report
Follow Lindsey Thiry on Twitter @LindseyThiry
Get the latest on L.A.'s teams in the daily Sports Report newsletter.
You may occasionally receive promotional content from the Los Angeles Times.