Eric Dickerson understands what Rams' Aaron Donald is going through with his holdout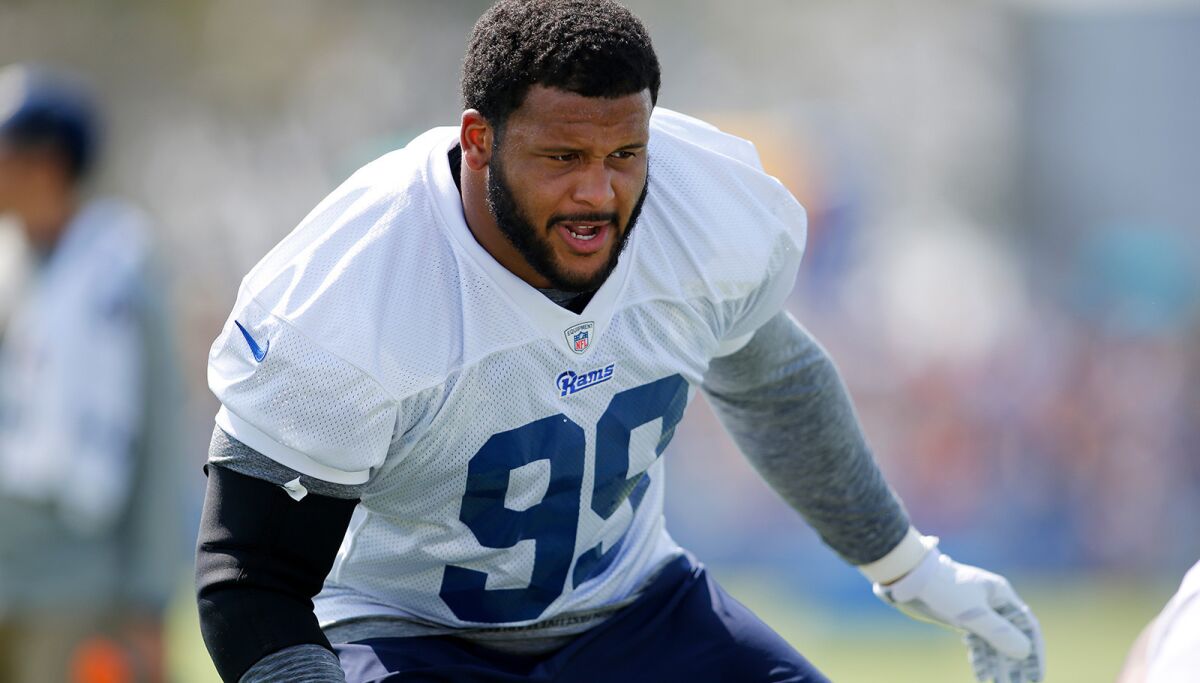 Eric Dickerson knows about holdouts.
The Hall of Fame running back staged one in 1985 when he played for the Rams and another in 1990 when he played for the Indianapolis Colts.
With less than two weeks before the Sept. 10 season opener, Rams defensive lineman Aaron Donald remains a holdout because of contract dispute.
On Tuesday, after Dickerson signed a one-day contract that enabled him to retire as a Ram — and joined the organization as a vice president of business development — he said Donald's situation was familiar.
"When I held out it was no fun and I'm sure it's not fun for Aaron Donald," Dickerson said during a news conference, adding, "I've been in Aaron Donald's shoes, he wants to come back here very badly. Trust me, I know how a football player thinks.
"You want to get paid because this is, you do it for a living. This is his job. I know he's not trying to be selfish with his football team, but like anything else, he has to take care of him and also the team has to move forward too."
The Rams play their final preseason game Thursday night against the Green Bay Packers at Lambeau Field.
The roster will then be cut from 90 to 53 players Saturday and coach Sean McVay and his team will commence intense game-week preparation for the Colts.
Will Donald be a part of it?
After Dickerson's news conference, general manager Les Snead declined to provide details about where negotiations stood with Donald, who has two years remaining on his contract and is believed to be seeking a restructured deal that would make him the NFL's highest-paid defensive player.
"We'll continue keeping the details in house," Snead said. "I think it's best for all parties."
Asked if Donald would have to report this week to be able to play in the opener, Snead said "that would probably be a safe assumption."
Donald is scheduled to earn $1.8 million this season and about $6.9 million in 2018.
NFL players are paid during the regular season, so if Donald fails to report he will start to lose game checks.
Snead said the Rams remain in contact with Donald's representatives.
"I do know, in this situation, we have definitely tried to come up with creative scenarios to get this done," Snead said.
Rams running back Todd Gurley said he hoped Donald would return but cautioned that Donald would "be hurtin' " initially after missing training camp and preseason games.
"I work out three times a day during the offseason and you know, you come back that first day of practice … that's just football for you.
"So, you know, it takes some time. But I'm pretty sure he's grinding, but you know, it's definitely different just playing the game."
The Rams — especially McVay and defensive coordinator Wade Phillips — will no doubt welcome back Donald whenever he returns.
Snead said Donald was on pace to be a Hall of Famer.
"If there's a race to the gold jacket, he's started strong," Snead said. "Any time you have that type of player you definitely want them here, short term as well as long term."
Dickerson, who wore his gold Hall of Fame jacket to his news conference, sounded confident that Donald would be back.
"I'm truly an Aaron Donald fan and I'm for him no matter what because I'm always a player first most definitely," Dickerson said, "but he'll be back for sure."
Etc.
Dickerson said "my heart was broken when I left the Rams." Dickerson, who retired in 1993 after an 11-year NFL career with four teams, also works as a radio show host and analyst for Fox sports. Last season, Dickerson was not shy about criticizing the Rams, and he feuded with former coach Jeff Fisher. On Tuesday, he told McVay, "If you play well I'm going to say you're playing well. If you're not playing good, then you're going to hear it from me. I'm your biggest fan and your biggest critic. That is just me."
Follow Gary Klein on Twitter @latimesklein
---
Get the latest on L.A.'s teams in the daily Sports Report newsletter.
You may occasionally receive promotional content from the Los Angeles Times.