For Rams coach Sean McVay, facing the Washington Redskins will be a unique experience
It's going to be "weird."
Rams coach Sean McVay acknowledged as much this week when asked if it would be difficult to separate his emotional connection to the Washington Redskins with scheming to defeat them on Sunday at the Coliseum.
McVay, at 31 the youngest coach in modern NFL history, was a member of the Redskins staff for seven seasons, the last three as offensive coordinator.
"So many people in that organization have been instrumental in helping me get this position," McVay said. "But, once that game starts it's just like any other game and we're going to do the best that we can to compete to go win it."
McVay is undefeated as a head coach after the Rams routed the Indianapolis Colts 46-9 on Sunday in the season opener.
Now he is preparing to coach against Jay Gruden, a mentor who elevated him from tight ends coach to offensive coordinator and charged him with developing quarterback Kirk Cousins.
"He's taught me a large portion of things that I know and things that we do here," McVay said.
McVay is not the only Rams coach with a Washington background.
Linebackers coach Joe Barry, cornerbacks coach Aubrey Pleasant and tight ends coach Shane Waldron were members of Gruden's Redskins staff. Offensive coordinator Matt LaFleur also coached with McVay in Washington under former coach Mike Shanahan.
Gruden was among those who reached out after the Rams' victory over the Colts, McVay said.
"I've got a great relationship with a lot those people in Washington and I'm always pulling for those guys, except for this coming week," he said.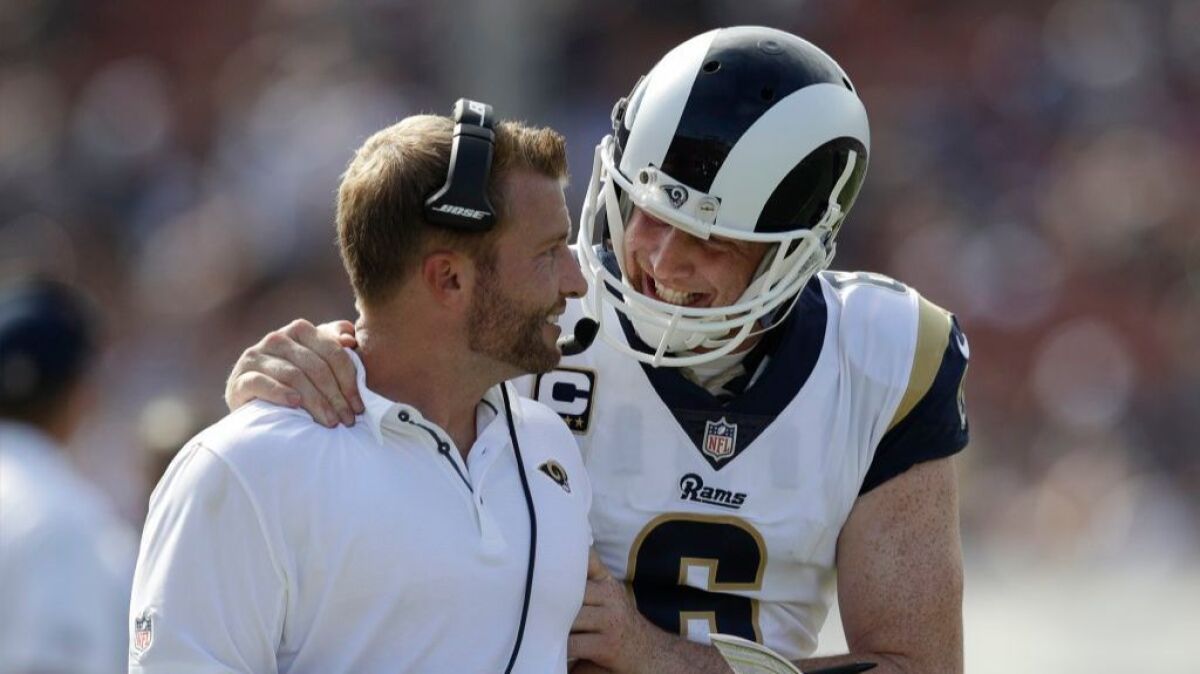 Before the season opener, McVay said that he did not sleep much in the days leading up to games, regardless of the opponent. He does not anticipate spending extra time preparing for his former team, a 30-17 loser to the Philadelphia Eagles in its opener.
"I'll probably be cranky later on in the week like I am normally," he joked.
When the game is over, McVay is looking forward to leveraging his Washington relationships as the Rams prepare for matchups against shared opponents.
This season, both the Rams and Redskins play the Eagles, the Dallas Cowboys, New York Giants, San Francisco 49ers, Arizona Cardinals, Seattle Seahawks, Minnesota Vikings and New Orleans Saints.
"We can kind of try to be able to help each other out as we move forward into the regular season, getting deeper into it," McVay said.
McVay helped build the Redskins' offense into one of the NFL's most productive units in 2016. He called on that experience while implementing and calling plays for a Rams offense that showed promise in the opener.
The Redskins and new offensive coordinator Matt Cavanaugh could see a slightly different Rams defense than the one that dominated and produced 16 points against the Colts.
Lineman Aaron Donald ended his holdout on Saturday and is expected to practice Wednesday. McVay said Monday that "the goal" was for Donald to play.
"Just getting him back in here is the first step," McVay said.
Donald was listed among the projected starters on the unofficial depth chart. But it seems unlikely that the Rams would expose one of their most valued assets to an overly heavy workload on game day after one week of practice.
Donald, even in a limited capacity, would bolster a pass-rushing front that includes Robert Quinn, who appears to be physically sound.
Quinn moved from end to edge-rushing linebacker in defensive coordinator Wade Phillips' 3-4 scheme. He was held out of preseason games so that he would be ready for the opener, and the strategy appeared to pay off.
Quinn recorded a sack and another tackle for a loss in the same series against the Colts.
"When No. 94 is right, you feel him and he is an elite rusher and he certainly looked like that guy" against the Colts, McVay said.
Quinn said the entire Rams team has responded to McVay.
"He raised our accountability level, our standards," Quinn said after the game. "And I think guys are having fun.
"It's a game you know, so you better have some fun."
Etc.
The Rams signed offensive tackle Cornelius Lucas and waived offensive lineman J.J. Dielman and defensive lineman Quinton Jefferson. Offensive lineman Jake Eldrenkamp also was released from the practice squad. Lucas played at Kansas State and signed with the Detroit Lions as an undrafted free agent in 2014. Lucas, who has three NFL starts, was released by the Lions last week. … The Rams were off Tuesday. They resume practice Wednesday.
Follow Gary Klein on Twitter @latimesklein
---
Get the latest on L.A.'s teams in the daily Sports Report newsletter.
You may occasionally receive promotional content from the Los Angeles Times.