Todd Gurley celebrates the fact that he doesn't have to carry entire load for Rams' offense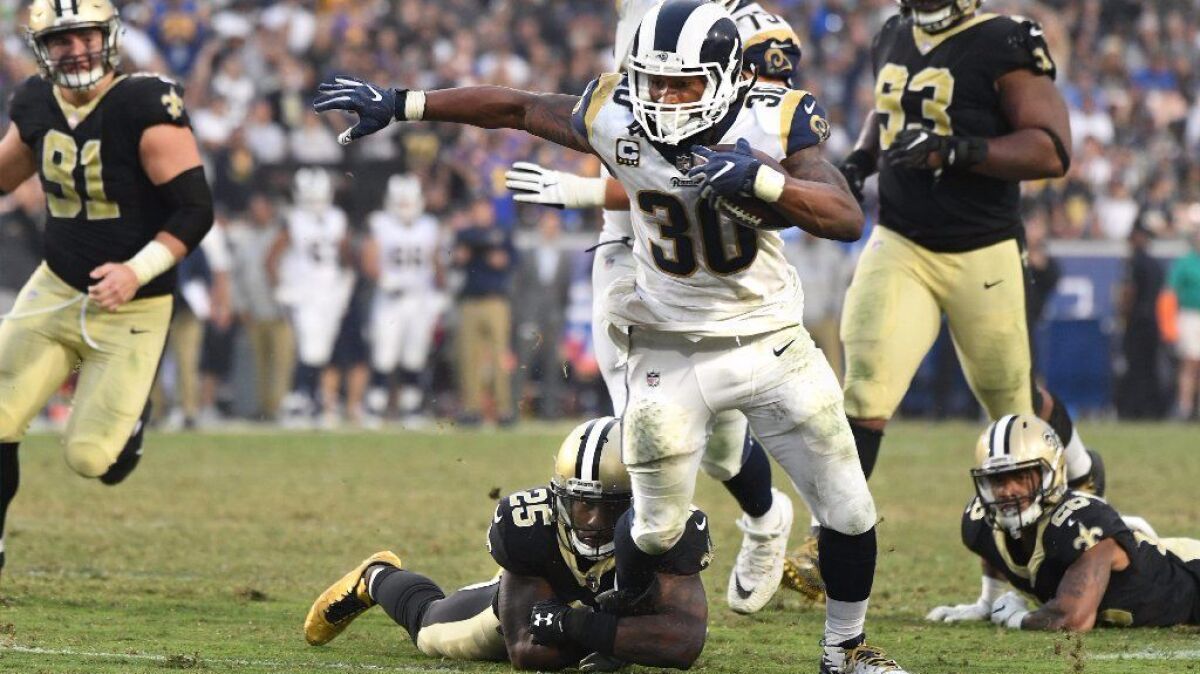 They are among the NFL's highest-scoring teams, but the Rams do not generate much buzz for end-zone celebrations.
"Bad chemistry on the celebrating, but it's whatever," running back Todd Gurley said Thursday. "We get in there so much we don't have to do it every time, so it's cool."
Gurley has scored a league-best 11 of the Rams' 33 touchdowns. His 66 points are the most in the NFL by a player other than kickers.
As of late, however, coach Sean McVay has reduced the third-year pro's carries.
Gurley, who has rushed for eight touchdowns and caught three touchdown passes, is not complaining.
The Rams are 8-3 and in first place in the NFC West heading into Sunday's division road game against the Arizona Cardinals.
"I'm a running back — I'm always going to want more," said Gurley, who ranks third in the NFL with 865 yards rushing. "But Coach knows what he's doing.
"He's doing the best for the team."
Through the first seven games, Gurley averaged nearly 21 carries, and eclipsed the 100-yard rushing mark three times.
In the last four games, he has averaged just under 15 carries and has run for as many 70 yards once.
In last week's 26-20 victory over the New Orleans Saints, Gurley gained 74 yards in 17 carries, and caught four passes for 54 yards.
McVay said this week that he limited Gurley's carries against the Saints because of heightened responsibilities in pass protection. The Saints were down two starting cornerbacks because of injuries, and the Rams went after their replacements throughout the game.
Gurley said Thursday that he had no issue with McVay turning to players such as receiver Sammy Watkins to take advantage of the situation.
"As long as we're winning, I'm cool," Gurley said. "Everybody's roles are going to have to decrease. I can't get the ball every time ...
"It's not all, 'If Todd doesn't get the ball 20 times, we're going to lose.' That's a good thing.
"Even from teams seeing that, 'Oh, they didn't use Todd, but they're still having a great game.' So, for us just to have players on the team that can step up like that and play their role is amazing."
As the Rams gear up for the last five games of the season — and a possible playoff run — McVay and his training and conditioning staff are meticulously monitoring the 6-foot-1, 227-pound Gurley.
He is averaging 78.6 yards rushing per game, which ranks sixth in the NFL. He is fifth in the league with 18.5 carries per game.
Gurley's 865 yards rushing in 11 games is only 20 fewer than he amassed in 16 games last season.
"This year I've been fresher, been able to recover well," he said. "Thank God I've been able to be healthy and be able to survive a whole 11, 12 games so far.
"It's definitely not easy being able to play in this league week-in and week-out."
The Rams want to be "smart" with Gurley as they project his workload through a 16-game schedule and, possibly, a playoff run, McVay said.
"Especially with a player that's as important as he is, and kind of a focal point of our offense," McVay said, adding. "That's really a week-by-week, game-by-game approach."
As for end-zone celebrations, Gurley said he did not give much thought to developing one when the NFL loosened its policy this season.
"I'm too big to be dancing," he said. "That's not my game."
Gurley, though, was involved in a celebration after receiver Robert Woods scored a touchdown against the Giants in Week 9.
"It would be cool," he said, when asked if there would be more choreographed routines going forward, "but I don't have all day to be trying to do a whole cha-cha slide and the electric slide rehearsal — and then you plan one thing and then you get in the game and it doesn't go well.
"But, we'll have to work on that sooner or later."
Receiver Josh Reynolds (ankle) returned to practice. ... Woods, who suffered a shoulder injury against the Minnesota Vikings, is probably more likely to return in two weeks against the Seattle Seahawks than next week against the Philadelphia Eagles, McVay said. ... Kicker Greg Zuerlein was named the NFC special teams player of the month for the second time this season. Zuerlein is the first player in NFL history to win the NFC recognition in consecutive months.
Follow Gary Klein on Twitter @latimesklein
Get the latest on L.A.'s teams in the daily Sports Report newsletter.
You may occasionally receive promotional content from the Los Angeles Times.