McVay says Rams starters will play in preseason game against Texans, meaning Ndamukong Suh finally gets to bust a gut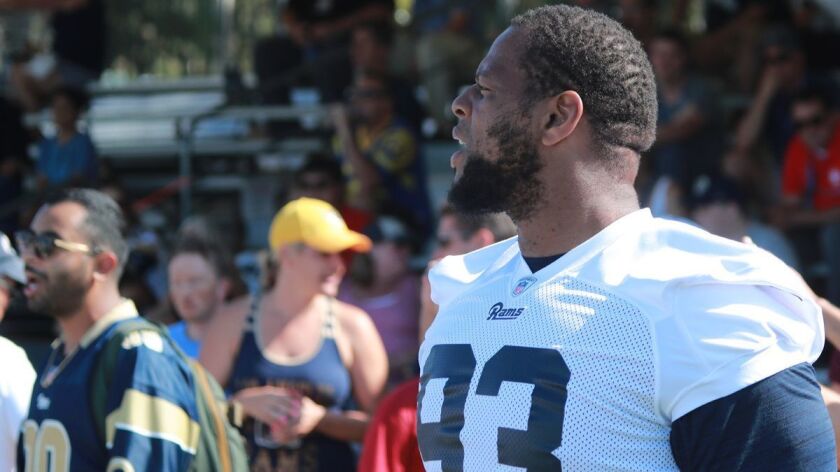 He did not play in the Rams' first two preseason games, but defensive tackle Ndamukong Suh still caused an NFL stir with what some perceived as a hit on his former team, the Miami Dolphins.
Carolina Panthers running back Christian McCaffrey broke loose for a long touchdown run against the Dolphins last Friday, a play the NFL featured on its Instagram account.
Suh posted the comment: "Right up the Gut lol"
On Tuesday, Suh said it was all in fun.
"I got an opportunity to comment like any other person on Instagram," Suh said after practice, adding, "Really made an observation any blind man could see."
Suh said he did not intend to disrespect the Dolphins, who signed him to a six-year, $114-million contract in 2015, but released him after last season. He said he spoke with Dolphins owner Stephen Ross a few days ago.
"No hard feelings there," said Suh, who signed a one-year, $14-million contract with the Rams. "It's a business, and how I look at it is people had to move on from me and I'm happy where I'm at right now."
Rams coach Sean McVay has said that starters will play in Saturday's preseason game against the Houston Texans. Suh welcomes the opportunity for "real, live game action," after sitting out against the Baltimore Ravens and Oakland Raiders.
Suh participated in the Rams' two joint practices with the Ravens, noting players cannot hit the quarterback in those workouts.
"But in these games, we can," he said. "It's always good to get a couple bumps, hits and get to the real thing in Week 1."
Still searching
The Rams put free-agent linebacker Junior Galette through a physical Monday but did not put him through a workout and will not sign him, McVay said.
Galette has 34.5 sacks but missed two seasons because of Achilles' injuries and has been involved in several off-the-field incidents. He did not fail the physical, McVay said.
"It just didn't work out for reasons that we'll keep inside," McVay said, adding, "Obviously, you know the history and things like that, but it didn't work out with us."
The Rams linebacker corps remains a question mark, especially at the outside spots.
Second-year pro Samson Ebukam is projected to start and has played in the first two preseason games to gain experience. Matt Longacre was projected as a possible starter but is coming off back surgery and has been slowed by a biceps injury. Rookie Justin Lawler has played well but rookie Ogbonnia Okoronkwo's recovery from foot surgery has been slower than expected.
Defensive lineman Dominique Easley, who came off the physically unable to perform list Monday, worked out at outside linebacker Tuesday, defensive coordinator Wade Phillips said. Easley sat out last season recovering from his third major knee injury dating to college at Florida.
Given Easley's injury history, he might be a better fit as an outside linebacker rather than inside, Phillips said.
"You're not pounding against a 300-something-pound guy every day," Phillips said, adding, "This gives him a little more freedom to utilize his ability."
Will the Rams continue to look for a free-agent pass rusher?
"You're always looking at, God forbid, some contingency plans if it doesn't work out with those guys," McVay said about the players on the roster. "But we do have a lot of confidence — if they're able to stay healthy — in the group that we've got on our roster right now."
Etc.
McVay said tight end Gerald Everett (shoulder), running back Justin Davis (hamstring) and receiver Josh Reynolds (ankle) are not expected to play against the Texans. ... McVay said he has not spoken recently to holdout defensive tackle Aaron Donald. Asked if he had plans for upcoming conversations, he said, "I'll reach out to him, but these guys are doing such a good job that are here right now. Couldn't be more impressed and pleased with these guys that are here."… Phillips, an NFL coach since 1976, on how the philosophy on playing starters in preseason games has changed: "It has changed since I've been in the league. Of course, they had leather helmets when I first came in."
Follow Gary Klein on Twitter @latimesklein
---
Get the latest on L.A.'s teams in the daily Sports Report newsletter.
You may occasionally receive promotional content from the Los Angeles Times.