Rams' John Kelly and Justin Davis feel prepared to fill the shoes of injured back Malcolm Brown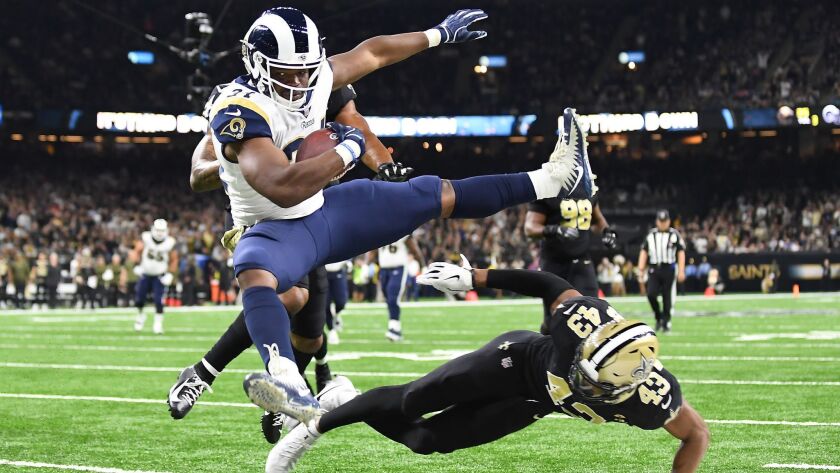 The game-day routine for Rams rookie John Kelly has been the same: Participate in warmups and change into a sweatsuit before kickoff.
But on Sunday night, the running back will be active for the first time and could make his NFL debut against the Chicago Bears at Soldier Field.
Kelly and second-year pro Justin Davis are stepping in for Malcolm Brown, who doubles as Todd Gurley's backup and special-teams standout. Brown suffered a clavicle injury in Week 13 against the Detroit Lions and coach Sean McVay said Wednesday that Brown probably would be put on injured reserve.
"My first game, so I'm excited," said Kelly, a sixth-round draft pick from Tennessee. "We got some big shoes to fill."
How and when Kelly and Davis are deployed will be predicated on the game situation and how they practiced, McVay said.
"We have a lot of confidence in Justin and John to step up, and they'll be needed," McVay said. "And they'll be needed to do it in a hurry."
Davis has played on special teams in eight games this season.
The situation this week, Davis said, is exactly what McVay has talked about since he was hired as coach before the 2017 season.
"That's why I'm on the team," Davis said, "in case somebody goes down, I've got to be right there to pick 'em up."
Davis has only one NFL carry. He gained one yard in the 2017 opener against the Indianapolis Colts. The former USC running back said position coach Skip Peete and Gurley and Brown have helped him since his rookie season.
"They always make sure I'm on top of my stuff, so nothing changes [on Sunday]," he said. "It's going to be fun."
That's how Kelly described the prospect of playing.
During the preseason, Kelly had 197 yards and three touchdowns in 46 carries.
"We practice every day preparing to get thrown out there any day, so I'm definitely ready and up for the challenge," he said. "I know Justin will be too.
"Everybody in this offense got confidence in us, so I don't think there's that much pressure on us."
Even if called upon to block linebacker Khalil Mack in pass protection?
"I ain't worried about it one bit," Kelly said. "I'm in this league too. I'm excited for the opportunity to get out there with my boys."
Etc.
Cornerback Marcus Peters (ankle) was a full participant in walkthroughs, according to the injury report. … Bears quarterback Mitchell Trubisky (shoulder) was a full participant and is expected to play against the Rams. Trubisky was sidelined the last two games. … McVay, who canceled Monday's news conference because he was feeling ill, was still hoarse but felt "outstanding," he said. "Don't let the voice fool you — I feel great," he said. "There's no excuses coming from me. So, we're ready to go." Then, reacting to a tweet that ESPN's Lindsey Thiry posted last week, he said jokingly, "And I've got enough hair gel, all right, for me and [USC's new offensive coordinator] Kliff Kingsbury."
Follow Gary Klein on Twitter @latimesklein
---
Get the latest on L.A.'s teams in the daily Sports Report newsletter.
You may occasionally receive promotional content from the Los Angeles Times.