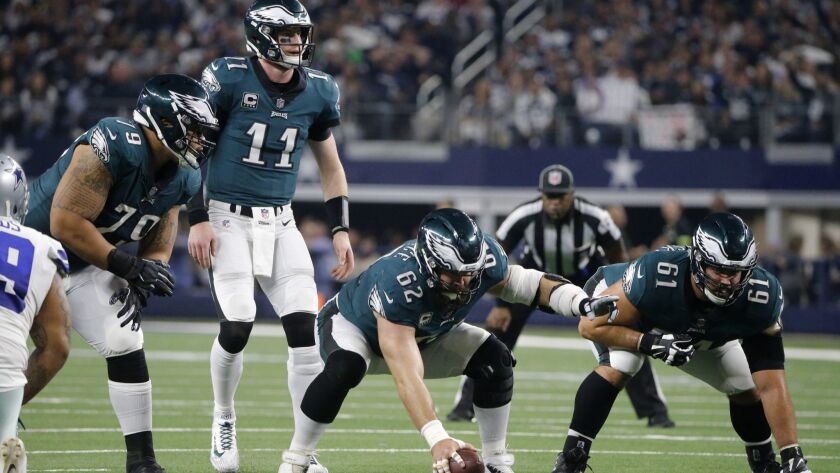 The last time the Philadelphia Eagles visited the Coliseum, they were on their way to the Super Bowl.
Quarterback Carson Wentz suffered a season-ending knee injury during last season's Week 14 game against the Rams, but backup Nick Foles stepped in, led the Eagles to a 43-35 victory and went on to lead a playoff run and become the Super Bowl MVP.
On Sunday, just more than a year later, the Eagles return to the Coliseum. The circumstances are much different.
The Rams are 11-2 and already have won the NFC West. If they beat the Eagles, they will clinch a bye through the wild-card round of the playoffs and remain in contention for the No. 1 seed in the NFC for the postseason.
The Eagles are 6-7 and still mathematically in the hunt for a playoff spot under third-year coach Doug Pederson, but a loss would eliminate them and complete their Super Bowl hangover.
It was not entirely unexpected, considering attrition started after the season and continued into this one.
Offensive coordinator Frank Reich left the Eagles to become coach of the Indianapolis Colts. Quarterback coach John DeFilippo left to become the Minnesota Vikings offensive coordinator. (DeFilippo was fired Tuesday.)
Reich and DeFilippo were replaced by Mike Groh and Press Taylor, respectively.
Foles started the first two games this season before the recovering Wentz returned to the lineup. Wentz, the second pick in the 2016 draft behind Rams quarterback Jared Goff, has at times shown the form that made him an MVP candidate last season, but he has struggled with consistency. He also has not come up with those 2017 trademark spectacular plays after breaking the pocket.
Injuries, however, have been the Eagles' main problem.
On Tuesday, running back Corey Clement was placed on injured reserve, only the latest in a series of significant losses.
"In a lot of instances, you're seeing some different things personnel-wise," Rams coach Sean McVay said this week of the Eagles. "But they're still a tough, competitive team offensively.
"Any time you've got Carson Wentz running the show, it's a tough animal. He does a great job when it's on schedule, off schedule. He can beat you with his legs or with his arm."
The Eagles' defense has been decimated by season-ending injuries suffered by defensive backs Rodney McLeod, Ronald Darby and Jalen Mills. The defensive line also suffered losses but still features ends Brandon Graham, Michael Bennett and Chris Long, and tackle Fletcher Cox.
"You still see elite players up front," McVay said of a defense that also includes veteran safety Malcolm Jenkins.
Sunday's game marks the second time that Goff and Wentz will square off.
Last season against the Eagles, Goff passed for 199 yards and two touchdowns. Wentz passed for 291 yards and four touchdowns, with an interception, before he was injured on a hit by Rams linebacker Mark Barron.
This season, Goff is completing 64% of his passes, 27 for touchdowns, with 11 interceptions. Wentz is completing nearly 70% of his passes, 21 for touchdowns, with seven interceptions.
Wentz and the Eagles are coming off a 29-23 overtime defeat to the NFC East-leading Dallas Cowboys, a loss in which he completed 22 of 32 passes for 228 yards and three touchdowns.
Goff and the Rams are coming off a 15-6 defeat by the Chicago Bears. He completed only 20 of 44 passes for 180 yards, with four interceptions. In his last two games, against the Detroit Lions and the Bears, Goff is 37 of 77, with one touchdown and five interceptions.
After the loss to the Bears, he said he and his teammates would move on.
"We've got a lot of resilient players," he said. "And I know myself, and a lot of those guys, have been in much worse situations than 11-2 with three weeks left, and a lot of stuff to learn from."
Etc.
The Rams placed running back Malcolm Brown on injured reserve and added linebacker Trevon Young to the roster. … The Rams were off Tuesday. They resume practice Wednesday.
Follow Gary Klein on Twitter @latimesklein
---