Aaron Donald's impact goes beyond the Rams. Just ask Steelers' James Conner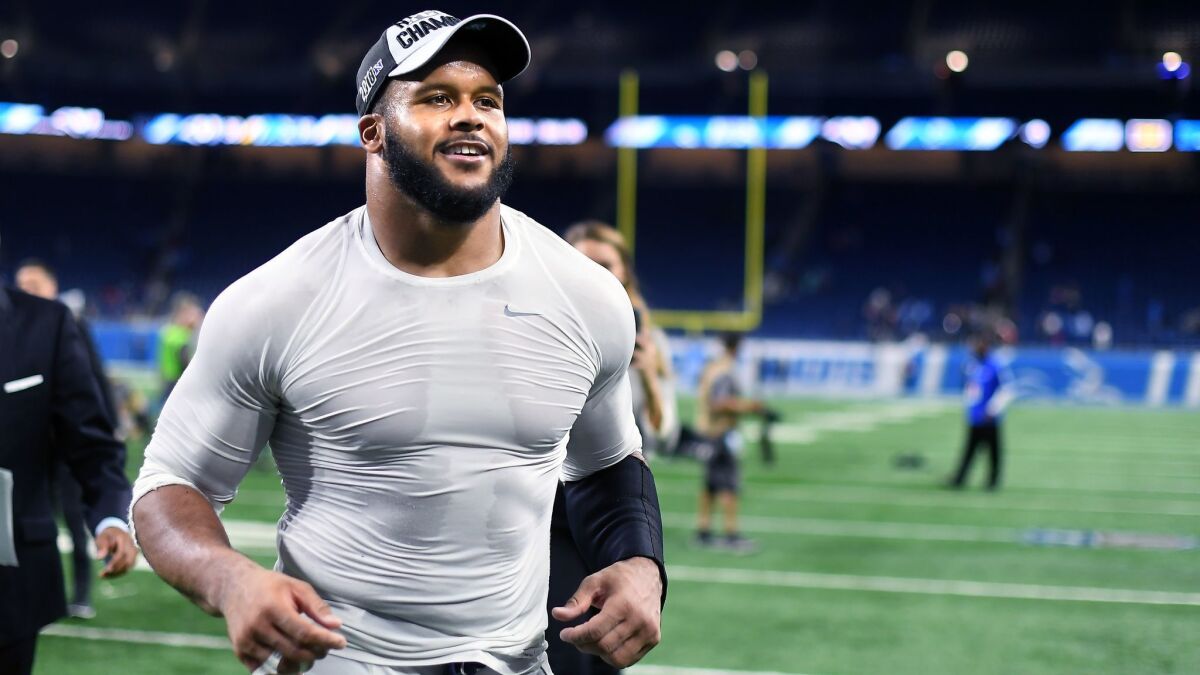 The inspirational message was sent three years ago. That James Conner kept it brought tears to Aaron Donald's eyes.
Donald, the Rams' star defensive tackle, this week made the Pro Bowl for the fifth consecutive season. But he was happier for Conner, a Pittsburgh Steelers running back and former college teammate at the University of Pittsburgh, who made his first Pro Bowl after beating cancer.
In 2015, Conner was diagnosed with Hodgkin's Lymphoma. Donald, then in his second season with the Rams, texted his friend words of encouragement.
After the Pro Bowl teams were announced, Conner posted Donald's message to Instagram
The text read in part: "U goin look back at this one day after about 7 pro bowls and a couple All Pro years and see everything that's happened to u just goin to make you stronger. It's just goin make ur story that much better."
Donald said Thursday that he looked at Conner, a second-year pro, "like a brother." And he was overcome with emotion when he saw Conner had kept the text.
"I started to tear up," Donald said. "He's family to me so I'm just proud of him. I'm his biggest fan."
Donald leads the NFL with a career-best 16½ sacks, but he did not record one in the last two games — losses to the Chicago Bears and Philadelphia Eagles.
Donald indicated that opposing offensive lines have been scheming elaborately to stop him.
"Still got to find a way to beat it," he said.
The Rams are 11-3 heading into Sunday's against the Arizona Cardinals at State Farm Stadium in Glendale, Ariz.
If the Rams defeat the 3-11 Cardinals, and the San Francisco 49ers defeat the Chicago Bears, the Rams will clinch a bye and host a game in the divisional round of the playoffs the weekend of Jan. 12-13.
The Rams do not have big issues to resolve, Donald said.
"Just little things, and just playing and communicating better," he said. "Whatever it is for us to get back on that track … but even better."
Ready and able
With Todd Gurley and Justin Davis not practicing because of knee and shoulder injuries, respectively, new running back C.J. Anderson is getting a crash course in the offense.
If Gurley is held out against the Cardinals, Anderson could play a significant role, perhaps even start, only five days after joining the team.
No problem, said Anderson, a sixth-year pro who reminded people that after coming into the NFL as an undrafted free agent he had played in Pro Bowls and won a Super Bowl title with the Denver Broncos.
"The game doesn't change, man," said Anderson, who played for the Carolina Panthers and was briefly with the Oakland Raiders this season. "What I see and what I do and how I prepare has never changed. ... I want these guys to know they can count on [No. 35] when I'm out there."
Gurley has confidence in Anderson.
"He's been working his tail off the last two days," Gurley said.
Gurley said Anderson was not charged with learning the entire offense, only the game plan for this week.
"He's a veteran player," Gurley said. "He knows what to do."
Rams defensive coordinator Wade Phillips was in the same role in Denver in the 2015 season when Anderson helped the Broncos defeat the Panthers in Super Bowl 50.
Anderson rushed for 90 yards and a touchdown in 23 carries in the Broncos' 24-10 victory at Levi's Stadium in Santa Clara.
"He was really a tremendous factor in that ball game by keeping the running game going, keeping them off the field some," Phillips said. "Our defense played great, but I thought he played great in that game too.
"He's one of the reasons I have a Super Bowl ring. I'm glad. I'm glad we've got him now."
Etc.
Phillips, when asked about cornerback Marcus Peters leaving the bench area to address a heckling fan in the stands during the Rams loss to the Eagles, said, "That ain't what we want to do." But Phillips allowed that he does talk to somebody in the stands. "I say hello to my wife," he said, laughing. ... The Rams practice Friday, and then will have a walk-through Saturday before leaving for Arizona.
Follow Gary Klein on Twitter @latimesklein
Get the latest on L.A.'s teams in the daily Sports Report newsletter.
You may occasionally receive promotional content from the Los Angeles Times.