Sean McVay gets high marks, but his biggest test might come in the locker room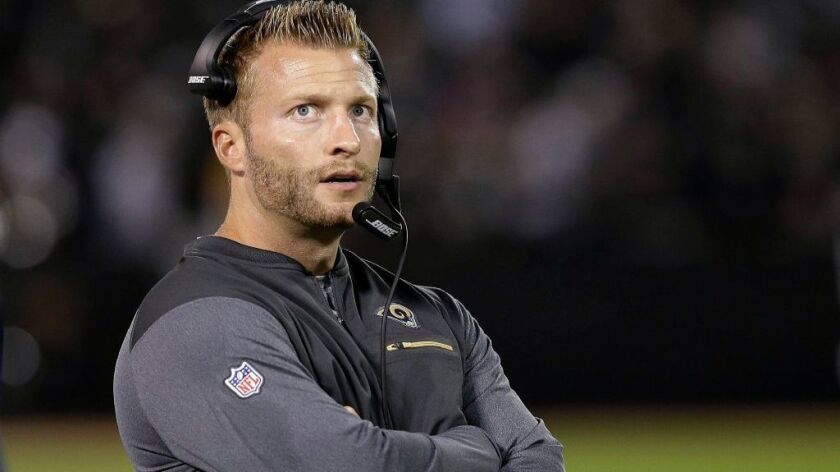 His first game as an NFL coach did not go well, but the immediate aftermath might have been worse.
Jon Gruden was 35 in 1988 when the Oakland Raiders were routed at Kansas City in their season opener. On the plane ride home he sat next to owner Al Davis.
"I didn't think we were going to make a first down the whole year," Gruden said. "So I thought about quitting when I got off the plane."
Gruden kept his job, guiding the Raiders to consecutive 8-8 finishes before a breakthrough 12-4 record in his third season. Two years later, with the Tampa Bay Buccaneers, he won a Super Bowl championship.
In 2008, Gruden's final season as an NFL coach, he hired a young assistant named Sean McVay.
On Sunday, McVay will lead his own team for the first time when he coaches the Rams against the Indianapolis Colts at the Coliseum.
Gruden, an ESPN "Monday Night Football" analyst, knows what lies ahead for McVay, 31, as he navigates his first season.
"It takes a lot of mental toughness — a lot of mental toughness — and some confidence in yourself to be a head coach in this league no matter what age you are," Gruden said. "But he will be tested."
Since January, when the Rams tabbed McVay to replace Jeff Fisher, NFL observers marveled at how the youngest coach in modern league history handled himself during a Super Bowl media blitz, the NFL scouting combine and the owners meetings.
Hall of Fame quarterback Troy Aikman praised McVay for his football knowledge and maturity, and for demonstrating that he could run an effective offense with the Washington Redskins.
Now he must prove something else.
"I've always felt, for me, if I was hiring a head coach, the first thing I'd want to know is that he could get in front of 53 guys and command the room during difficult times," Aikman, an analyst for Fox, said shortly after McVay was hired. "Because no matter how good you are, there's going to be a stretch of the season where it's a challenge.
"So that would be the No. 1 requirement for me."
Former Dallas Cowboys coach Jimmy Johnson, also a Fox analyst, said he was initially concerned about McVay's age. But McVay's background — he is a grandson of former San Francisco 49ers executive John McVay — and his decision to surround himself with experienced coaches such as Wade Phillips allayed those concerns.
"If you're a smart guy and you can command a room," Johnson said, "it doesn't make any difference how old you are."
McVay worked as an assistant under Jon and Jay Gruden, Mike Shanahan and Jim Haslett. Those experiences, McVay said, prepared him to take charge in front of the team.
"When things are not going well or somebody needs to stand up and be that strong voice and that leader that everybody can rally behind, I think I've seen it from those coaches and what it looks like," he said. "And then we've got great examples of it on our staff here."
Rams players appeared to embrace McVay's football knowledge and enthusiasm through offseason workouts and mini-camps, training camp and the four-game preseason schedule.
McVay's age has no bearing on his ability to command the room, several players said.
"I don't think it makes much of a difference," offensive lineman Rob Havenstein said. "It still says 'head coach' in front of his name.
"You're going to listen for that reason, but also just because of the energy and the focus."
Said offensive lineman Jamon Brown: "He has an aura and a demeanor about him. He gets your attention once he walks in the room."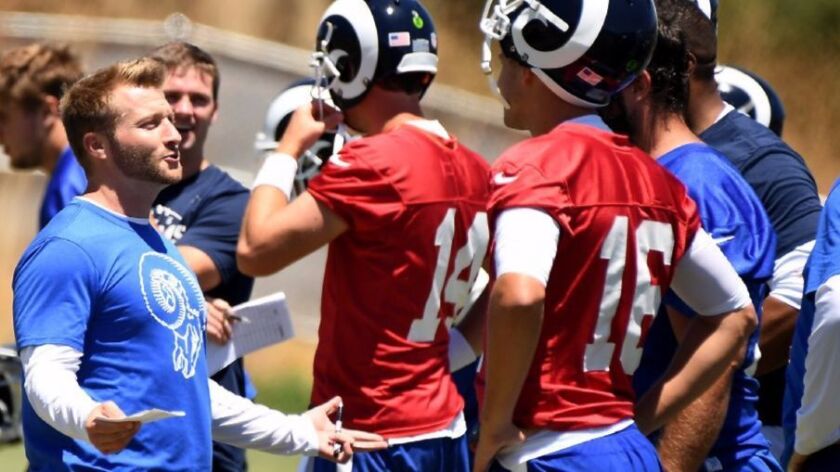 McVay, however, has no experience as a head coach at any level.
When Seattle Seahawks coach Pete Carroll was 31, he was a North Carolina State assistant still a few years from his first job as an NFL assistant. He was 42 when he was hired to coach the New York Jets.
"What an extraordinary opportunity for the guy," Carroll, 65, said of McVay. "If he can do it well and hang with it and make it through the years of formulating your program and your philosophy and all of that — and survive — then he will prove that he was worthy of it."
Arizona Cardinals coach Bruce Arians, 64, knows what it's like to be a head coach at 30.
Temple hired Arians in 1983. In six seasons there, he had two winning seasons.
Arians spent the next 20-plus years working as an NFL and college assistant before taking over as interim coach of the Colts in 2012. The Cardinals hired him in 2013.
McVay is on the right track, Arians said.
"Hire some good old guys who know what they're doing and trust them so you can do your job," Arians said. "He's obviously very bright to get the job. But he'll do a good job."
Jon Gruden believes McVay's charisma, energy and intelligence will pull the coach and the Rams through tough times.
"I don't think he's going to buckle every time they face adversity," Gruden said.
Gruden described McVay's assignment as "a difficult job right now." The Rams, he said, are not going to contend for the Super Bowl this season, so they must strive for improvement, especially from quarterback Jared Goff.
That falls on the head coach, through good times and bad.
"You've got to keep your own confidence level up," Gruden said, "because your parents don't call you and give you a hug every time you get your butt kicked."
Follow Gary Klein on Twitter @latimesklein
---
Get the latest on L.A.'s teams in the daily Sports Report newsletter.
You may occasionally receive promotional content from the Los Angeles Times.