Reporting from indianapolis —
The circumstances surrounding Les Snead's appearance before reporters at the NFL scouting combine Thursday were in stark contrast to a year ago.
In February 2017, Snead faced an uncertain future as the Rams' general manager.
The team had finished the season 4-12. Jeff Fisher, hired in 2012 along with Snead, had been fired and replaced by unproven Sean McVay, the youngest coach in modern NFL history.
To many observers, the Rams' 2016 predraft decision to trade up to the No. 1 spot and select quarterback Jared Goff looked like a major mistake.
And they blamed Snead.
But a year later, Snead — and the Rams — are riding high.
Under McVay and his new staff, Goff developed into a top-10 passer, the Rams led the NFL in scoring and they won the NFC West title.
Snead pulled off another headline-grabbing predraft trade last week by acquiring star cornerback Marcus Peters from the Kansas City Chiefs in exchange for draft picks, none in the first round.
Snead acknowledged Thursday that the heat was off and thanked owner Stan Kroenke and chief operating officer Kevin Demoff for keeping him in the fold after the 2016 season.
"I was fortunate that Stan and Kevin gave me that chance to stay on," Snead said during a hallway interview at the Indiana Convention Center. "They had seen some things over the years that they felt, 'OK, we're going to give Les a chance to work with Sean.'
"I'm fortunate to enjoy some of the fruits that were planted not just last offseason, but offseasons before. Some people in this league don't get that chance. And for that, I'll always be grateful."
Throughout the Rams' turnaround season, McVay made no secret of his appreciation for the personnel moves that Snead had engineered after McVay was hired in January 2017.
Before last season, the Rams signed free-agent receiver Robert Woods and offensive linemen Andrew Whitworth and John Sullivan. They drafted tight end Gerald Everett, receivers Cooper Kupp and Josh Reynolds and safety John Johnson. They also traded for receiver Sammy Watkins.
The Rams' agreement to acquire Peters, a two-time Pro Bowl player, will cost only $1.7 million in the upcoming season. The salary-cap friendly trade, which provides the Rams with flexibility in free agency and the draft, will not become official until the NFL's new league year begins March 14.
Snead, who feared tampering charges, jokingly tried to cut off any questions about the deal as he stepped to a podium before reporters in the interview room.
"We should probably just do this on March 14," he said. "I'll be able to elaborate. But since it's March 1st we'll get 15 minutes in."
Snead deflected questions about Peters but answered one about his own growing reputation for making predraft trades.
"It's an urgency to get better," he said of his philosophy. "It's an urgency to improve. You have things you want to address and there's a lot of avenues to address them.
"And then, just like some offensive coordinators, you like to attack. You like to put it in two-minute mode and get things done."
Snead has a full agenda this week.
He is evaluating and interviewing prospects, and talking business with other general managers. In 2016, the trade with the Tennessee Titans that catapulted the Rams to the top of the draft and netted Goff had its genesis at the combine.
"You want it to work out for both sides," Titans general manager Jon Robinson said of the deal this week. "I am sure they're glad they made the trade and we are as well."
Snead and other team executives also are scheduled to meet with agents representing Rams defensive tackle Aaron Donald.
The NFL's defensive player of the year is entering the final year of a contract that will pay him about $6.9 million this season. He is seeking a new deal that will make him the NFL's highest-paid defensive player.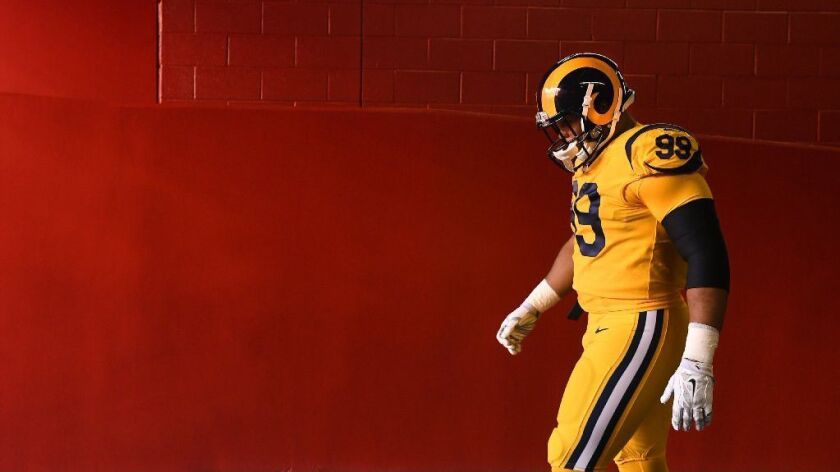 Snead also is attempting to re-sign pending free agents, including safety Lamarcus Joyner and receiver Watkins.
"Obviously, Aaron's important," Snead said. "But we've got it budgeted that we'll be able to sign someone tomorrow if Aaron's not first. So that's all worked out."
The Rams used the franchise tag the last two seasons on cornerback Trumaine Johnson, another pending free agent.
Joyner or Watkins are regarded as potential candidates for the franchise tag if the Rams are unable to work out deals by March 6, the deadline for applying the tag.
"We definitely know we've got it, and we know we've got to use it strategically," Snead said of the tag, which can be applied to only one player. "How we do that will depend on the next few weeks. But we're well aware it's in the back pocket. And we're also trying to get things done without using it."
The addition of Peters takes pressure off the Rams to specifically target a cornerback with the 23rd pick in the April 26-28 draft.
They can turn part of their focus to edge rushers and building depth along the offensive and defensive fronts.
Several mock drafts have the Rams choosing Ohio State center Billy Price with their first pick. Price, who also plays guard, reportedly suffered an injury Thursday during bench-press testing. He did not appear with other offensive linemen at a scheduled media session.
Asked if the Rams would consider choosing a center in the first round, Snead said it was possible, citing the Dallas Cowboys' selection of Travis Frederick with the 31st pick in 2013.
"That is conceivable, but you want it to be the right one," he said, adding, "I remember when Dallas did Travis Frederick. It was, 'Oh they took a center? Why would you take a center?'
"However many years later, they supposedly had the best line in the league."
As he did a day after the season ended, Snead told reporters he constantly reminds himself to remember what it felt like on the drive home after the Rams lost to the Atlanta Falcons in a wild-card playoff game.
Snead said he wrote the phrase "Remember the Feeling" at the top of a computer document he checks occasionally. He uses it as motivation.
"Every now and then, I change colors," he said. "Because you know how it is, you psychologically see it over the day — and it's like, 'Oh wait, I didn't notice that today.'
"So I put it in italics."
Snead's handwriting is all over a roster that he began to build six years ago, and he will continue to reshape it in the coming months.
"Our goal from a philosophical standpoint was, 'OK, let's acquire as much young talent as possible so that as they get experience and grow, and when we do tip, there's a chance for sustainability, because you did it with a long-term approach in mind.'"
Follow Gary Klein on Twitter @latimesklein
---