Everything runs through Todd Gurley in Rams' explosive offense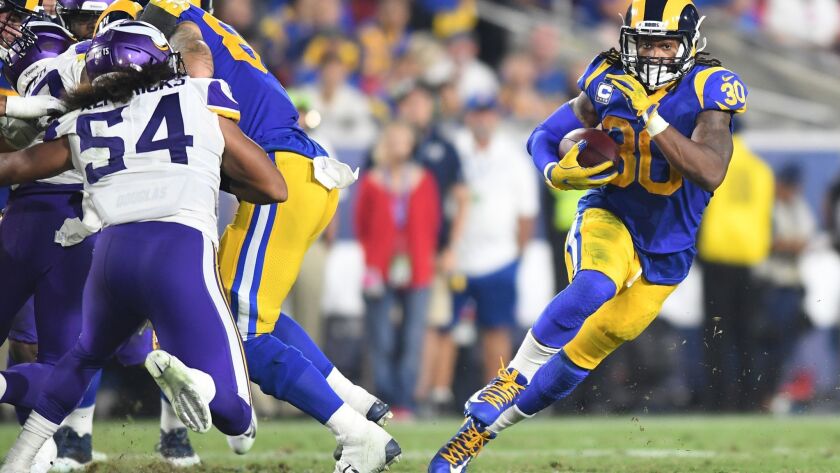 With so much open space in front of him, Todd Gurley hardly could believe his eyes.
He had taken a handoff on a third-and-20 play against the Seattle Seahawks, broke off left tackle and realized he had a clear path to the end zone.
"I'm just like, 'Oh snap!' " Gurley said, recalling the 57-yard touchdown run from last season. "It's kind of like too good to be true, honestly."
The touchdown — the second-longest scoring run of Gurley's NFL career — helped the Rams rout the Seahawks at CenturyLink Field.
The 42-7 victory sent the Rams on their way to the NFC West title and their first playoff appearance since 2004.
The Rams return to Seattle on Sunday as one of the Super Bowl favorites, and Gurley once again is playing a central — if somewhat overshadowed — role.
Quarterback Jared Goff is coming off a career-best performance against the Minnesota Vikings, and he was named the NFC offensive player of the month.
Receivers Cooper Kupp, Brandin Cooks and Robert Woods each amassed more than 100 yards in last week's victory, which kept the Rams unbeaten.
But make no mistake, Gurley remains key to the Rams' high-scoring offense.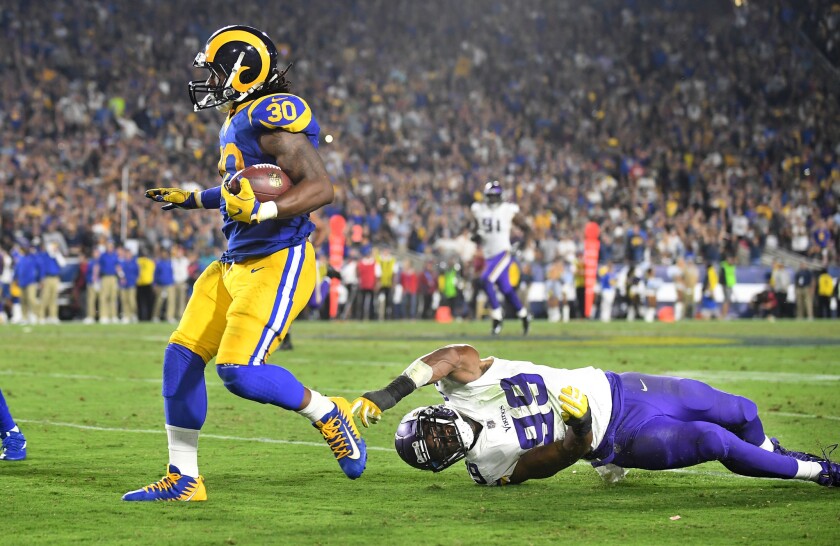 Todd Gurley is really at the center of all of it
— Seattle Seahawks coach Pete Carroll
Just ask Seahawks coach Pete Carroll, who must figure a way to stop a unit that is averaging 35 points a game.
"Todd Gurley is really at the center of all of it," Carroll said.
Gurley, who signed a $60-million extension before the season, did not post record-setting statistics in victories over the Oakland Raiders, Arizona Cardinals, the Chargers and the Vikings.
But the reigning NFL offensive player of the year ranks second in the league with 338 yards rushing. He has run for four touchdowns, and has caught 15 passes, two for touchdowns.
Goff and the receivers, however, have dominated the highlights.
Gurley, 24, does not seem to mind.
"Yeah, I tell those guys they need me out there," Gurley said, laughing sarcastically. "I tell them, 'Thank me all the time.'
"When I go in motion and they get their little touchdowns."
Gurley was joking. He regularly goes out of his way to compliment teammates and spread credit for personal and team success.
Coach Sean McVay said Gurley was only one of many important parts of the offense.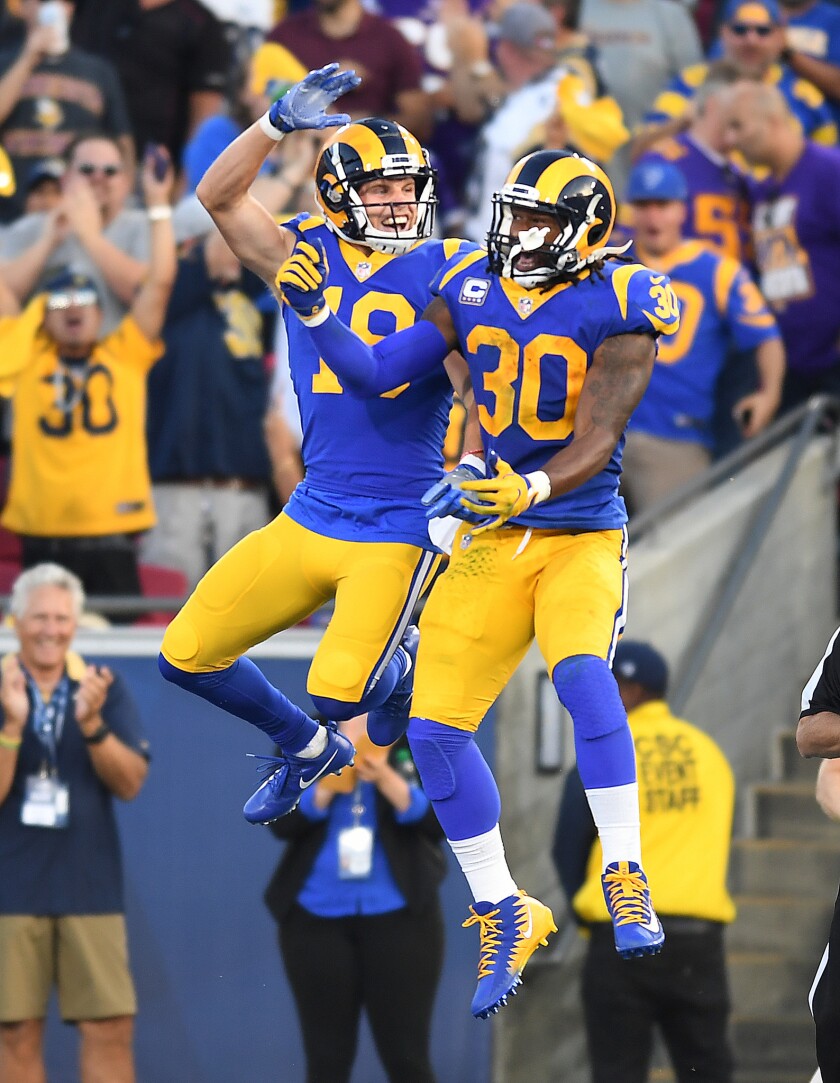 "We talk about the power of the unit all the time," McVay said, "and it's about all 11."
Gurley, however, affects the rushing and passing attacks in ways that are both quantifiable and less obvious.
The mere threat of the 6-foot-1, 224-pound Gurley carrying the ball forces defenses to account for him, opening the passing game for Goff and receivers.
"When we're able to do our play-action stuff, and he's the guy that we're faking to, adds a little bit of emphasis on those linebackers stepping up and everyone having to fill in a little bit more," Goff said.
After a Week 1 victory over the Raiders, Gurley said that it was clear from the first few snaps that the defense's focus was to stop him. So he let teammates know.
A quarter of the way through the season, Gurley still feels the focus.
"I know players on every team and we talk all the time," he said. "They tell me during the game, 'We're not going to give you nothing. So, you're going to have to earn it.'
"You hear it throughout the week, press conferences, whatever it is. Even in the game, guys are like, 'Uh, uh [No.] 30. You ain't getting nothing.'
"But at the end of the day, we're going to line up, we're going to run the ball and you're still just going to have to stop us."
No opponent this season has done it. The Rams have not scored fewer than 33 points, "and they're making it look easy," Carroll said.
"[Gurley] draws all of the focus and then the explosions and the variety of things that they're able to with the array of receivers that they have just make it really difficult," Carroll said.
Gurley is contributing beyond his threat as a runner or receiver. Goff credits the fifth-year pro and backup Malcolm Brown for outstanding pass protection.
"One thing about this league is if you're not going to block for the quarterback, then they don't care who you are, you'e not going to be in the backfield," Gurley said. "That's my job: Not to let my quarterback get hit.
"It's not that hard, you just hold the guy up for two, three seconds. … I'm a big guy, so, hopefully, I can't get ran over too much."
In last season's romp at Seattle, Gurley ran for 152 yards and scored four touchdowns, including the long one that gave the Rams a 34-0 halftime lead.
"Wish those came like once or twice a year," he said.
The way the Rams have been playing, Gurley is due.
Etc.
McVay said linebacker Mark Barron (Achilles) was on track to start against the Seahawks, but the injury report listed Barron as questionable. Barron said he was "functional" and would monitor his condition through pregame warmups. … Tight end Tyler Higbee (knee) was limited and is questionable. Offensive lineman Rodger Saffold (knee) was a full participant in practice. Kick returner JoJo Natson (hand) also was a full participant.
Follow Gary Klein on Twitter @latimesklein
---
Get the latest on L.A.'s teams in the daily Sports Report newsletter.
You may occasionally receive promotional content from the Los Angeles Times.