For 41 years, Rams defensive coordinator Wade Phillips has wrangled some of the toughest, strongest, meanest characters in NFL history. Guys who floss with barbed wire. The men who haunt the dreams of quarterbacks.
Recently, Phillips took on a daunting assignment.
He was in charge of Petunia.
That's the pampered bulldog in the fluffy blue tutu pictured on his daughter's Instagram account. Tracy Phillips, a successful Los Angeles choreographer, asked her parents to dog-sit while she attended the MTV Video Music Awards, where she was part of a group nominated for its work on a Justin Timberlake video.
"She's a real talent," her dad said. "She knows dance, obviously. We had to watch way too many MTV videos when she was growing up."
The 71-year-old coach knows talent when he sees it. After all, he's something of a choreographer too.
He has a reputation for getting groups of men, some difficult, to head in the right direction.
Now comes the most delicate dance of his career. The Rams acquired three elite defensive players during the offseason — defensive tackle Ndamukong Suh, and cornerbacks Marcus Peters and Aqib Talib — who all made headlines for bad behavior on previous teams.
Remember the Thanksgiving game when Suh stomped on the arm of Green Bay Packers lineman Evan Dietrich-Smith?
Or last season, when an angry Peters threw an official's flag into the stands?
Or Talib and receiver Michael Crabtree squaring off for a fistfight in Oakland?
That stuff happens in football from time to time, and history has shown that combustible personalities sometimes make for great players, particularly on defense. But it's a legitimate concern that the Rams have removed locker-room stabilizers such as even-keeled linebacker Alec Ogletree and replaced them with Nitro and Glycerin.
"It's a perfect match for Wade," said All-Pro Denver Broncos linebacker Von Miller, who was most valuable player of Super Bowl 50 as part of Phillips' defense. "You could put the Alcatraz All-Stars on his team and he's going to get along with those guys. That's just the type of coach that he is."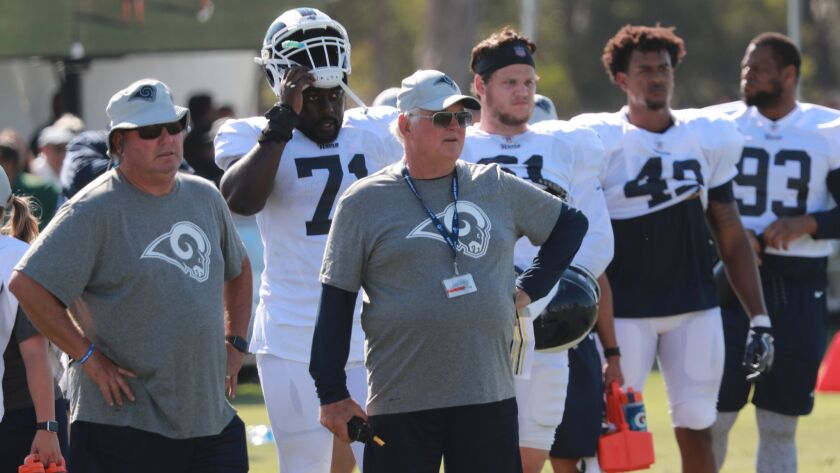 Phillips, whose late father, Bum, was the legendary coach of the Houston Oilers and New Orleans Saints, has an easygoing Texas temperament and a down-home sense of humor that simply clicks with his players.
"With coach Phillips, it's relationship first," Miller said. "He puts being a coach second. He relates to the guys, and you're like, 'Man, how's a 71-year-old relate to the guys?' But I think when you just drop your guard and show guys that you're vulnerable just like everybody else …
"You have these coaches come in and preach this, preach that, like a drill sergeant. With coach Wade, he's had so much success and he just lays it on the table."
Said Talib, who played for Phillips in Denver: "He grew up in the game, seen his pops do it. I think he learned a lot from his dad in terms of connecting with the players, how to vibe with the players. If you grow up in the game like that, it's like a second nature to you."
The way his daughter sees it, Phillips is anything but a football coach out of Central Casting.
"When I was growing up I had people ask me, 'Oh, does your dad come home and yell after games?'" she said. "I'd say, 'No, he's usually pretty quiet. Especially if we lose. It's not how he deals with things. He digs deep in his well and thinks about things.' He's not the yelling, screaming, made-for-TV dad."
Few people can match the NFL resumé of Phillips. The Rams are his 10th club, and that includes four head-coaching stints with New Orleans (1985, interim), Denver (1993-94), the Buffalo Bills (1998-2000) and the Dallas Cowboys (2007-10).
He took over as defensive coordinator when Sean McVay was hired in 2017 and has maintained an incredible streak. For the last three decades, every team Phillips has joined made the playoffs in his first season there — last year's Rams, the 2015 Broncos, 2011 Houston Texans, 2007 Cowboys, 2004 San Diego Chargers, 2002 Atlanta Falcons, 1995 Bills and 1989 Broncos.
"Wade's got great instincts," said Denver coach Vance Joseph, who was on staff with Phillips with the Texans. "He's got great timing, when to bring the pressure. Everyone assumes Wade just brings pressure. But Wade's calculated … he understands when offenses are vulnerable.
"Obviously, he's great with the players, he's great during the week. But on game day as a coordinator, he brings value to your defense. Great coordinators make their money on Sundays."
A hallmark of Phillips' 3-4 scheme is that he makes it as simple and uncluttered as possible so that defenders can play fast.
It's that old football axiom: When you think, you stink.
He also thinks it's important for his players to understand why they are doing something, not just expect them to blindly do it.
"It's always been that way with players," Phillips said. "It's never been, 'Hey, you do this no matter what.' It's, 'You do this, because this happens.'
"That started for me with Curley Culp," he said, referring to the Hall of Fame defensive tackle who played for him in Houston. "He played nose guard and he didn't like that because they double-teamed him.
"But he was smart. I said, 'Curley, if they double-team you, then somebody else is free on our defense. If they're using two on you, it helps us.' He was [makes a growling sound]. He didn't like it, but he knew it was true."
What's more, Phillips can relate to the players. He's on Twitter with the handle, "Sonofabum," has 169,000 followers and frequently makes self-effacing wisecracks.
When he turned 70, he tweeted: "They lit all the candles on my birthday cake — the fire department truck showed up within 5 minutes!"
Or, referring to McVay, 39 years his junior: "Rams have the only staff with DC on Medicare and HC in Daycare."
When he was defensive coordinator in Denver, and the Broncos defeated Green Bay, Phillips gently trolled Packers fans by putting a twist on a Peyton Manning Nationwide commercial jingle: "Chicken Parm tastes so good — I like it especially with Cheese."
"I try to keep it fun," Phillips said. "You've got to watch what you say. You don't want to offend anybody. I said, 'We caged the Lions,' and all the Lions fans got mad. Or when I did that one with the Packers, all the Cheeseheads were hating on me. It's just for our fans. You have to have fun with it."
Said Joseph: "Wade gets it. He's on Twitter, he knows Fortnite, he knows the music. He gets the personalities of players, he doesn't judge them. He's obviously an old-school coach, but he doesn't judge players. Whoever you want to be, you can be."
---