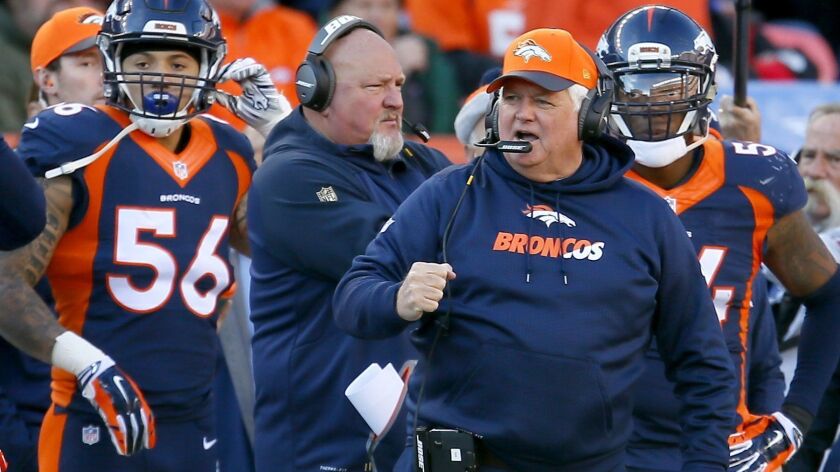 While overseeing one of the best defenses in NFL history, Wade Phillips won a Super Bowl with the Denver Broncos during the 2015 season.
So the Rams' defensive coordinator has a soft spot for Broncos players such as linebacker Von Miller and cornerback Chris Harris Jr.
On Sunday, Phillips returns to Denver for the first time to coach since the Broncos decided not to renew his contract after the 2016 season.
"They've got really good players that I care about personally," Phillips said Thursday, "but I care about our team a little bit more."
Phillips' main concern this week is fixing a defense that gave up 31 points in each of the last two games, and allowed the Seattle Seahawks to rush for 190 yards.
The Rams are giving up 19.6 points a game, which ranks sixth in the NFL through Week 5. They are ninth in total defense, giving up 341.4 yards per game, and 10th in passing defense (234.6 yards).
But they are 18th in rushing defense, giving up 106.8 yards per game.
"Still says 5-0 on our record," Phillips said.
Phillips correctly pointed out that the Rams were stout when it counted most in a 38-31 victory over the Minnesota Vikings and a 33-31 victory over the Seahawks.
The Rams are still a top-10 defense, said Phillips, who began his NFL coaching career in 1976.
"I've been with a lot of teams and I just think this team … plays really well under pressure," he said. "We don't want to be pressured to play that well all the time, but I feel good about where we're going.
"We're not there yet, but that's where we're going."
The Rams' main problem of late has been run defense. Lineman Ndamukong Suh described the Rams' recent performances as "terrible." And though he gave credit to opposing running backs, he said the Rams must play better.
"All we've got to do is go back to the basics," he said.
But the Rams also had problems against Vikings quarterback Kirk Cousins and Seahawks quarterback Russell Wilson.
Philips said cornerback Marcus Peters' recent struggles were more on him as the coach than on the player still learning his system.
"You get a feel for how they play, put them in situations that they can be aggressive or they know they don't have to be aggressive, those kind of things," Phillips said. "So, it's partly on me."
Phillips does not want to rein in Peters' ability to read quarterbacks and diagnose routes.
"He's like a great quarterback that can scramble," Phillips said. "If you take the scrambling away from them they're not as good.
"The same thing with him, if you take what sees away from him — now you've got to limit it a little bit more and that's what we haven't done well enough with him. He's getting there."
The Rams' trip to Denver also would have been a homecoming for cornerback Aqib Talib, who played four seasons for the Broncos before he was traded to the Rams in March. Talib remains sidelined while recovering from ankle surgery.
Troy Hill and Sam Shields have played in Talib's spot, but coach Sean McVay acknowledged that the Rams miss the 11th-year pro.
"He's got a great personality … he's just kind of magnetic," McVay said. "Where there's a charisma, there's a swagger, there's a confidence, but then also there's that experience."
Regardless, Broncos coach Vance Joseph expects the Rams' defense to be formidable. Joseph coached under Phillips with the Houston Texans.
"Wade is my football father," Joseph said. "So, I grew up under Wade in his system.
"Everyone I've ever worked with was 'Wade guys.' … His impact on all of us has been huge as far as coaching the 3-4 defense, how to call games, how to play defense on your terms."
Phillips was at his best during the 2015 season, when he helped lead the Broncos to a dominating run through the playoffs that ended with a Super Bowl victory over the Carolina Panthers.
Phillips was the architect of the defense, but he said his assistant coaches performed much of the daily work with players in the meeting rooms and on the field.
"I got too much credit when I was there," he said, adding, "I was just riding on the train clanging the bell."
It won't be surprising if Phillips receives a warm welcome from Broncos fans.
"The home crowd is great," he said. "It's tough to win in Denver. I've been on the other side of it, so I know that."
Etc.
Receivers Brandin Cooks and Cooper Kupp are progressing through the concussion protocol, McVay said. If they have no setbacks, they are on track to play against the Broncos. "Things are looking good," McVay said before practice. Cooks and Kupp went through individual drills Thursday and were listed as limited on the injury report. If they play Sunday they will not be limited, McVay said. … Defensive lineman Michael Brockers (ankle) did not practice.
Follow Gary Klein on Twitter @latimesklein
---