Michael Brockers will re-sign with Rams after Ravens deal falls through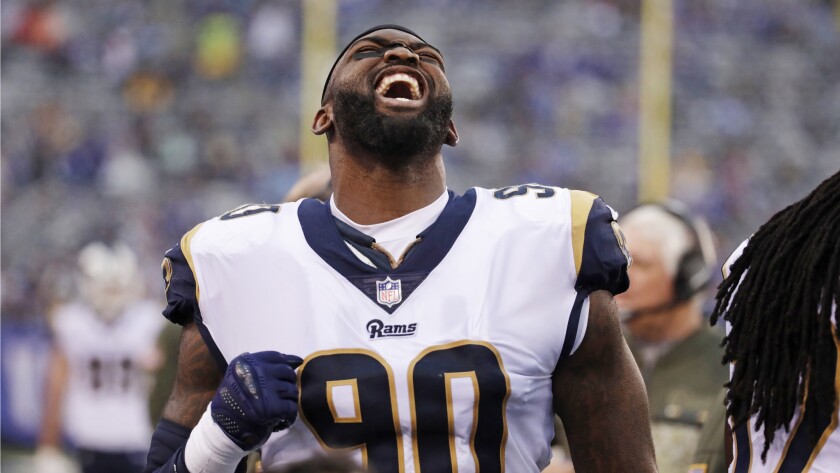 In January, Michael Brockers posted what all but amounted to a goodbye video to Rams fans on social media.
Before free agency opened this month, he agreed to a three-year, $30-million contract with the Baltimore Ravens.
But Friday, after Ravens physicians apparently could not verify the condition of Brockers' left ankle, he returned to the Rams. Brockers and the team that made him the 14th pick in the 2012 draft agreed to terms on a three-year deal worth up to $31.5 million, according to NFL.com.
"Lord you work in Mysterious Ways, but I will Never Doubt or Question your plan. Sorry Ravens But I'm Going, Going, Back Back, To Cali," Brockers wrote on Instagram.
The unexpected turn enables Brockers to continue as the Rams' longest-tenured defensive player. Brockers, 29, has been a mainstay alongside star Aaron Donald and is a respected locker room presence and mentor to younger players such as nose tackle Sebastian Joseph-Day.
Brockers' situation with the Ravens appears to have been affected by the coronavirus outbreak. The NFL has ordered team facilities closed, and players are not allowed to visit.
Brockers suffered a left ankle injury in the season finale against the Arizona Cardinals.
Brockers' situation is similar to that of Rams offensive lineman Rodger Saffold in 2014, when he agreed to a five-year, $42.5-million contract with the Oakland Raiders. The deal fell through after Saffold failed a physical. Saffold returned to the Rams, eventually helped them reach the Super Bowl, and then signed a four-year, $44-million contract with the Tennessee Titans.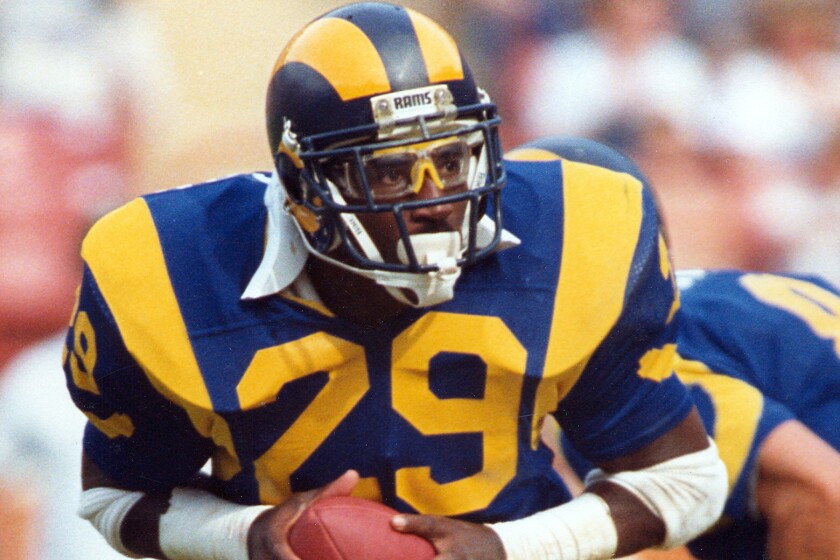 Rams great and current team employee Eric Dickerson was sitting at his computer when the new logos were unveiled. His reaction mirrored that of many fans.
When Brockers initially agreed to terms with the Ravens, he was regarded as a salary-cap casualty for a Rams team trying to ease the pressure from massive contracts they had given Donald, running back Todd Gurley, receiver Brandin Cooks, and quarterback Jared Goff.
The Rams cut Gurley, but they might have to restructure contracts to make room for Brockers, who had been one of the first Rams free agents to agree to terms with another team. Linebacker Cory Littleton, edge rusher Dante Fowler, slot cornerback Nickell Robey-Coleman and rotational safety Marqui Christian followed Brockers.
The Rams, with new defensive coordinator Brandon Staley, added edge rusher Leonard Floyd and defensive tackle A'Shawn Robinson in free agency.
---
Get the latest on L.A.'s teams in the daily Sports Report newsletter.
You may occasionally receive promotional content from the Los Angeles Times.