Angel City's 2023 season schedule released, includes 28 matches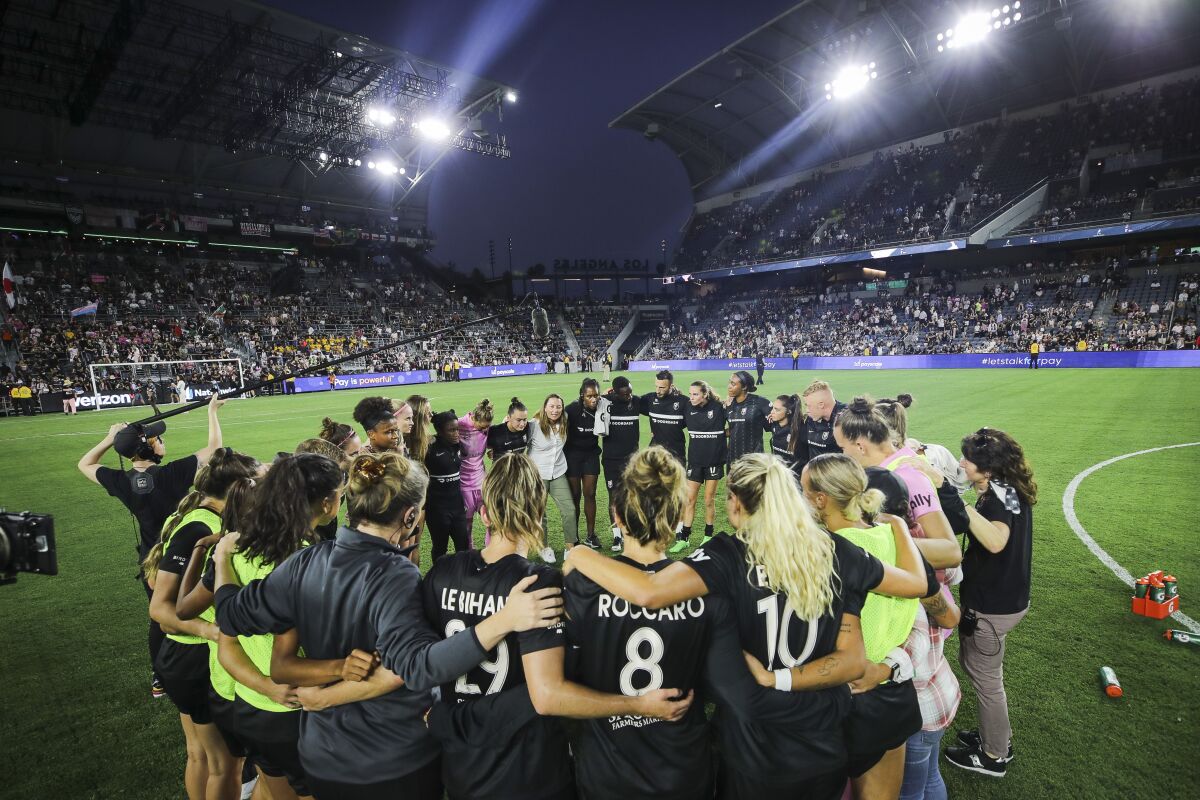 Angel City will open its second NWSL season at home with NJ/NY Gotham FC on Sunday, March 26, at newly christened BMO Stadium. The league schedule, released Wednesday, includes 28 games, 22 regular-season matches and six in the Challenge Cup, which will be played concurrently with the regular season this year.
Angel City will play half of those matches at home, hosting each of the league's other 11 teams and playing conference rivals San Diego, Portland and the OL Reign in home Challenge Cup games. In addition to the April 23 regular-season home game with in-state rival San Diego, Angel City will host the Wave in Challenge Cup play on June 28.
Angel City plays in San Diego on June 17 and Aug. 5. Angel City's only visit to San Diego last season drew an NWSL-record crowd of 32,000 at Snapdragon Stadium.
The league's 11th season will run through Oct. 15, followed by the playoffs, won last year by the Portland Thorns. Angel City led the NWSL in attendance last season, averaging 19,105 over 11 home matches, four of which sold out. It finished 8-9-5 in its first year, missing the six-team postseason tournament by four points.
Angel City, led by former national team forwards Sydney Leroux and Christen Press and featuring teenager Alyssa Thompson, will play at home six times in the first 19 days of the season, facing Racing Louisville, the Reign, San Diego, Kansas City and Washington in addition to Gotham. The team's busiest month is May with six matches. It will play just six times combined in July and August, when the schedule slows for the Women's World Cup in New Zealand/Australia.
The release of the league schedule was delayed because eight of the 12 NWSL teams, including Angel City, share their stadiums with MLS clubs. Those stadiums are also used for concerts and other events, further complicating the scheduling process.
Angel City FC is acquiring the No. 1 pick of the NWSL draft in a three-team trade and will use the selection to sign Alyssa Thompson.
Angel City 2023 Schedule
(all times Pacific)
March 26: vs. Gotham FC, 6 p.m.
April 2: at Orlando Pride, 2:30 p.m.; 15: vs. Louisville, 7 p.m.; 19: vs. OL Reign*, 7 p.m.: 23: vs. San Diego Wave, 5 p.m.; 29: at Portland Thorns, 7:30 p.m.
May 3: at OL Reign*, 7 p.m.; 7: vs. Kansas City, 5 p.m.; 13: vs. Washington, 7 p.m.; 20: at North Carolina, 4 p.m.; 27: at OL Reign, 12:30 p.m.; 31: at Portland*, 7:30 p.m.
June 4: vs. Chicago, 5 p.m.; 10: at Washington, 4 p.m.; 17: at San Diego, 1 p.m.; 25: vs. Houston, 5 p.m.; 28: vs. San Diego*, 7 p.m.
July 2: at Gotham FC, 2:30 p.m.; 9: vs. North Carolina, 5 p.m.; 29: vs. Portland*, 7 p.m.
Aug. 5: at San Diego*, 7 p.m.; 19: at Racing Louisville, 4:30 p.m.; 27: vs. OL Reign, 5 p.m.
Sept. 1: at Kansas City, 5 p.m.; 17: at Chicago, 3 p.m.; 21: vs. Orlando, 7 p.m.
Oct. 8: at Houston, 4 p.m.; 15: vs. Portland. 2 p.m.
*Challenge Cup match