Column: Women's World Cup: Carli Lloyd still has plenty in reserve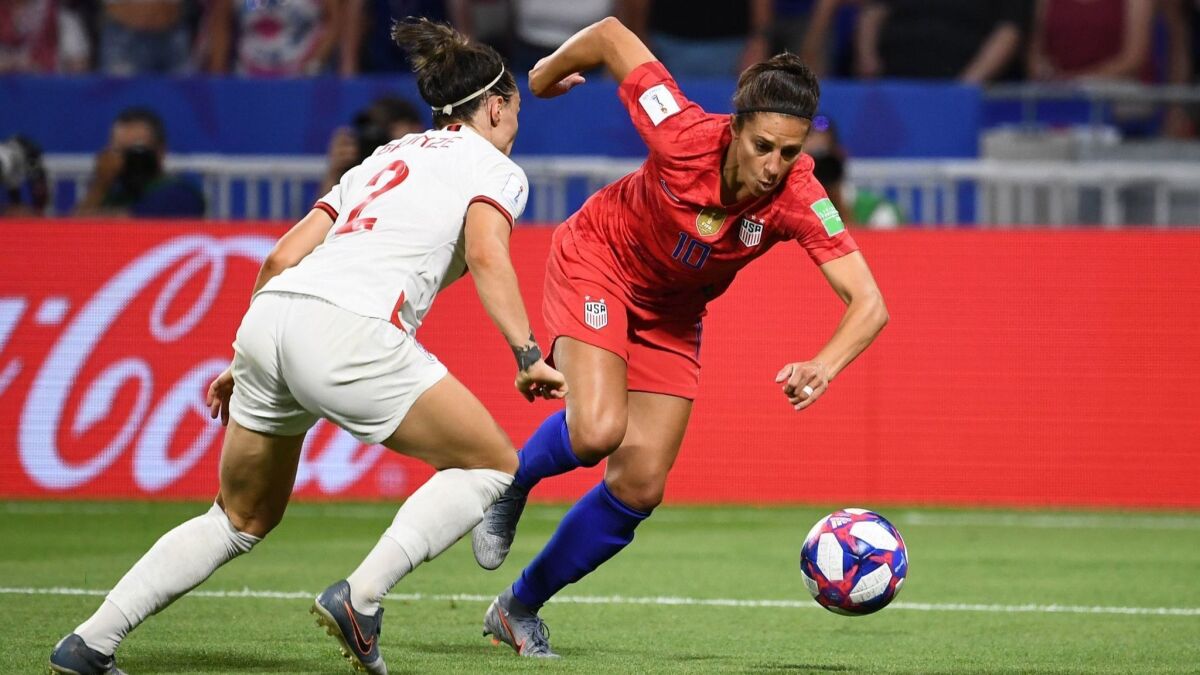 Carli Lloyd has adapted to her role as a reserve forward on the incomparably deep U.S. women's World Cup team, but that doesn't mean she likes it.
A starter for 13 years, the New Jersey native is too much a team player to put her concerns above the success the Americans have enjoyed while blasting through group play and clawing out three straight 2-1 wins to reach the final on Sunday against the Netherlands.
Still, Lloyd's hunger to make an impact hasn't been softened by age — she will be 37 on July 16 — and she chose her words carefully the other day when discussing how her journey to her fourth World Cup appearance has been different compared to the years she played a prominent role and scored so many clutch goals on international stages.
"There's a lot of things that are out of your control in life, and you can either look at it as a negative or you can look at it as a positive," said Lloyd, who scored the gold medal-clinching goals in the 2008 and 2012 Olympics and recorded a hat trick to lead the U.S. past Japan in the 2015 World Cup final.
"I know that my ability and my work ethic and many things I bring to the team, the intangibles, I can be playing out there. There's no doubt.
"But for whatever reason, the coaches have made that decision, and I come in and it's my job to make something happen. These last three games I've come in and I've had 10 minutes and it's my job to close out those games."
Lloyd, the world player of the year in 2015 and 2016, started only one of the first six games here and scored two goals in a group-round victory over Chile. She also contributed a goal to the tournament-opening 13-0 rout of Thailand. But since she played 45 minutes as a substitute for an injured Alex Morgan in the final group game against Sweden, Lloyd played merely five minutes against Spain in the round of 16, eight minutes against France in the quarterfinals and 10 minutes against England in the semifinals.
Coach Jill Ellis used Lloyd as a deep midfielder in the 2015 World Cup until Lloyd pushed to be unleashed and backed that up by scoring in each of the last four games, including her hat trick in the final in a 13-minute span. Putting her in midfield again wouldn't work here because it's not an attacking position in Ellis' current system.
Lloyd is limited now to playing striker and that spot is rightfully owned by Morgan, who shares the tournament lead with six goals. The spots on the wings belong to Tobin Heath and Megan Rapinoe, with Christen Press available if Rapinoe is again unable to play because of a hamstring injury. Press scored the first U.S. goal against England.
As much as Lloyd believes she could have played a bigger role here, she's not blind to the significant improvement in skill that has elevated the women's game over the last four years. "I think that there's just kind of been an evolution, a change, a transition," she said. "Obviously, the game has gotten tremendously better and with that, we've seen Jill experiment with younger players and different players throughout this chunk of time and brought together a core group that's really united and backs each other, and it's really cool to see.
"And I think that we have the depth on the squad and any player that's called upon can step into these roles and play it, whereas I think in these previous years you've had kind of a core squad and you've got some game-changers that may come in and make a difference. But we've got a ton of depth on this team, which is fantastic."
Sign up for our soccer newsletter »
Because she was on the bench, Lloyd had a less-than-fantastic vantage point for Morgan's pretend tea-drinking celebration after scoring the decisive goal against England. Lloyd didn't know about Morgan's pinky-up gesture until after the game. "A little bit of a different view to not be able to see everything by the bench," she said matter-of-factly.
Barring a major surprise, Lloyd will be on the bench again Sunday. Her undeniable knack for scoring big goals in big games is an argument in favor of giving her more minutes, if not a starting spot, and her pent-up hunger could motivate her to be a potent weapon against a Dutch team that will have shorter rest than the Americans have had. But it's difficult to argue with the U.S. team's results so far, and it might be unfair to other players to put her in and disrupt the connections and rhythms they've built.
Lloyd is prepared to do what's asked of her on Sunday, and beyond. "This isn't an end of me, per se. I feel that I am in my prime. I feel the fittest I've felt," she said. "I feel that I can continue to contribute and I'm going to keep going for as long as I can, as long as in my heart I feel I continue to love it and want to get up every day and work really hard.
"So it's all about just being ready. We don't know what's going to happen on Sunday in the final, and no doubt in my mind that I'll be ready for anything."
Follow Helene Elliott on Twitter @helenenothelen
---
All about the beautiful game
Go inside the L.A. pro soccer scene and beyond in Kevin Baxter's weekly newsletter.
You may occasionally receive promotional content from the Los Angeles Times.