Christine Sinclair has one goal in mind: Winning the Women's World Cup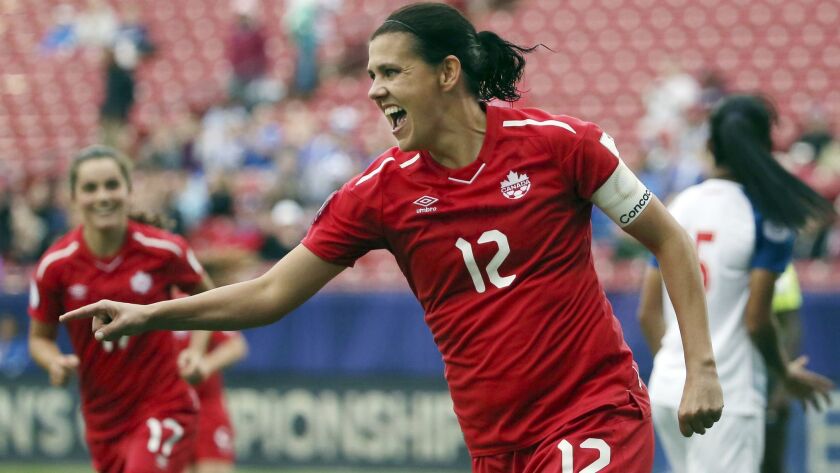 Reporting from REIMS, France —
It's been nearly four years since Abby Wambach scored her final goal for the U.S. women's national team and it went almost unnoticed, happening in the middle of a 7-2 rout of Costa Rica during an exhibition game played at a small-college football stadium.
But it became history because it was the 184th international goal of her career. No other player, male or female, was even close.
Now that record is about to fall. Canada's Christine Sinclair is three goals behind as her team enters play in the Women's World Cup on Monday against Cameroon.
And she couldn't care less.
"Obviously it's something that's in my head, mainly because people like yourself keep talking to me about it," Sinclair told a reporter recently. "It's not something I enjoy focusing on. It's all about the team's success. That's the focus."
The two go hand in hand because Canada has won 97 of the 127 games in which Sinclair has scored. As a result both the player and the team have come a long way since Sinclair's first international goal in 2000.
When Sinclair made the national squad, Canada wasn't a top 10 team, had failed to qualify for two Olympic tournaments and hadn't won a game in two Women's World Cup appearances.
Sign up for our weekly soccer newsletter »
The team she leads into Monday's game in Montpellier, France, is ranked fifth in the world. It is the only country to have reached the podium in the last two women's Olympic tournaments and made it to the quarterfinals of the Women's World Cup it hosted four years ago.
"I think about the national team that I joined when I was 15, 16 years old. We were getting destroyed by teams," Sinclair said. "To see where we've come and where I've come, it's pretty cool."
During that time she has grown from a gangly teenager into a quiet, humble team leader and captain whose role has changed, but not her responsibilities.
"There's half a dozen teams heading into the World Cup that have a legitimate chance at winning it and we put ourselves in a position to be one of those teams," she said. "It's simply a matter of who can perform consistently within a month-long event."
Sinclair was born into a soccer family just outside Vancouver and started playing at the age of 4, following in the footsteps of her father, Bill, and uncles Brian and Bruce Gant, who were all on amateur championship teams. But Sinclair was also a talented basketball and baseball player, making the all-star team as a second baseman in a boys' league when she was 11.
She gave up that sport soon afterward to concentrate on soccer, making her first senior national team appearance five years later in the Algarve Cup in Portugal. It was an auspicious debut because she finished second in the tournament with three goals.
At the University of Portland, Sinclair was a pure goal scorer, winning back-to-back Hermann trophies — soccer's equivalent of the Heisman — while scoring 110 times in four seasons. Back in Portland now with the NWSL's Thorns, her game has evolved into that of a midfielder. While her scoring has dropped slightly, with her 23 goals in the last four years matching the number she had in 2012 alone, Canada has benefited from her playmaking ability.
"She's a total professional. And she's eager to get better," said former U.S. national team star Heather O'Reilly. "If you're not feeling like you're moving forward and adding to your game, something's wrong.
"Whether she's been an out-and-out striker or when she's kind of played a little bit underneath the front line, she's found ways to sort of add layers to her game."
A lot of that has gone unnoticed because as good as Canada and Sinclair have become, many of their accomplishments have been overshadowed by their southern neighbors, the top-ranked U.S. and goalscorers such as Wambach, Alex Morgan and Carli Lloyd.
But at this point in her career Sinclair, who turns 36 on Wednesday, doesn't want headlines. She wants trophies.
"They're the No. 1 team in the world for a reason," she says of the U.S. "Right now we're worried about getting out of our group. People that know women's football know that we're one of the best teams in the world.
"And the people that don't, we don't really care about them."
Sinclair insisted she doesn't care about the goal-scoring record either; not with a World Cup to win.
"When I'm done playing, if it happens, it will be one of those things that you look back on and think, 'That's pretty cool,'" she said.
More than cool, it's historic: 184 international goals are more than Pele and Lionel Messi have combined. And with Sinclair pulling to within three of that number in 282 games, she's scoring at a faster rate than Cristiano Ronaldo.
Only one other person on the planet knows what that feels like. And she's cheering for Sinclair to keep going.
"If she's breaking this record that means that my time spent on the field was worth it. It means my legacy is intact," Wambach said. "Because in order for our game to continue to evolve, this record needs to be broken."
Sinclair could have the opportunity to break the international scoring record and also win a World Cup in the same few weeks.
Not everyone in the Wambach household is as diplomatic, however.
"My children, I will be honest, are not happy about it," she said.
kevin.baxter@latimes.com | Twitter: @kbaxter11
---
All about the beautiful game
Go inside the L.A. pro soccer scene and beyond in Kevin Baxter's weekly newsletter.
You may occasionally receive promotional content from the Los Angeles Times.