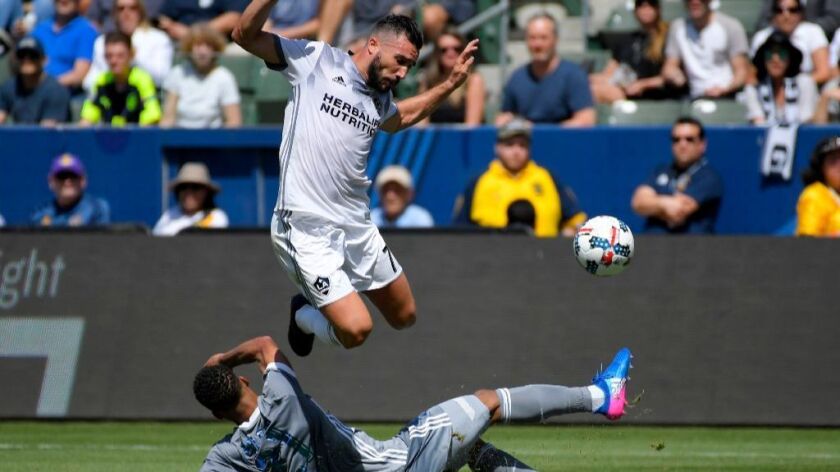 Bruce Arena is the winningest coach in national team history and, with three championships in eight full seasons with the Galaxy, the most successful MLS manager of all time as well.
Curt Onalfo, his successor with the Galaxy, has coached just 12 games with the team. Yet Onalfo has a chance Saturday to do something Arena never accomplished.
A win over D.C. United (4 p.m., Spectrum SN, Spectrum Deportes) at RFK Stadium would make him the first coach in franchise history to win four road games in as many weeks. And while that sounds like an esoteric stat, it's actually quite an accomplishment in a league where road teams – excluding the Galaxy – entered the weekend having won just 20% of the time.
To keep that streak going, however, the Galaxy (5-5-2) will have to overcome two more crippling injuries. Goalkeeper Brian Rowe is out six to eight weeks after sustaining a groin injury in training on Monday while center back Daniel Steres was diagnosed Wednesday with a hamstring strain.
The Galaxy have lost four starters in the last four games and 10 starters have missed at least one game to injury in the season's first three months. And if that wasn't bad enough Romain Alessandrini, who leads the team in both goals and assists with six each, also limped out of last week's physical game in San Jose and was held out of training early this week. He is expected to play Saturday.
Yet despite the injuries the Galaxy have continued to thrive on the road, something Onalfo believes will build confidence going forward.
"It would, psychologically, be a good thing for the group going into games on the road, knowing that you're able to do that," said Onalfo, whose team made its third trip to the East Coast this weekend and has already traveled nearly 20,000 miles this season.
"It's not easy," he added "to get points on the road."
Lately the Galaxy have been grabbing points wherever they go, having played to draws in their last two home games before winning three straight on the road, giving them a five-game unbeaten streak. Among MLS teams only Toronto has gone longer without a loss.
This weekend will be a test, though, because with Rowe out and backup keeper Clement Diop on international duty with Senegal, Jon Kempin is the likely starter in goal. If he does play, the game will mark his first MLS appearance since 2015.
But he'll be facing a team that has scored a league-low 10 goals in 13 games this season and hasn't scored at all at home in more than a month.
Dave Romney will take Steres' spot, marking his fourth start at his fourth different position along the back line this season.
"I'm already prepared for it," Romney said of his role as a super sub. "Ever since I've joined the first team I've always kind of been in that position. So I'm comfortable, I guess, filling in at anywhere now."
The Galaxy have gotten comfortable, too, outscoring opponents 11-4 since the first half of a home draw with the Chicago Fire nearly four weeks ago. Five of those goals have come from Gio dos Santos while Alessandrini has scored twice and added four assists, making them the most dangerous duo in the league over the last month.
Twitter: @kbaxter11
---