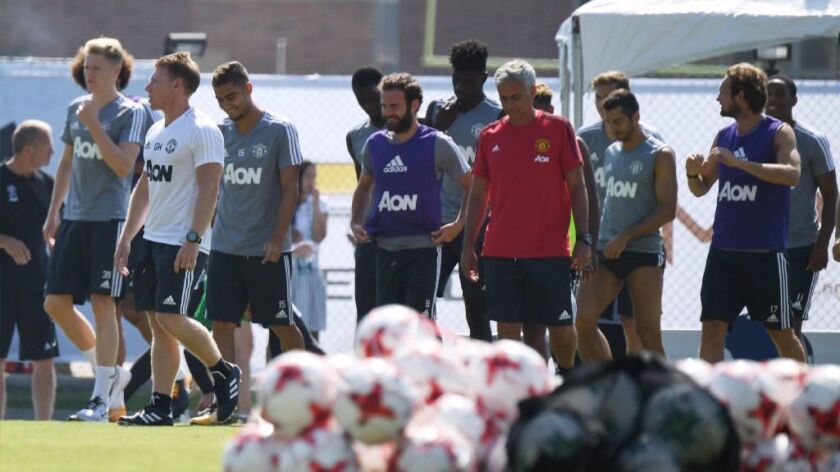 Saturday's StubHub Center friendly between Manchester United and the Galaxy couldn't come at a better time for the visitors — or at a worse time for the home team.
The iconic Premier League club opened preseason training at UCLA this week. So coach Jose Mourinho is looking at the exhibition, as well as the other friendlies on the team's 2½-week U.S. tour, as extended practices.
"A friendly game, for me it's a training session," he said Friday, speaking in Spanish. "We're going to play 45 minutes with 11, then they rest and we play the other 45 minutes with other men."
But for the Galaxy, the game (7 p.m., ESPN2, ESPN Deportes) marks the team's ninth in 30 days, an exhausting stretch during which they've been down as many as 12 players because of injuries, suspensions and international duty. As a result, the Galaxy limp into the exhibition having lost four of their last five.
A crowd of around 25,000 is expected.
Manchester United, which beat the Galaxy 7-0 in its last visit to L.A. in 2014, is expected to start first-choice keeper David de Gea in goal and will likely give at least some time to regulars such as Juan Mata, Paul Pogba and Marouane Fellaini. However Romelu Lukaku, who signed a five-year contract with the team Monday, may not play.
For the Galaxy, the goal will be to avoid further injuries while nursing others back to health. Midfielder Jermaine Jones and defender Daniel Steres (hamstring), both out since May, have been training and could return Saturday. In addition, forward Gio dos Santos is back from a month with the Mexico team while newly acquired right back Pele van Anholt could make his Galaxy debut.
Less certain are midfielders Romain Alessandrini, the league's leader scorer, and Joao Pedro, who also practiced this week after missing last Monday's U.S. Open Cup loss in San Jose because of undisclosed injuries.
Follow Kevin Baxter on Twitter @kbaxter11
---