Zlatan Ibrahimovic's return boosts Galaxy in 2-1 victory over Timbers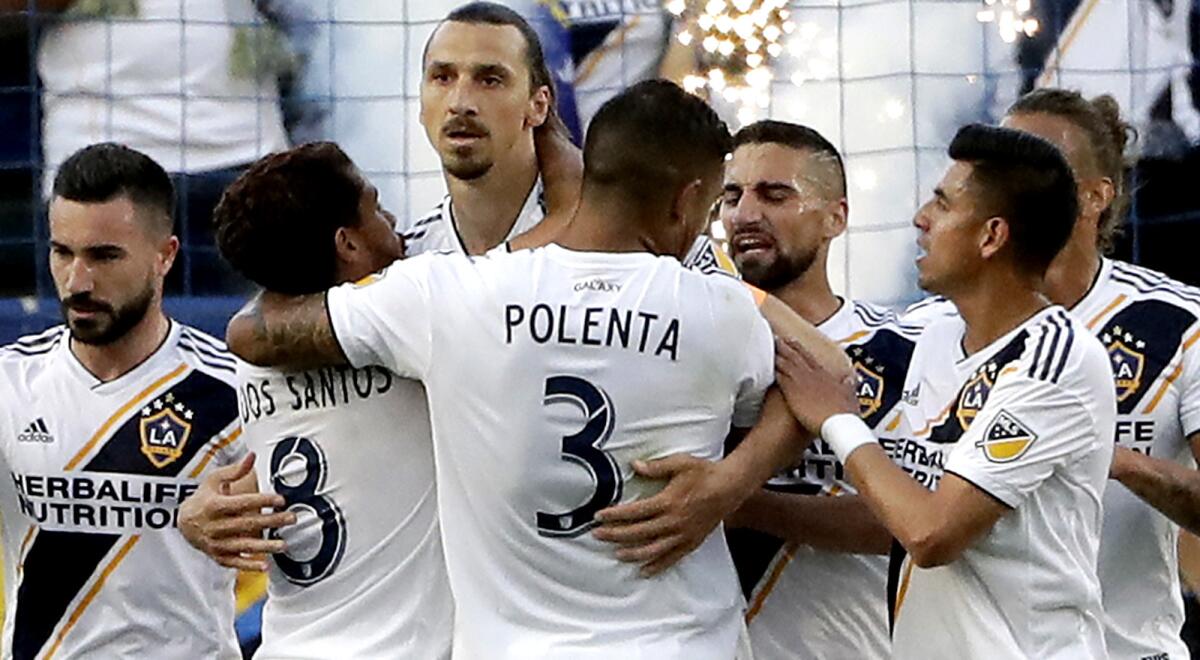 On the one-year anniversary of a debut that made him an MLS legend in less than 20 minutes, Zlatan Ibrahimovic took the field Sunday with a more modest goal: to prove he could play despite a sore left Achilles tendon.
Ibrahimovic's latest performance wasn't as memorable as his first but it did last longer, which made it remarkable in its own way.
After spending 25 days rehabbing in the gym, limiting him to just four days of full training in March, the Galaxy captain not only played an active 90 minutes, he scored both goals in a 2-1 victory over the Portland Timbers before an announced crowd of 23,820 at Dignity Health Sports Park.
The goals came on penalty shots, neither as flashy as the 40-yard volley he used for his first MLS goal or the stoppage-time header that marked his second.
But the result was the same: The Galaxy won and Ibrahimovic's story gained another chapter.
"I'm powerful," he joked afterward, two ice bags taped around his left ankle. "Don't worry about it."
So his coach, Guillermo Barros Schelotto, didn't.
"I expected he would play 90 because he was ready," he said. "I don't want to put on the field someone who is not 100%. Nobody forced me to put him on the field. Nobody forced him to go to the field.
"We need to be smart because he's coming [off] the injury. But he knows his body."
He also knows scoring. And while was Schelotto was happy with the two goals from his captain, Ibrahimovic could have had more.
In the 14th minute he stuck his right leg in front of a long Rolf Feltscher cross and deflected it off the far post. Later, in the closing minutes, he narrowly missed punching a Jorgen Skjelvik pass from the left wing into an empty goal.
"It was very close. I should have scored," said Ibrahimovic, who gestured angrily at Skjelvik after the play, complaining that the pass was too high.
"I promised my son three goals. And because of a bad pass, Jorgen has to pay my son."
The shots he got in between were a little easier, the first coming from the penalty spot in the 33rd minute.
He slotted that one into the lower left-hand corner and it was a goal he earned, drawing the penalty after being felled in the box by Portland's Claude Dielna while reaching for a nifty back-heel pass from Romain Alessandrini.
Ibrahimovic's return allowed Schelotto to start his strongest lineup of the season, which paired Alessandrini, coming off a hamstring injury, and Sebastian Lletget in the midfield for the first time this season.
But for all the 4-2-3-1 formation gave Schelotto on offense, it didn't allow the Galaxy (3-1-0) to press on defense and the Timbers (0-3-1) exploited the open space to tie the score on Jeremy Ebobisse's goal just before halftime.
But that only annoyed Ibrahimovic, broke the tie after Portland keeper Jeff Attinella cut him down in the penalty area going after a loose ball midway through the second half.
"I'm 37 but I'm still fast," he said of the play that drew the penalty, one that saw him muscle his way through three defenders to wind up one on one with the keeper.
As they did with the first penalty, the Timbers protested the call, but referee Ted Unkel pointed to the spot and, after a slight delay, Ibrahimovic stepped up and chipped a soft shot into the center of the net.
"Trust me, when you shoot penalties you should not think too much," he said. "Just put it in the goal, easy like that. Which it's not."
It was Ibrahimovic's third goal in two games and his second game winner of the season. Nine of his 25 MLS goals have decided Galaxy victories and his 1.5 goals per 90 minutes is best in the league this season.
He'll get a chance to add to that total Friday on Vancouver's artificial turf, a surface he avoided last year.
But after missing two games already this season, Ibrahimovic expects to make that trip.
"I'm here to perform," he said. "I'm not here on vacation. I'm here to play for the Galaxy. The day I don't perform, you rip [up] the contract and I go back to Sweden or somewhere else."
That doesn't figure to happen any time soon.
Sign up for our weekly soccer newsletter »
kevin.baxter@latimes.com | Twitter: @kbaxter11