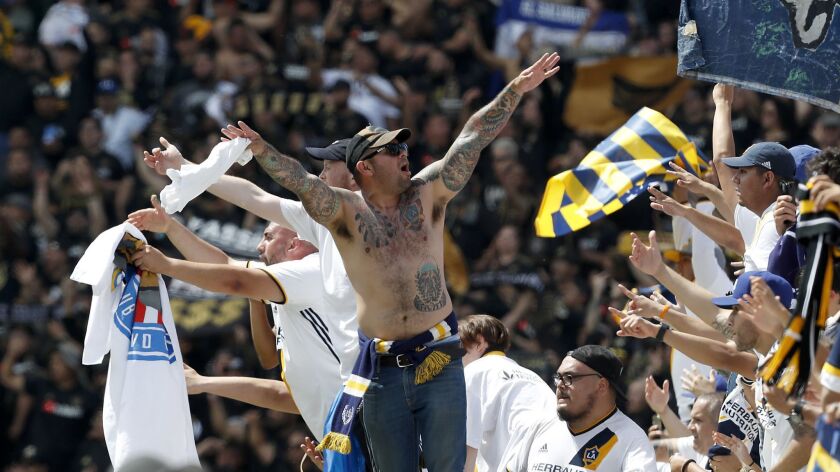 The Galaxy will become the latest MLS club to offer a safe-standing supporters section next year, part of a multi-year series of renovations at Dignity Health Sports Park that will include the addition of bars on the north concourse and new premium seating sections.
The safe-standing section, to be added ahead of the 2020 MLS season, will be installed in the north end in Sections 120-123. The area will be home to the Angel City Brigade and Galaxians supporters groups.
Safe-standing supporters sections, modeled after those used by many European clubs, are typically raucous areas credited with creating intimidating environments for opposing teams at LAFC's Banc of California Stadium and in Minnesota, Orlando City and San Jose, among other MLS venues.
"We believe Dignity Health Sports Park is one of the finest soccer-specific stadiums in the United States, and investing in our supporters and their resources is paramount in those efforts," Galaxy president Chris Klein said in a statement. "Creating a safe-standing section in our stadium will have a tremendous effect on our players on the field and will continue to give us a home field advantage when playing in front of our supporters.
"Our supporters are the lifeblood of this club and we are excited to provide them with the necessary seating to support the Galaxy."
Antonio Magana, vice president of the Angel City Brigade, said his group welcomed the change.
Sign up for our weekly soccer newsletter »
"Safe-standing is something that Angel City Brigade has wanted at the stadium for more than 10 years," he said. "After many conversations with the Galaxy over the years, safe-standing is finally here."
The team said the LA Riot Squad, the Galaxy's third major supporter group, will not relocate to the north stand but will remain in its current home in Sections 137-138.
---