How a difficult childhood helped create Zlatan Ibrahimovic the soccer god
There's a story from Zlatan Ibrahimovic's childhood that goes a long way toward explaining how a skinny, awkward boy would go on to become one of the best soccer players of his generation.
Ibrahimovic grew up poor, one of five children living in a dangerous housing project in the center of Malmo, Sweden's third-largest city. He spoke with a lisp, was self-conscious about his big nose and admits he went to school mainly for the free lunches.
When the school hired a special teacher to work with him, the added humiliation was more than he could bear.
So when the woman came out to watch him play soccer one afternoon, Ibrahimovic lined a long-distance shot off her head. A few days later the teacher quit and a lesson was learned: The world can be a cold, cruel place, but with a soccer ball at his feet, Ibrahimovic could make that world bend to his will.
"I wanted to stand up to the whole world and show everybody who'd doubted me who I really was," he wrote in his autobiography "I Am Zlatan."
"And I couldn't imagine anyone who'd be able to stop me."
Few have managed that in the more than two decades since, with Ibrahimovic introducing himself to Major League Soccer last week by hobbling off the Galaxy bench to score the game-tying goal on a jaw-dropping 40-yard strike, then knock in the winner on a stoppage-time header, capping the greatest comeback in league history.
It would have been an improbable performance if he hadn't done it before, scoring in his debut with four other teams. In 20 seasons he's won 33 championships, including 11 titles in four of Europe's top leagues, earning tens of millions of dollars along the way.
Yet he's still trying to win over the doubters and daring people to try to stop him.
I always tried to play it cocky like that. It's something that had stayed with me since I was little. You couldn't show any weakness.
— Zlatan Ibrahimovic
"A lot of players, you sometimes see when they've been successful is that you've had rejection," said Warren Barton, a former English Premier League defender and England international who is now a soccer analyst for Fox Sports. "Some of that is motivation for Zlatan. He [takes] that personally and [creates] the image that he has for himself.
"Those types of things in life when you're younger, you use it as incentive to drive you on."
Ibrahimovic, who will suit up for his second game with the Galaxy on Sunday, clearly remains driven. And at 36, less than a year removed from a knee injury that would have ended many careers, he continues to defy convention as well.
Having conquered most of Europe, he came here to conqueror the colonies. Having made his millions on the continent, he reportedly turned down a $100 million offer from an unidentified Chinese team for a two-year, $3-million deal with the Galaxy.
And to make sure no one questioned his commitment, he came to Southern California with his longtime partner Helena Seger, a businesswoman 11 years his senior, and the couple's two sons, 11-year-old Max and 10-year-old Vincent. Even the family's dog, a brown-and-white bulldog named Trustor, had its own seat on the Bombardier corporate jet for the 10-hour flight from England.
"I'm not here only for one game. I'm here for the season," said Ibrahimovic, who took questions at his introductory press conference in English, Spanish, Swedish and Italian.
"I know what I need to do to perform. I've played 700, 800 games. I have almost 500 goals. I have more goals than players have games. I think I know what I'm doing. I just have to keep doing it."
Ibrahimovic was born in Sweden to immigrant parents from the former Yugoslavia. His mother was a cleaning lady and his father a property caretaker who divorced before Ibrahimovic's second birthday. As a result the boy and his siblings moved frequently between their parents' tiny apartments, rarely spending more than a year in one place.
When a bloody civil war broke out back home, Ibrahimovic's father Sefik became increasingly withdrawn, spending most nights drinking and listening to music from his broken homeland. The refrigerator often contained nothing but beer, leaving the children to fend for themselves. Social services intervened more than once.
Ibrahimovic has given few revealing interviews, but he discusses his childhood openly and at length in his autobiography.
"My dad was never there," Ibrahimovic said. "I looked after myself. Maybe it did hurt. I can't really tell."
If he hadn't found soccer, Ibrahimovic said, he may have wound up in prison. As a boy he was a talented thief, learning how to pick locks and steal bikes. He once unknowingly stole a mailman's delivery bike, pinching the neighborhood's letters and packages in the process. Another time he made off with his coach's bicycle from outside his team's locker room.
"I got a kick out of swiping stuff," he said.
What Ibrahimovic really craved, though, was the recognition and respect he found on the dusty playing fields of the infamous Rosengard projects where he grew up. The area was a mix of Bosnians, Serbs, Somalis, Turks and Poles — immigrants who, like Ibrahimovic, were living on the edge of society and never felt they fit in.
You can't do something brilliant unless you dare to be brilliant. Ibrahimovic is a perfect definition of a guy who always dares to be brilliant.
— Galaxy coach Sigi Schmid
The soccer pitch became their proving ground, with the raucous games extending long into the night. And just as on the inner-city basketball courts of Brooklyn, Philadelphia and Chicago, winning wasn't enough. You had to play with style and panache. Tricks and moves were often more important than goals; that was how you got noticed.
So Ibrahimovic copied flashy Brazilian players such as Romario and his idol, the incomparable Ronaldo, and began to sleep with a soccer ball tucked next to his pillow.
That showmanship has come to define his career, but as he slowly climbed the ranks of youth soccer in Sweden, it clashed with the prevailing team-first concept. As a result he was sent home by coaches more than once, while on other occasions his teammates' parents drafted petitions demanding he be kicked out of the club.
None of that worked; Ibrahimovic was simply too good. And that led to another trait that has followed him throughout his career: Each time his skill or value was questioned, he would respond with an over-the-top boast, then go out on the field and back it up.
"I always tried to play it cocky like that," he said. "It's something that had stayed with me since I was little. You couldn't show any weakness."
Not surprisingly, his other sporting idol was Muhammad Ali.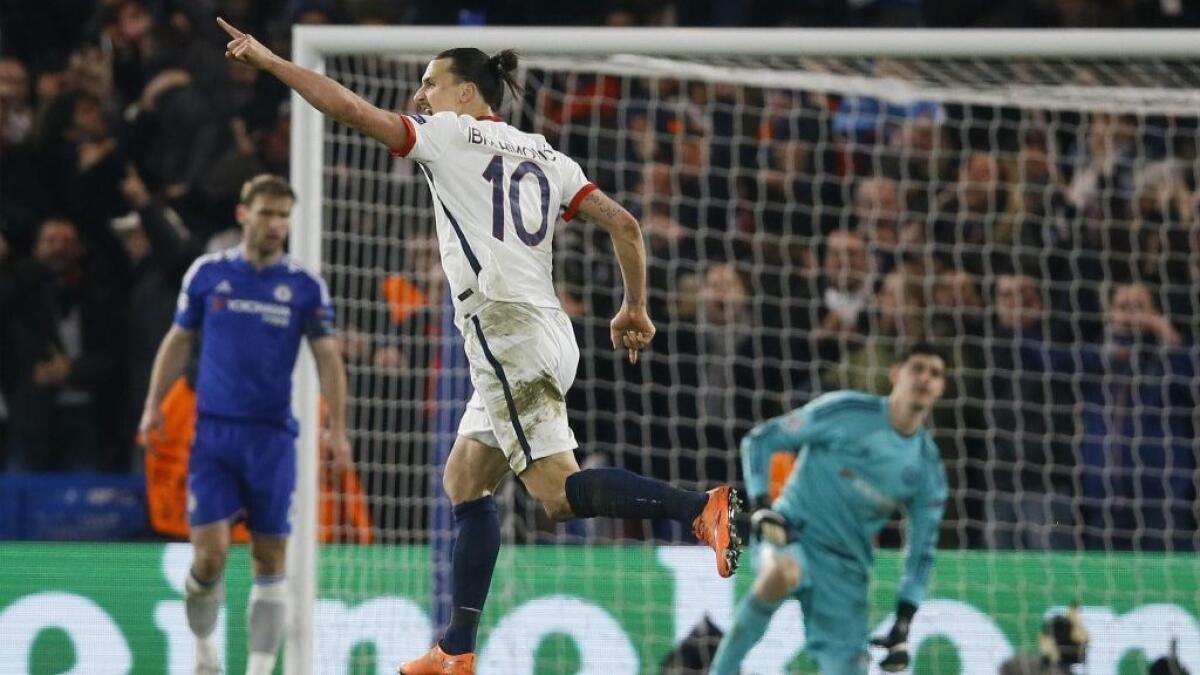 "When you experience moments where people have doubted you or people have made fun of you or been mean to you, you go different ways," said Alexi Lalas, a former World Cup star and Galaxy general manager. "You build up an arsenal of wanting to prove others wrong, but also prove to yourself that that's not who you are.
"He knows what he is and what he can do. And he feels a responsibility to live up to it."
The bravado and hype are all part of that. He has trademarked his first name, repeatedly compared himself to God, and after Sweden failed to qualify for the last World Cup, Ibrahimovic deflected his disappointment by saying the tournament wouldn't be worth watching if he wasn't playing.
"I can't help but laugh," he once said, "at how perfect I am."
Yet for all the bravado in public, in the Galaxy dressing room, where he has moved into Landon Donovan's old corner locker, Ibrahimovic has quietly fit in.
"He's a great guy," midfielder Baggio Husidic said. "Within the group he's a jokester. He's really welcoming to the young guys and interacts with the academy kids that come up.
"It still hasn't hit us that he's here. I catch myself. I look up, I go, 'Oh, Zlatan's in our locker room.' It's pretty crazy."
Yet his braggadocio has served a purpose other than just grabbing headlines. Although the boasts are made playfully, they often raise the bar of expectations, forcing Ibrahimovic to work harder and climb higher to get over it.
"There's a gleam in his eye and an understanding of the character that he plays, the personality that he is," Lalas said. "That doesn't necessarily mean it's not genuine and authentic. But he does understand how to manipulate and use it to his advantage. And then the most important part of the entire equation is he understands that he has the innate ability to live up to it and provide those moments as opposed to just talking about them."
Added Barton: "Probably only him and [Cristiano] Ronaldo can back it up. They talk the talk."
They also walk the walk.
So 24 hours after his first Galaxy press conference, in which he fielded multiple questions about whether he was too old and too lame to help the team, Ibrahimovic stepped on to the StubHub Center field as a second-half substitute and quickly put his stamp on a game many are calling the most memorable in MLS history.
Within minutes the highlights flashed on mobile phones, computer screens and televisions around the world, further cementing the legend.
In Singapore a U.S. sailor named Francisco Gomez stepped into a karaoke bar wearing a dark blue Galaxy t-shirt and was approached by a stranger who whispered just one word: "Ibrahimovic." In Mexico, a Canadian tourist and MLS official named Sean Dennison watched alone as the goals played over and over again on a silent TV.
In London, Chelsea supporters crowded onto a train car gasped in wonder at a YouTube video, while in Saudi Arabia an Ibrahimovic fan named Muhammed retweeted the goals six times.
And in Sweden a former teacher, perhaps still nursing a head wound, might have watched in wonder as well.
"You can't do something brilliant unless you dare to be brilliant," Galaxy coach Sigi Schmid said. "Ibrahimovic is a perfect definition of a guy who always dares to be brilliant. And if you do that, you pull off some things."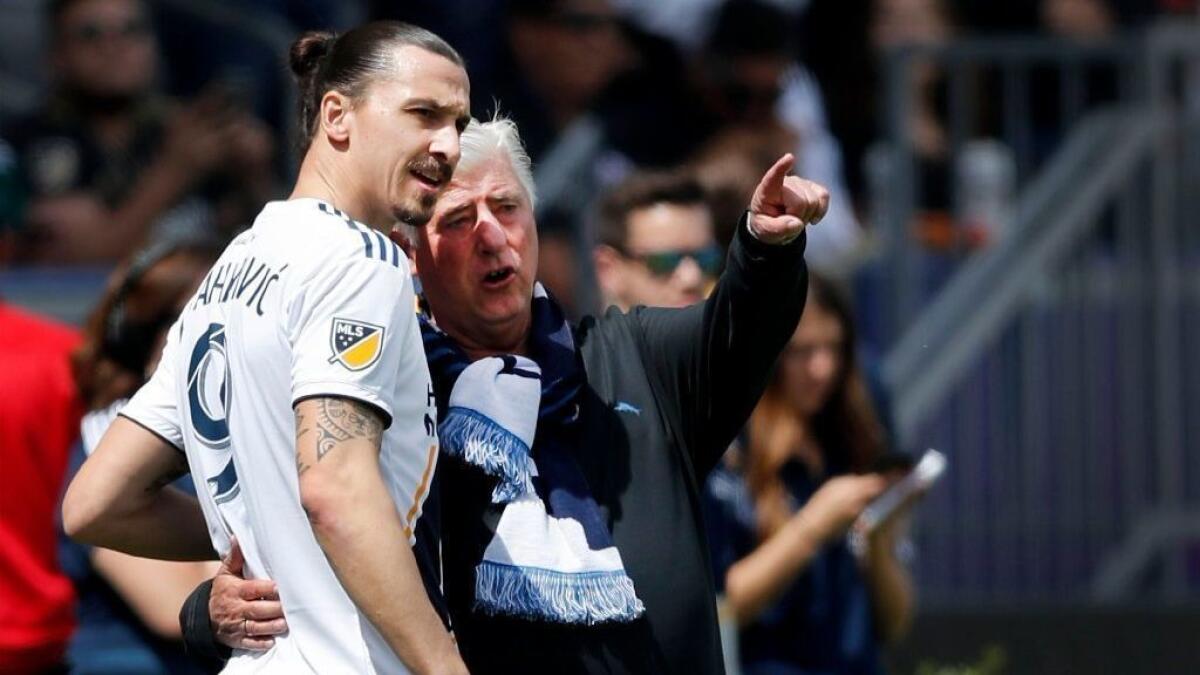 Follow Kevin Baxter on Twitter @kbaxter11