Galaxy welcome back Zlatan Ibrahimovic and Juninho
On the same day the Galaxy officially confirmed Zlatan Ibrahimovic would be returning for 2019, they also announced midfielder Juninho, a starter on the team's last three MLS Cup champions, would be back as well.
And while Ibrahimovic is clearly the bigger signing, the acquisition of Juninho, a fan favorite in his six seasons in Carson, reestablishes a link to the team's glory days. Unless the Galaxy re-sign midfielder Baggio Husidic, Juninho will be the only player to start training camp next month who was also in uniform when the team won its last league championship.
The Galaxy haven't appeared in an MLS Cup final since that 2014 game, the longest title-game drought in franchise history.
"Juninho knows what it means to represent the Galaxy and will be a leader on and off the field for our players," general manager Dennis te Kloese said. "He is a valuable addition to our roster."
Juninho, who turns 30 in January, played in 207 regular-season and playoff games for the Galaxy between 2010 and 2015. The Brazilian was then transferred to Tijuana of Mexico's Liga MX but returned to MLS with the Chicago Fire in 2017, appearing in 21 matches. He was injured most of last season.
The Galaxy paid the Fire $75,000 in general allocation money in 2020 for the rights to Juninho, who has played more minutes in a Galaxy uniform this decade than any other player.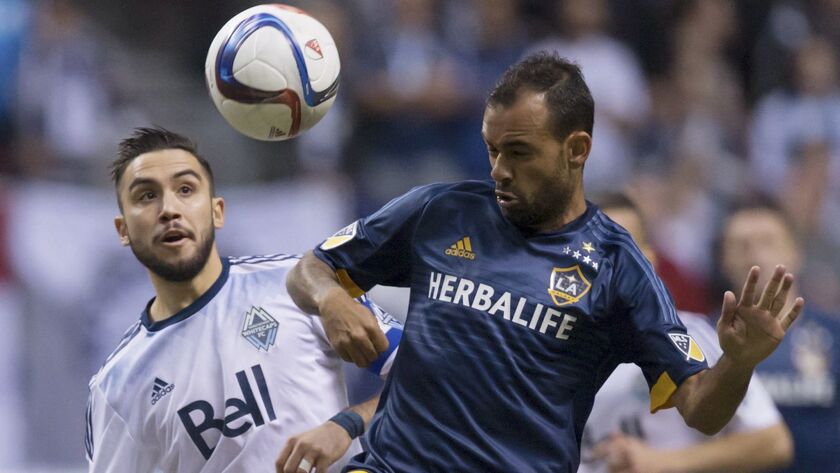 Te Kloese, the Galaxy's new general manager, is off to an aggressive start in his own return to MLS. In addition to the acquisition of Juninho, Te Kloese has re-signed defender Rolf Feltscher and Ibrahimovic — by far his biggest offseason priority — and made progress on the re-signings of at least two other players. He must still settle on a new coach, however, after the Galaxy lost Caleb Porter to the Columbus Crew last month.
"We are very pleased to sign Zlatan to a new contract that will see him return for the 2019 season," Te Kloese said in a statement. "He showed his value last season and we look forward to him representing our club next year. With Zlatan returning, we will continue to improve our team in advance of the season."
Ibrahimovic was second in MLS with 22 goals in his first MLS season and tied for the team league with 10 assists. His deal, which was reported last week but officially announced Tuesday, will make him a designated player and include a sizable raise. But because the Galaxy already have their allotment of three DPs in Romain Alessandrini, Gio dos Santos and his brother Jonathan dos Santos, the team will have to trade, release or restructure the contract of one of those players before the March 2 season opener.
kevin.baxter@latimes.com | Twitter: @kbaxter11
---
All about the beautiful game
Go inside the L.A. pro soccer scene and beyond in Kevin Baxter's weekly newsletter.
You may occasionally receive promotional content from the Los Angeles Times.