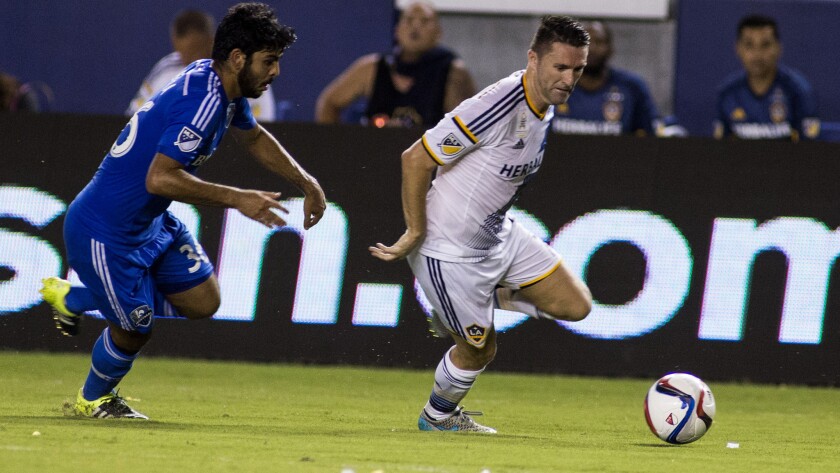 On a hot, humid night, the Galaxy and Montreal Impact put in many minutes but came up empty.
The 0-0 draw Saturday night at StubHub Center in front of a sold-out crowd of 27,000 had a bigger impact on the Galaxy than the Impact, however.
By failing to score, the Galaxy (13-8-8) dropped into third place in the Western Conference behind the Vancouver Whitecaps and FC Dallas.
Montreal (9-5-11) remained in sixth place in the East, holding onto the final playoff spot.
"We weren't good," Galaxy Coach Bruce Arena said. "You can say heat and humidity and this or that. We weren't a good attacking team tonight.
"We just weren't sharp. We looked a little heavy-legged; they did probably as well. And obviously you can attribute some of that to the heat and humidity. But on the night, we weren't good. So we've got to accept that and move forward."
The Galaxy had entered the match leading Major League Soccer in scoring.
The Galaxy have never lost to the Impact and have lost just once in 14 games at home this season.
The Galaxy, which had been off for two weeks, had 10 shots on goal. Goalkeeper Donovan Ricketts had five saves.
L.A. was back to full strength, with Gyasi Zardes, Robbie Keane, Omar Gonzalez and A.J. DeLaGarza returning from international duty.
Still, it wasn't enough.
"I don't know if it's frustrating," Arena said. "We weren't very good and kind of got what we deserved.
The Galaxy had a few opportunities to score in the first half, but just couldn't capitalize.
One of its big chances came after Montreal goalkeeper Evan Bush blocked a shot and then chased the ball down before kicking it away. However, Bush was too far away from the net, leaving it exposed. But Zardes' kick was high and wide.
Later in the first half, it looked as if Keane might score. But Keane had his kick blocked by a sliding Bush.
The Galaxy had seven shots on goal in the first half.
For Montreal, striker Didier Drogba was in position to score in the second half, but his left-footed kick went off to the right.
Galaxy forward Giovani dos Santos left the game after the first half with groin soreness. He was replaced by Baggio Husidic.
broderick.turner@latimes.com
Twitter:@BA_Turner
---