Jorgen Skjelvik, visiting from Norway, hopes to make the Galaxy great again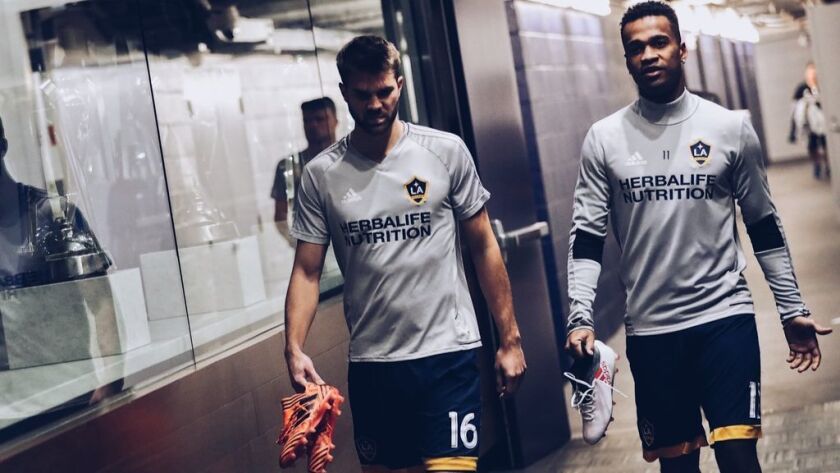 On the same day last month that President Trump told Congressional leaders the U.S. needed more immigrants from places like Norway, Jorgen Skjelvik arrived in Los Angeles.
That was just a coincidence. But Skjelvik, who was born outside the Norwegian capital of Oslo, nevertheless made it clear he wasn't planning to stay forever.
"Norway's a good country," he said with a smile. "I don't know why anybody would want to move to America."
So consider Skjelvik's visit a business trip, one the Galaxy's newest center back hopes will be profitable.
"I got a good offer from a big club," said Skjelvik, a national team player who spent the last five years with Norwegian club Rosenborg, where he won three consecutive championships. "I had a meeting with the coach and the scouts. They spoke well about the team and the league and what they want to build.
"That's why I jumped — to compete in the league and to win titles."
Galaxy coach Sigi Schmid studied Skjelvik, a quick defender and good passer, on video, then scouted him in person. And when Skjelvik decided in November to become a free agent rather than re-signing with Rosenborg, the Galaxy swooped in.
Skjelvik, 26, will likely be one of two new starters on a four-man back line. Add in new goalkeeper David Bingham and a new holding midfielder in Perry Kitchen, and the Galaxy have completely rebuilt a defense that gave up a franchise-record 67 goals last season.
"Ideally you'd rather have a team that sort of knows each other and you're only breaking in one or two guys," Schmid said. "But that was not the position that we felt we were in. We need to make ourselves stronger, especially down the middle of the field."
Building chemistry with those new players and getting them on the same page is one reason why the Galaxy took their preseason training camp to Tucson this week.
"They all get to know each other," Schmid said. "And spend some time with each other off the field."
Skjelvik will also have to get to know MLS, a league he says is much deeper than the ones in which he played in Sweden and Norway.
"The base level is not the same as in Norway," he said. "You have those players in each team were it's way better than what I'm used to. And the teams are getting more and more of those players. So it lifts the league."
Skjelvik has stepped up his game before, though, since Rosenborg also played in the UEFA Champions League and the Europa League, where it faced some of the continent's top teams.
"For him to make the adjustment, it's going to be week in and week out," Schmid said. "Sometimes when you're playing with Rosenborg it's like you draw an opponent and maybe if you play 75% you're still going to get an easy win.
"That's going to be the big change for him."
Well, that and adjusting to life in the U.S., where Norwegians are suddenly in demand.
"They've been taking very good care of me so far," Skjelvik said.
Zlatan Ibrahimovic update
The Galaxy are denying published reports they have reached an agreement with Manchester United's Zlatan Ibrahimovic, but they aren't denying they may reach one soon.
"Nothing signed or agreed upon at present," said a spokesman for the club, which believed it was close to landing the Swedish forward in each of the last two seasons.
Ibrahimovic, 36, has started only twice in all competitions for Manchester United this season and has been told he is free to leave the club if he has a chance to play elsewhere.
Follow Kevin Baxter on Twitter @kbaxter11
---
All about the beautiful game
Go inside the L.A. pro soccer scene and beyond in Kevin Baxter's weekly newsletter.
You may occasionally receive promotional content from the Los Angeles Times.