U.S., Galaxy midfielder Sebastian Lletget eager to put severe injury behind him
Reporting from SAN JOSE —
Sebastian Lletget returns to the scene of the crime Saturday at Avaya Stadium.
To the place where, 22 months ago, a year of his soccer career was stolen. To the place where that career nearly ended.
"As soon as I walk out, I'll probably sneak a peak," Lletget said of the spot along the north sideline where an illegal challenge from Honduran defender Ever Alvarado left him writhing on the ground in pain, his future in doubt.
Moments earlier, the Galaxy midfielder, playing in his first competitive game for the U.S. national team, scored what proved to be the winning goal in a crucial World Cup qualifier. Then one stomp from Alvarado's left foot sent him tumbling from the top of his game to the depths of despair.
The rare Lisfranc fracture he suffered, in which ligaments in his foot were ripped and bones were displaced, cost him the rest of the season – and threatened the rest of his career, making the mental anguish more difficult to endure than the physical pain.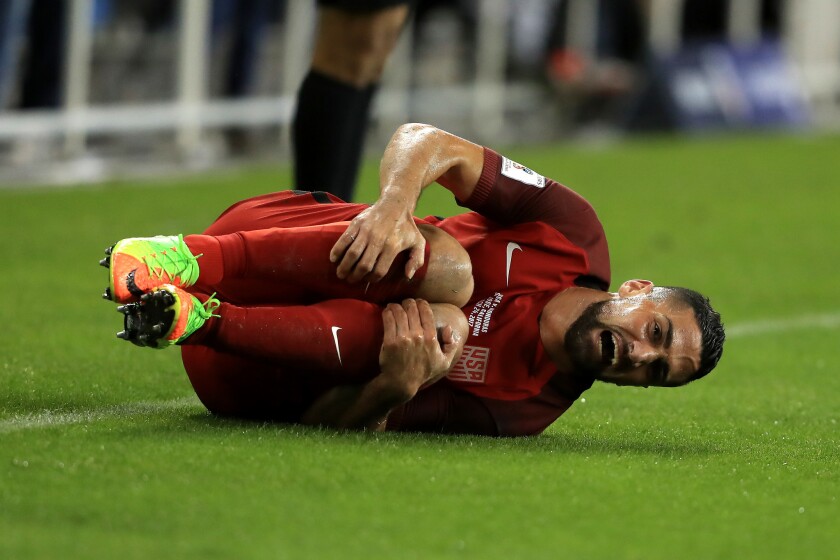 Sign up for our daily sports newsletter »
For months afterward, Lletget would wake in a cold sweat in the middle of the night, wondering if he'd every play again.
On Saturday he can to close that circle and make his recovery complete when he puts on a U.S. jersey for a friendly against Costa Rica in his first trip back to Avaya since the injury.
"I definitely want to, not erase it, but sort of just move on from it in a positive way. I know it's not a World Cup qualifier but it's me coming back wearing this shirt again," Lletget said Friday, tugging at the U.S. crest on his practice shirt. "So it will be special."
The game will be a homecoming in other ways too. Lletget grew up in San Francisco but he perfected his soccer playing for Santa Clara Sporting, a premier youth club that trained just a few miles from where Avaya now stands in San Jose. His age-group coach said Lletget was the best teenage player Northern California had ever produced and scouts from England's West Ham United agreed, recruiting Lletget into their academy when he was just 17.
But he made just one competitive first-team appearance in five years in East London before returning to the U.S. to join the Galaxy in 2015, scoring seven goals in 20 games. Less than two years later, in his second start for the national team, he was scoring in a World Cup qualifier.
Asked if that was the high point of his career, Lletget answered quickly.
"Oh my God, yeah," he said. "I felt so good. And I remember physically feeling amazing."
Eighteen minutes later he was being helped to the locker room.
"It will be the back of his mind for sure," U.S. coach Gregg Berhalter said of the injury. "When you get injured that severe, it leaves a lasting impression. I talked with Sebastian at length about his injury and it [was] a tough one. Potentially devastating.
"I'm really proud of him, the way he came back."
Lletget has played just three times for the U.S. since then yet, at 26, he is a veteran on a young roster in which just five of the 23 players have appeared in more international games than Lletget's six. Berhalter, who has been tasked with leading the national team's transition, said the midfielder's versatility and skill allow him to take on a number of roles.
"He's very ball secure. He's able to take guys one on one," he explained. "We're still working on his positioning because we know if we can get him the ball in dangerous situations he can be very effective."
First, however, he has to put the ghosts of Avaya away. And just as they were there for the haunting nearly two years ago, more than two dozen friends and family members will be back Saturday to watch the exorcism.
"I still feel like I'm climbing," Lletget says when asked if his game has returned to the level it was on the rainy, bone-chilling night of the World Cup qualifier in 2017. "Emotionally I feel even better. But it took me so long to get there.
"You move forward from these things. Especially me. I'm better off for it. I learned from it."
kevin.baxter@latimes.com | Twitter: @kbaxter11
---
All about the beautiful game
Go inside the L.A. pro soccer scene and beyond in Kevin Baxter's weekly newsletter.
You may occasionally receive promotional content from the Los Angeles Times.