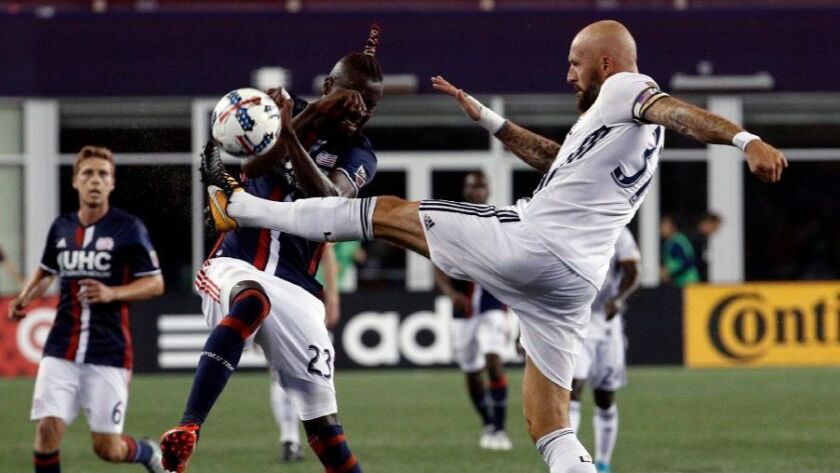 The Galaxy's fading hopes of making the MLS playoffs grew dimmer Friday when the team sold captain Jelle Van Damme to Royal Antwerp in Belgium's top domestic league.
Van Damme, 33, a two-time MLS all-star, recently separated from his wife, former tennis professional Elke Clijsters, and told the Galaxy he wanted to go home to be with his two young children.
The Galaxy will receive $235,000 from Antwerp in exchange for Van Damme, who appeared in 46 MLS games over two seasons. That money could help the team finalize a contract with French center back Michael Ciani, a free agent who has been in talks with the Galaxy for nearly a month.
The Galaxy's offer is reportedly for the rest of this season while Ciani, 33, wants a deal through 2018.
Van Damme, who was guaranteed $662,500 this year, according to the MLS players union, was a finalist for the MLS Defender of the Year award last season but struggled this year. He was benched in the first half of an early season game for poor play and has drawn eight yellow cards and three reds in 18 starts, both tops in the league.
The Galaxy had hoped to keep Van Damme for crucial matches with Columbus and San Jose, but Antwerp, already three games into its season, pushed for an earlier transfer.
The Galaxy, who haven't missed the playoffs since 2008, are nine points out of a playoff berth with 11 games to play. To reach the postseason they'll have to jump over three teams and overcome a double-digit goal differential — not an easy task for a team that hasn't won since mid-June and has scored one goal since mid-July.
Galaxy president Chris Klein had said early this summer he planned to force Van Damme to play out the season, saying at this month's All-Star Game, "He is staying. He is under contract with us and our intention is to keep him."
Follow Kevin Baxter on Twitter @kbaxter11
---