Zlatan Ibrahimovic named MLS Newcomer of the Year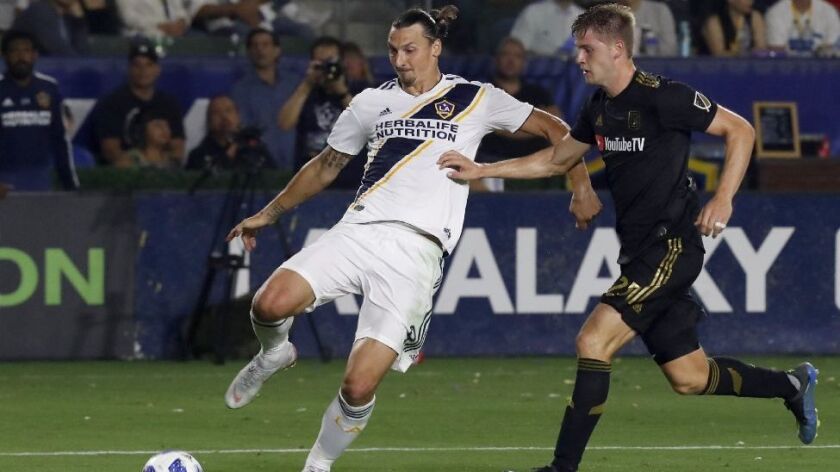 When Zlatan Ibrahimovic came to the Galaxy nine months ago, it was part of a practiced routine. Six times in his career Ibrahimovic has come to a new league and each time he has quickly established his dominance.
MLS, he promised, would be no different.
"They said I was old in the Premier League. And I took over," he said. "There is nothing to prove. I am the player I am. I know what I'm able to do. And I know I will do it."
The rest of MLS apparently agrees, naming Ibrahimovic the league's Newcomer of the Year in a vote of players, coaches and media. Ibrahimovic, who was chosen to the league's Best XI on Sunday, led the Western Conference with 22 goals and led the Galaxy with 10 assists in 27 games to edge former Manchester United teammate Wayne Rooney in the balloting. It was the fourth 20-game, 10-assist season in MLS history.
The Newcomer award recognizes players with previous professional experience who are in their first season in MLS. The award was originally scheduled to be presented last week but the announcement was delayed because of the deadly Thousand Oaks shooting.
Rooney, who joined D.C. United in the summer, finished with 12 goals and seven assists in 20 games. Los Angeles Football Club captain Carlos Vela finished third in the voting, three spots ahead of teammate Diego Rossi.
Those three players all made the playoffs though and Ibrahimovic didn't.
"I think I had a good season individually," he said Tuesday. "More than a good season. But it's not a one-man show, it's a collective and we didn't make it to the playoffs."
There were plenty of individual highlights, though, beginning with Ibrahimovic's first game, in which he scored the tying and winning goal in the final 13 minutes of the inaugural intercity showdown with LAFC. That was the first of seven game-winning goals for Ibrahimovic, making him responsible for the result in seven of the 11 Galaxy victories he played in.
Twice Ibrahimovic had streaks in which he scored at least a goal in five consecutive games, making him just the second player in MLS history – and the first in 22 seasons -- to do that. The team was 9-2-4 in games in which Ibrahimovic scored and 4-10-5 when he didn't.
The most spectacular goal in September occurred when, with his body turned away from the net, Ibrahimovic reached out a leg and flicked in a pass against Toronto. It was the 500th goal of his career, allowing him to join Argentina's Lionel Messi and Portugal's Cristiano Ronaldo as the only active players with that many.
Perhaps most significant, though, is the fact Ibrahimovic accomplished all this after a major knee injury in April 2017 that left his career in doubt. Ibrahimovic finished second to former Galaxy forward Gyasi Zardes in voting for the MLS Comeback Player award.
"People judged me, said it's over, you cannot come back from that injury," he said last week. "But I said if I come back, I come back and show the world that I can still play like I did before the injury. This season was important because I played the whole season."
Whether he'll be here next season isn't certain. Ibrahimovic joined the Galaxy three games into the season, with the team's three designated-player spots already taken. As a result he made just $1.5 million, pocket change for a player who regularly made 10 times as much in Europe.
He's hinted strongly he wants a new deal for next season, which would likely force the club to move one of its DPs to create additional salary room for Ibrahimovic. But more than that, the Swedish star told the team in meetings he wants a chance to win. And management, which has suffered through the worst two-season stretch in franchise history, has apparently gotten the message. Last week the team sacked Pete Vagenas, its vice president for soccer operations, the first step in what it says will be a front-office makeover.
"We're having conversations," team president Chris Klein said when asked about Ibrahimovic's future. "I know he has certain things that he wants. As a club, he's a priority."
kevin.baxter@latimes.com | Twitter: @kbaxter11
---
All about the beautiful game
Go inside the L.A. pro soccer scene and beyond in Kevin Baxter's weekly newsletter.
You may occasionally receive promotional content from the Los Angeles Times.