Zlatan Ibrahimovic agrees to return to the Galaxy for 2019 season
Zlatan Ibrahimovic's long talks with AC Milan this fall never came close to getting the Italian team a new player. But they have gotten Ibrahimovic a new contract with the Galaxy, one that will make him a designated player.
Days after AC Milan sporting director Leonardo said conversations with his club regarding a winter loan had come to an end, a person with direct knowledge of the situation confirmed Tuesday that Ibrahimovic has a new deal that will keep him with the Galaxy at a substantial raise from the $1.5 million he was paid in 2018.
The club declined comment. The source of the information required anonymity because the official announcement is not expected until next week.
December is turning out to be a busy month for the Galaxy, who formally introduced Dennis te Kloese, a former Chivas USA executive, as general manager Tuesday and are close to hiring former Portland Timbers coach Caleb Porter in the same capacity.
Talks with Porter, who won an MLS Cup in 2015, have been ongoing for weeks. A sign that they may be nearing a successful conclusion came Monday when Porter sat courtside at the Lakers game with Galaxy President Chris Klein, Te Kloese and Dan Beckerman, chief executive of AEG, the Galaxy's parent company.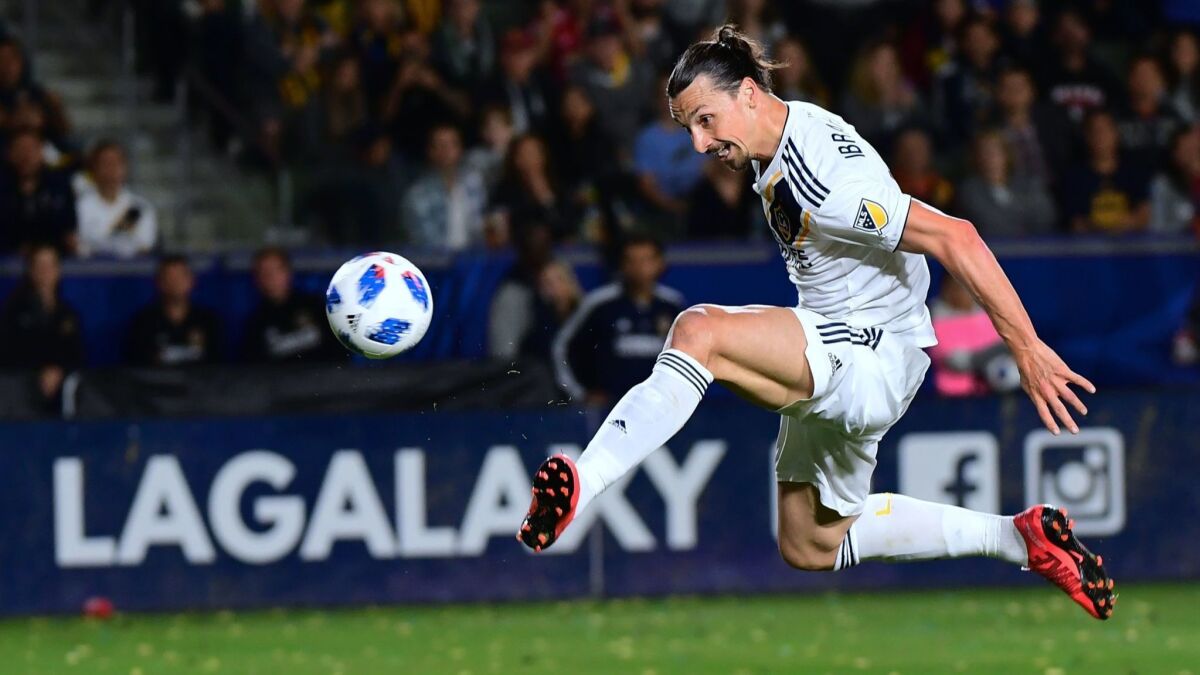 Klein and Porter were college roommates at Indiana.
Bringing Ibrahimovic back for a second season was the Galaxy's offseason priority even before they signed a coach or general manager. But finding money to do that has proven difficult. Under current MLS salary rules, the Galaxy cannot pay him more than $1.5 million without giving him one of the team's three DP spots, a designation that wouldn't limit what he could earn.
The team's current DPs — Romain Alessandrini and brothers Gio and Jonathan dos Santos — are all signed through next season so to open a spot for Ibrahimovic, the Galaxy would have to trade, loan or restructure the contract of one of the three before rosters are set in March.
Te Kloese, speaking in Spanish during his introductory conference call Tuesday, said he intended to have a "man-to-man" talk with Gio dos Santos about his future with the team.
"We have to be very honest because he has a contract. Right now we haven't assumed anything," Te Kloese said of Dos Santos, who started only half the Galaxy's games over the last two seasons but received more than a third of the team's payroll. "We're going to talk to him and then afterward we'll make a decision."
Ibrahimovic, who reportedly received more than $25 million per season in Europe, took a 95% pay cut in March to join the Galaxy on a two-year deal. A year earlier, the team offered a contract that would have paid him the highest salary in MLS history — more than $7.1 million per season — but that deal was pulled after Ibrahimovic suffered a knee injury playing for Manchester United. The Galaxy then used the DP spot they had been holding for him on Jonathan dos Santos.
In 27 appearances in his first MLS season Ibrahimovic, 37, was second in the league with 22 goals and shared the team lead with 10 assists. A month ago, he indicated his desire to get a deal done with the Galaxy but said the team needed to change its front office and coaching staff to prove it was sincere about winning.
"He gave his word to Galaxy that he would stay if they satisfied his conditions, and they did so,'' AC Milan's Leonardo said.
Last week, the Swedish newspaper Expressen Sport reported a big factor in Ibrahimovic's decision would be his family's desire to stay in Southern California.
"Speaking to Zlatan, he has a positive feeling for being here," Te Kloese said. "His family, his wife and two sons, are much more settled in. There [are] a whole lot of positives in that."
Te Kloese, who was director of national teams for the Mexican soccer federation (FMF), will be in charge of all soccer-related decisions for the Galaxy. He has been working at StubHub Center since last month although negotiations with the FMF delayed a formal announcement of his hiring.
Born in the Netherlands, Te Kloese, 44, played for Dutch age-group national teams and is well-regarded for his success in youth development, an important consideration for the Galaxy, who have invested heavily in their deep player-development program. He served now-defunct Chivas USA as sporting president and soccer director in two separate stays in MLS.
LAFC trades Moutinho
The Los Angeles Football Club traded Portuguese defender Joao Moutinho, the top pick in January's MLS SuperDraft, to Orlando City for Libyan international Mohamed El-Munir.
El-Munir appeared in 26 regular-season games, starting 23, for Orlando City last season, his first in MLS. In his rookie season, Moutinho, 20, appeared in 14 regular-season games and started 10.
kevin.baxter@latimes.com | Twitter: @kbaxter11