U.S., Jamaica have something to prove in Gold Cup final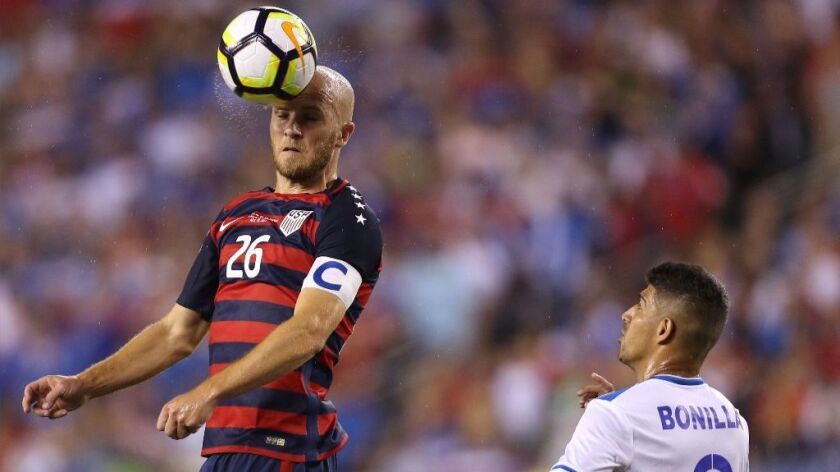 SANTA CLARA —
The last time Bruce Arena and Theodore Whitmore faced each other across a soccer field, Arena was two games into his second stint as coach of the U.S. national team and Whitmore was three games into his second stretch as Jamaica's manager.
That was five months ago and a lot has changed since then. So when the two coaches meet again Wednesday in the Gold Cup final (6:50 p.m. kickoff, FS1, Univision), there will be more differences than similarities.
But there is at least one thing the teams have in common: They're looking at the title game as an opportunity to take care of some unfinished business.
For the U.S., it's a chance to make a statement. Because as successful as the Americans have been lately, reaching the knockout round of the last two World Cups, they've won just one major tournament in the past decade.
"The chance to play with a trophy on the line, the chance to play in a final — you don't get a million of these opportunities in your career," captain Michael Bradley said. "You don't want to let opportunities slip you by, and so we have a group of guys that is excited and motivated by the chance to step out onto the field for a big final.
"I want to win because that's why you play. At the end, they pass out medals and pass out a trophy. We want to be the team holding the trophy up."
For Jamaica, which hasn't qualified for a World Cup in 20 years, the Gold Cup stage is even bigger. Jamaica reached the championship game of the last Gold Cup two years ago, beating the U.S. in the semifinals before losing to Mexico in the final. So simply returning to the title game is historic since it makes Jamaica the first team other than Mexico or the U.S. to reach successive finals.
Two of the players on Whitmore's roster played in that 2015 game, though, and the coach said Tuesday they haven't forgotten the pain of losing it.
"It's very important," Whitmore said. "They want to rewrite history, by not only making it to the final but to actually win the final. They know the task at hand. And they're up for it."
Both teams are unbeaten in the tournament although each took different routes to get here.
The U.S. hasn't lost since Arena returned , going 8-0-5 this year. Whitmore's team was beaten by tiny Curacao last month.
The U.S. is playing its 10th Gold Cup final, Jamaica in its second. And when this tournament is over, the U.S. will return to World Cup qualifying. Jamaica has already been eliminated.
"We as Jamaica," Whitmore said "we have to treat this Gold Cup as our World Cup."
Jamaica is the best defensive team in the tournament, having allowed just two goals in five games while goalkeeper Andre Blake has pitched three shutouts — two of them against Mexico.
"What Andre is doing in this tournament, it surprises a lot of people. But I've seen it before," said defender Sergio Campbell. "He's our captain and he's doing what a captain should do. He's leading from the front.
Blake, who plays in MLS for the Philadelphia Union, will be tested Wednesday by a balanced U.S. team that leads the tournament with 11 goals, getting scores from nine different players.
For Arena, already the winningest coach in Gold Cup history, beating Jamaica would make him the first man to win three titles. The last came a dozen years ago, in his first go-round with the national team.
"You work every day to try to be successful. You take on challenges that are interesting. And this has certainly been an interesting challenge," said Arena, who left the Galaxy in November to take over a national team that was in danger of missing the next World Cup. "It's been a lot of fun to try to put some of the piece of the puzzle together.
"At this point in my coaching career this is probably the best challenge I could have undertaken."
Follow Kevin Baxter on Twitter @kbaxter11
---
All about the beautiful game
Go inside the L.A. pro soccer scene and beyond in Kevin Baxter's weekly newsletter.
You may occasionally receive promotional content from the Los Angeles Times.