Column: Failure to qualify for World Cup exposes U.S. progress as a myth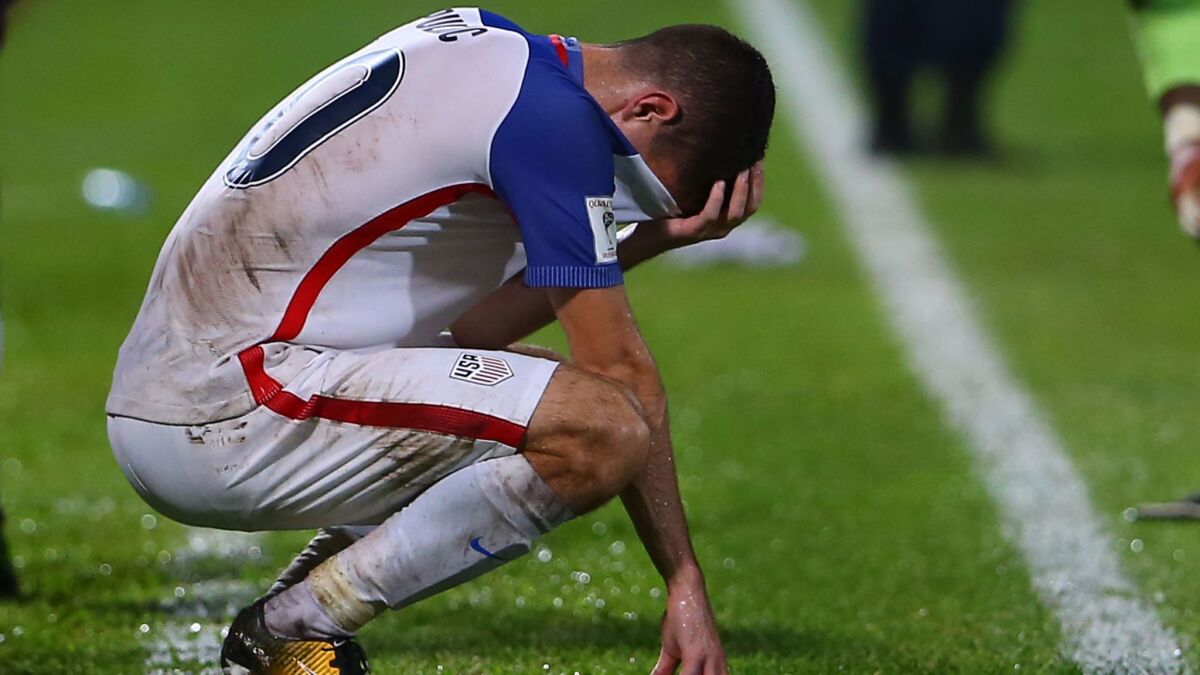 So it's confirmed the emperor had no clothes, only now we have to figure out exactly who the emperor was.
Bruce Arena, the coach of the United States men's national soccer team?
Sunil Gulati, the federation president?
Or the players, starting with veterans such as Michael Bradley down to the up-and-comers like Darlington Nagbe?
The United States has failed to qualify for the 2018 World Cup, the result of an inexcusable 2-1 defeat Tuesday night at Trinidad and Tobago.
Plenty of words will be written and spoken in the coming days about what went wrong over this disastrous qualifying cycle, but it really comes down to this: As much as soccer has improved its infrastructure in this country over the past three decades, as much as the player pool has expanded, the U.S.'s high-end players aren't considerably better than they were when, say, Major League Soccer launched in 1996.
The myth of progress was created and nurtured by the sport's establishment in this country, which had a vested interested in promoting soccer as America's "sport of the future." Only the reality doesn't match up to the story.
Eric Wynalda was tearing up the German Bundesliga in the early 1990s. Countless Americans moved to Europe in the years that followed, but none of them reached the next level of global stardom — at least not until Christian Pulisic emerged as a player to watch with Bundesliga power Borussia Dortmund.
Pulisic is only 19, but already the best player this country has ever produced. U.S. Soccer has tried to hold up Pulisic as a symbol of its player development system, but that is misleading, if not downright disingenuous. The system has produced no other players like him.
Pulisic is not to the U.S. what Xavi was to Spain, the finest example of an entire generation of players from a particular country. He is more like what George Weah was to Liberia, a world-class talent who popped up in a random place with no rhyme or reason.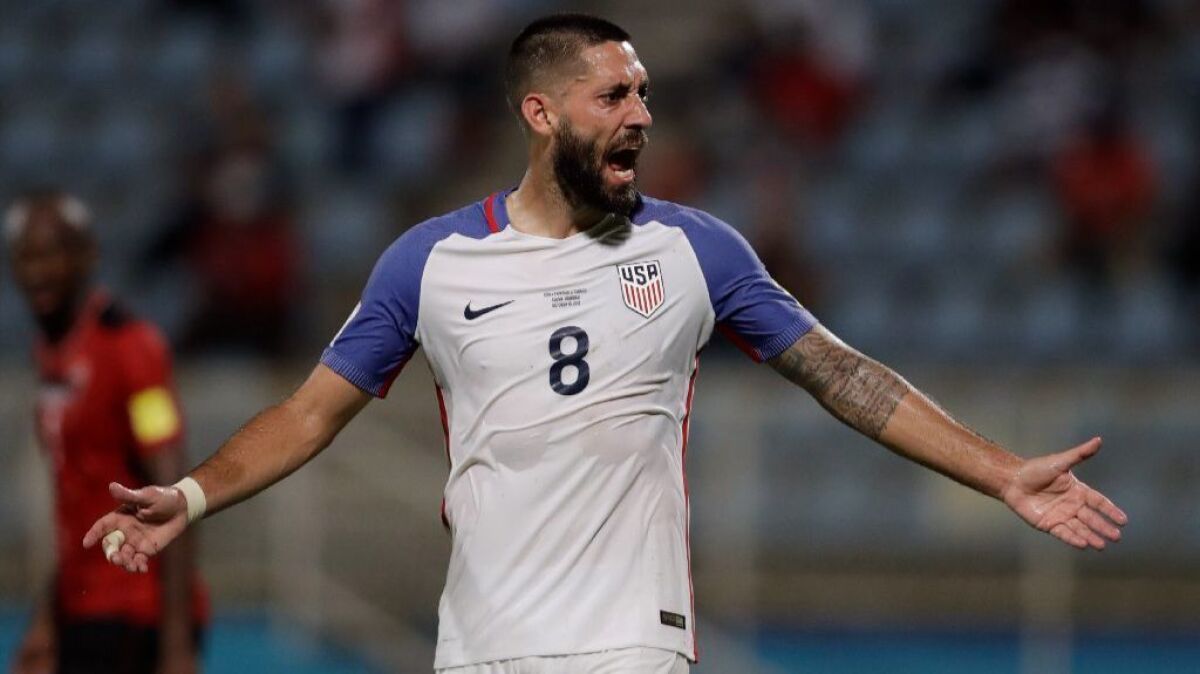 Considering professional soccer has existed in this country for more than two decades, the lack of progress is baffling. The U.S. was basically a one-man team, Pulisic and a collection of hard-working but unremarkable players. The strikers were limited. The back line was in shambles. There was no goalkeeper to permanently push out 38-year-old Tim Howard.
The firing of Jurgen Klinsmann and hiring of Arena didn't change anything. The team remained short on talent. Arena's decision making reflected this. He either had to reinforce his defense by sacrificing his attack or bolstering his attack by sacrificing the defense.
The U.S. didn't have a forward capable of playing up front by himself. With Bradley a worn-down 30 years old, the team also lacked a defensive midfielder who could provide ample protection for the back line on his own.
Arena had to decide every game whether he wanted to line up with two forwards and Pulisic tucked in behind them, or with two defensive midfielders and Pulisic wide or only one forward in front of him. When Arena opted for more defensively inclined alignments, Pulisic was often isolated and swarmed on by opposing defenses to the point he was limited.
The offensive-minded formation — a 4-4-2 with a diamond-shaped midfield — created the kind of problems that were on display Tuesday night. There was open space in the midfield for opponents to probe and the U.S.'s shaky back line was exposed.
Arena isn't as gifted a tactician as he is a motivator and lacked the creativity to coach his way out of these problems. He accepted responsibility for the shocking defeat, and rightly so. Arena's return as national team coach pointed to another problem, as U.S. Soccer has as much trouble developing coaches as it does players. How is a coach supposed to learn how to win a high-pressure game without any promotion or relegation in MLS or something like the European Champions League?
The flip side of that is the coach's intervention shouldn't have been needed to earn the necessary draw against Trinidad and Tobago. The players should have taken care of this. Here's another scary thought: This generation of players was supposed to be better than the ones before them, or at least close in ability. If that's true, that means most of the previous U.S. teams, the same teams that helped increase the popularity of soccer in this country, were close to this kind of disaster too.
And this is why it's necessary to examine Gulati and the U.S. Soccer Development Academy, to which many of the country's top youth clubs belong. The program was intended to collect the best talent under one umbrella, which would theoretically expose top prospects to better coaching and competition. It sounds like a good idea, except for the fact it's not working. As for why that is, there are too many theories to list here. That's another column for another day.
Wynalda, who is now a television commentator and outspoken critic of this country's player development system, has dropped hints he could run for president of U.S. Soccer next year. Some think it's a crazy idea. Only what's crazy would be to maintain the status quo. Change is necessary. The U.S.'s failure to reach the World Cup made that much clear.
ALSO
U.S. men's soccer team fails to qualify for World Cup with stunning loss to Trinidad and Tobago
Los Angeles makes list of potential 2026 World Cup venues
World Cup team 'changed the game forever' for U.S.
All about the beautiful game
Go inside the L.A. pro soccer scene and beyond in Kevin Baxter's weekly newsletter.
You may occasionally receive promotional content from the Los Angeles Times.