Column: Teen's path to the Galaxy paved with tragedy, triumph
Julian Araujo was about to board a plane for a week's training at La Masia, Barcelona's famed youth academy, when a text message flashed on his cellphone.
His best friend, the person who had urged him to make the trip, was dead. Araujo cried all the way to Spain.
The teenager had just put his heart back together when, six months later, his phone lit up again. It was last Sept. 4 — the date is chiseled in his memory — and Araujo was in training with the U-20 national team when his father, Jorge, called.
He had cancer. It was bad.
Both times Araujo should have been celebrating; instead he was grieving. The teenager was supposed to be living a dream but it was rapidly becoming a nightmare.
In that phone call his father delivered more than just bad news, though. He also delivered a pledge that quickly became motivation.
"One of the things he said was, 'I promise you I'll make it to your first professional game,' " Araujo said. "After that it was just all hard work and putting my feet on the ground and just going."
That's also where the dark turns to light because two weeks ago, with his father sitting high in section 103 of Dignity Health Sports Park among more than 40 family members and 250 friends from Lompoc, that hard work paid off in Araujo's Galaxy debut.
The 17-year-old defender played the final five minutes in a 3-2 win over Minnesota United, long enough to break a sweat and fulfill his father's promise.
"I can't even explain it," Araujo said of the swirling emotions. "Just being able to step on that field, it's all I ever wanted as a kid.
"It was an exciting moment. It was so surreal."
Araujo is sure that moment would have happened without the two personal tragedies. He's just not sure it would have happened that soon.
When Michael Taylor's body was found, Araujo said he got a lone text. He didn't believe it, couldn't believe it. Then he got more messages and phone calls and he had to believe it.
"Everything basically just hit me," he recalled last week. "My coaches came up and asked me if I wanted to fly back home, if I wanted to just skip out on this opportunity. And I wanted to."
But when the plane landed in Barcelona, Araujo thought of the texts he had exchanged with Taylor the day before he died.
"He wanted me to go out there and he wanted me to do well and he wanted me to go experience it," said Araujo, who took his friend's advice, playing so well Barcelona said it would have signed him if he had a Spanish passport.
"To this day," Araujo said sadly, "I still have all those messages."
When his father, a truck driver, called to say he had leukemia and would need a punishing series of chemotherapy treatments to save his life, Araujo doubled his resolve to sign a professional contract while his father, 47, was still healthy enough to enjoy that.
"Julian has struggled with life events that even the strongest people would admire," said Henry Codron, Araujo's agent. "And he has stayed true to his family and himself throughout the process."
Araujo's career, already on the rise, took off after his father's diagnosis. But the teenager had always been propelled by family.
Sign up for our weekly soccer newsletter »
The youngest of three children, Araujo learned to compete at a young age.
"We have a picture of him probably at 3 years old kicking a ball," said his mother, Lupe, 47. "He would say from that time he wanted to see a goalie trying to stop him. He didn't like playing for fun."
Shortly after the boy entered grade school his mother, a school district translator, was driving him an hour north each day so he could train with an elite soccer club. Two years later he had outgrown that program and he began heading an hour south, to Santa Barbara, to play.
"We wouldn't get home until maybe midnight," said Araujo, who rushed to the grandstands to give his mother his sweat-soaked jersey after his MLS debut. "That was every day. And then my mom would get up for work.
"She sacrificed so much."
At 15, Araujo was playing for an age-group national team. A month after his 16th birthday, he was invited to Barcelona's residential academy in Arizona and eventually to a trial in Spain. Six months after he returned he was the youngest player named to the U.S. team for the CONCACAF U-20 championship, a tournament the Americans won, qualifying for May's World Cup.
That was also the month he learned his father had cancer.
"Everything has been happening so quickly," Lupe Araujo said.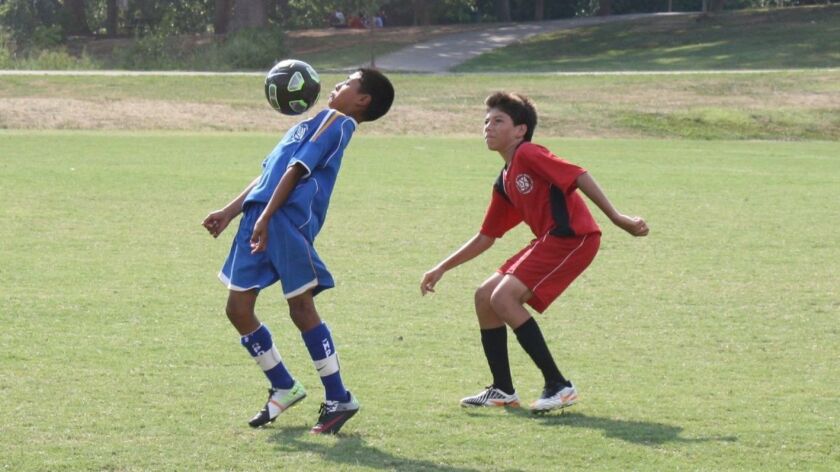 So when her son came on for the final two minutes of a USL game for L.A. Galaxy II a few weeks later, officially making his professional debut, his family wasn't there. It was obvious bigger things, such as MLS, were on the horizon.
The pace of Araujo's rise shows no signs of slowing. Since both parents were born in Mexico, he is eligible to play for that country's senior national team and Gerardo Torrado, the Mexican federation's sporting director, said he would love to have the teenage defender. The U.S. won't give him up without a fight, though, so a future tug-of-war is likely.
Araujo also figures heavily in the Galaxy's plans.
"He's going to be a really, really good player," said general manager Dennis te Kloese.
Coach Guillermo Barros Schelotto added his own clipped analysis: "He's dangerous. Good technique. So fast."
Things are looking up off the field too. Jorge Araujo's cancer is in remission and he's scheduled to undergo his last treatment in May, about the time his son heads to Poland for the U-20 World Cup. Next up is the Olympic qualifying tournament, a U-23 event; Araujo is the youngest member of that team as well.
That makes this month's debut with the Galaxy — he signed his MLS contract a day shy of the one-year anniversary of Taylor's death — a significant step on a journey marked by both tragedy and triumph. But it's hardly the final step.
"I'm going with the flow right now," Araujo said. "I just trust God's plan. I'm a firm believer everything happens for a reason."
kevin.baxter@latimes.com | Twitter: @kbaxter11
---
All about the beautiful game
Go inside the L.A. pro soccer scene and beyond in Kevin Baxter's weekly newsletter.
You may occasionally receive promotional content from the Los Angeles Times.