For LAFC, replacing Benny Feilhaber will require a team effort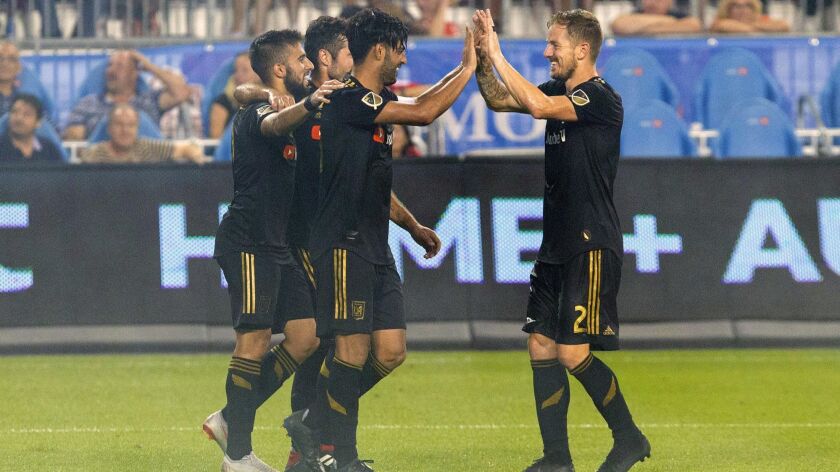 When LAFC allowed free-agent midfielder Benny Feilhaber to leave for Colorado last month, it left coach Bob Bradley with a couple of holes to fill.
Feilhaber was the only player to appear in all 34 LAFC regular-season games last year, leading outfield players in starts (32) and minutes (2,804). The World Cup veteran provided valuable leadership for a first-year team that began the season with a roster of strangers and continued to add pieces.
"He was a big voice in the locker room and on the field and he'll be missed for that," said midfielder Lee Nguyen, one of the players who joined the roster during the season. "At the same time, we've got guys who have been here for a full season and new guys who are coming in. I'm confident with the group."
And Nguyen has concluded it will take a group to replace Feilhaber, 34, a veteran of eight MLS seasons. Not only because of the multiple tasks the midfielder performed last year but because the challenging style of play Bradley prefers relies heavily on a collective effort.
Under Bradley, LAFC plays an attractive and aggressive game in which it builds out of the back and dominates possession with short, quick passes. It's a complicated style that relies on disciplined quarterback play in the midfield and one LAFC, and Feilhaber, struggled to master at times.
However, LAFC is getting back all but two of the players who started at least a dozen games for the team, experience that should help straighten out the learning curve.
"Once you learn the system that Bob tries to play the game becomes fluid," Nguyen said. "The movement is seamless. Guys know where the next play is going to be.
"That helps with the progress of preseason, not having to play catchup in terms of having to relearn everything."
Bradley expects Nguyen and Eduard Atuesta, who each appeared in 25 games, to share the heaviest midfield responsibilities with Andre Horta and Mark-Anthony Kaye, whose return from August ankle surgery is ahead of schedule.
"Benny did a great job getting us off to a good start," the coach said. "We start [2019] with four guys who gave us very good minutes last year. And then as we set the rest of our roster together we look to add to that."
Replacing Feilhaber's leadership will be a group endeavor as well.
"All the great teams that I've been a part of, you don't have just one captain," Nguyen said. "There's a lot of veteran leadership here. It's good to have a collective voice out."
Added Kaye: "Leadership comes within everyone. There's not just one person who dictates everything."
Bradley is also using the preseason to build flexibility into his roster. In the team's first three preseason games, LAFC has tried forward Shaft Brewer Jr., who played only 29 MLS minutes last year, at right back. So far it has been a good fit with Brewer's speed on the wing allowing him to join the attack, then retreating quickly on defense.
"Shaft has shown that he picked up a lot of ideas last year," Bradley said. "He's committed to the idea that now right back is going to be a good opportunity for him. Those are positives."
There are also positives in Feilhaber's departure, Bradley said — more for the player perhaps than for the team he left. The veteran, who Bradley selected to his World Cup team in 2010, reportedly took a pay cut of at least $95,000 to sign a multiyear deal with Colorado.
But that's a better deal then LAFC offered so Feilhaber, who attended high school in Irvine and college at UCLA, chose to leave Southern California again.
"At the back end of your career you've got to figure out what your priorities are," said Bradley, who had a heart-to-heart talk with Feilhaber about his future. "There are guys that I've coached that at the end of their career said 'I have X number of years left and I have to get security for my family. There's other guys [who] say 'No, I want to live here.' So I said give that some thought.
"We appreciated the way he met every challenge last year. And what he brought on the field. He's a funny guy. He's a bright guy. And now I hope that this is something that's good for him and his family."
Sign up for our daily sports newsletter »
kevin.baxter@latimes.com | Twitter: @kbaxter11
---
All about the beautiful game
Go inside the L.A. pro soccer scene and beyond in Kevin Baxter's weekly newsletter.
You may occasionally receive promotional content from the Los Angeles Times.