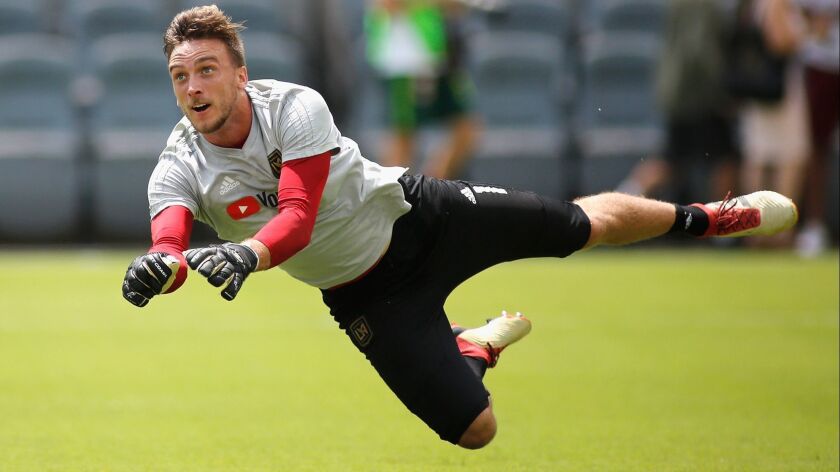 A couple of hours before the game against the Portland Timbers on Sunday, LAFC goalkeeper Tyler Miller will take the field at Banc of California Stadium alone. Dressed in street clothes, he'll walk slowly to one end of the field, stand in front of the goal with only his thoughts to keep him company, then march down the middle of the pitch to repeat the ritual in front of the other goal.
"It's my opportunity to kind of be out there, take in my own thoughts and more just inspect the field, see if I notice any major divots or things in the field that might affect me during the run of play," Miller said after training Friday.
"I like to look at the field because every field plays differently. Some are firmer than others. Some are softer and so the ball skips through quicker. But with each game I'm trying to really just take [it] in especially the goal mouth and the goal area so I'm not caught off guard by something."
Miller started the routine last season, his first as a starter, and repeats it before every game. So far it appears to be working with Miller losing just eight of 34 regular-season starts while posting 10 shutouts and earning his first call-up to the U.S. national team this winter.
Not bad for a guy who started only twice in two seasons in Seattle before coming to LAFC as the No. 1 selection in the 2017 MLS expansion draft. He was a surprise pick by general manager John Thorrington, who was intimately familiar with Miller after seeing him play at Northwestern while attending the Kellogg School of Management there.
While his performance and pregame routine have changed, Miller insists he has not.
"I like to still think of myself as the same guy," said Miller, who made four saves in LAFC's season-opening, 2-1 win over Sporting Kansas City last weekend. "In terms of my play and everything and confidence, I would say every experience that I've gotten so far, good or bad, I've just really taken it in stride. I haven't gotten too high on the highs or too low on the lows and really just tried to grow with each and every game."
Miller will be facing a Portland team he was unbeaten against twice at home last season, including a chippy U.S. Open Cup quarterfinal that featured seven yellow cards and charges from LAFC forward Adama Diomande that he was the target of a racist epithet. A U.S. Soccer investigation found insufficient evidence to back that claim.
Sign up for our weekly soccer newsletter »
LAFC was eliminated in the first round of the playoffs, however, while the Timbers made it to the MLS Cup final before losing to Atlanta United.
The learning curve has already gotten a little steeper for Miller this season with the addition of center back Eddie Segura and increased playing time for holding midfielder Eduard Atuesta. The on-field relationship between Miller and the Colombians is important but both defenders speak only limited English.
"We're still a work in progress but we're slowly getting there," Miller said. "Soccer's a universal game so it's easy to communicate out there when you understand the game."
kevin.baxter@latimes.com | Twitter: @kbaxter11
---