LAFC's plan to significantly raise season-seat prices for next season doesn't sit well with some fans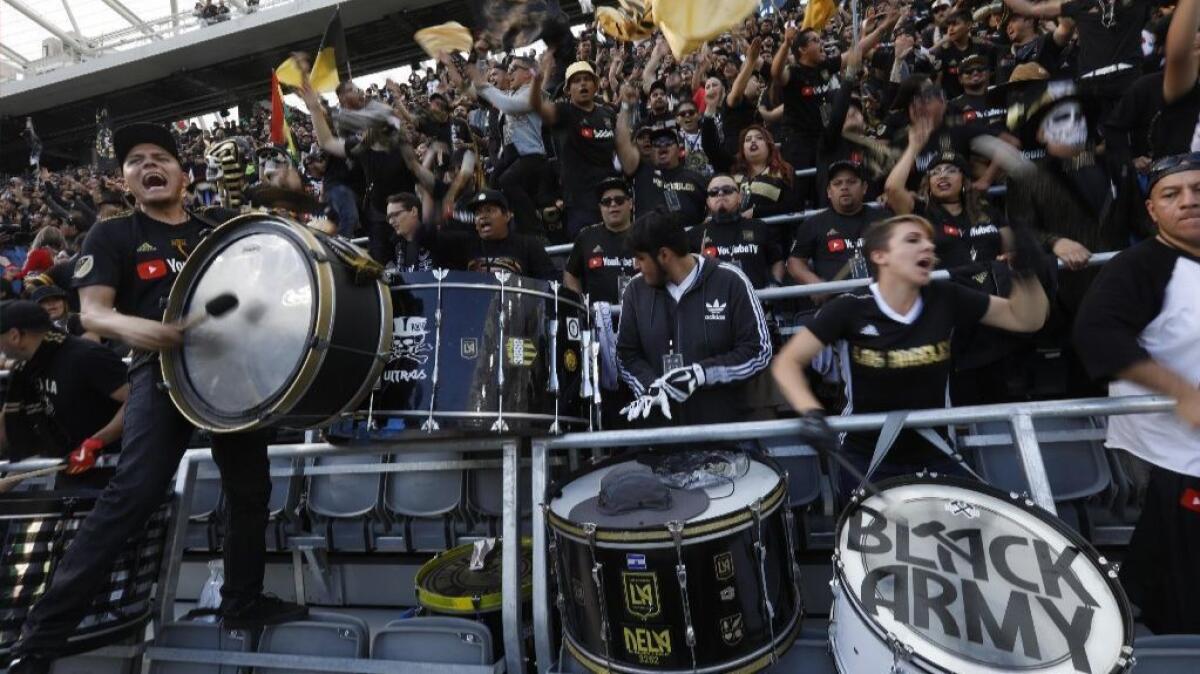 Meg Wallace has been seeing the Galaxy steadily for eight years. They dated occasionally for a few years before that and she thought they'd be together forever.
But lately she has been hanging out with someone new: the Los Angeles Football Club. And the Galaxy? Well, she doesn't feel the same away about them anymore.
And Wallace isn't the only soccer fan who once pledged allegiance to the Galaxy only to be swept off their feet by the rich handsome stranger up the freeway. That could make things a bit awkward when the Galaxy visit LAFC's Banc of California Stadium for the first time Thursday for the renewal of the MLS teams' intracity rivalry.
"I absolutely love LAFC," said Wallace, an actress from Los Feliz. "Galaxy was the first team that I followed. As much fun as we're having at LAFC, it's amazing. The atmosphere. The people are so nice.
"Last year at the Galaxy, I was starting to think I didn't like soccer anymore. It was kind of depressing."
A few weeks back, however, Wallace learned the cost of love was going up when LAFC sent out season-ticket renewal notices that included increases of more than 50% for some seats the team considered undervalued.
"I probably should be upset," said Wallace, who quickly agreed to a hike of more than 50% — to $1,122 — for two seats behind the south goal.
Others weren't as accepting.
"We've been paying for like a year and we've only had four months' worth of games. And then all of a sudden, in July, we're renewing at a new price," said Adam Cuthbert, an original LAFC supporter who joined a waiting list for season tickets more than two years before the team even had a stadium.
Cuthbert, who has five seats in the second deck above the south goal, said his price went up more than 53%. Compare that with the Galaxy, who sent out season-ticket renewal notices this month which the club says limit increases to an average of 1.3% across all price levels next season.
Cuthbert intends to renew and remains an LAFC fan, but he said he also feels misled by an ownership group that said making soccer "accessible to our supporters" was its focus from the beginning.
"We thought this was going to be different," said Cuthbert, an assistant director for the ABC sitcom "The Goldbergs." "We were sold on something and then literally we were sold something different four months into the season.
"I thought this was our club."
LAFC, which sold out of its season-ticket packages — the team calls them "memberships" — for its inaugural season, agreed there were price increases for 2019 that were "significant on a percentage basis." Club President Tom Penn said those price hikes affected "a small subset" of season-ticket holders although the team was unable to say how many seats were affected or what the overall increase was.
"We made an adjustment based on the fact some of the tickets were just mistakenly, woefully underpriced," said Penn, whose team said it sold out its first nine MLS games at home, where it remains unbeaten. "We've been in a long dialogue with all of our membership and had conversations with them that have been healthy and positive. And they seemed to understand in general."
Neither Wallace nor Cuthbert said he was were contacted by the club. And Felix Wright, another season-ticket member who had his seats jump more than 40%, also said he was not contacted. When he asked his ticket representative to explain the hike, he said he was met with silence.
His seats, in the upper tier on the east side, averaged about $27 per game this season. Tickets in the same section for next month's game with Sporting Kansas City are selling for double that on the secondary market.
"If they made the seats too cheap last year and they need to increase the revenue, just tell us," said Wright, a music producer from Los Angeles. "We're 100% behind the team. They've done everything right. This bit of communication is the first thing they've done wrong.
"I can afford it. But I fear that we're going to lose a lot of our blue-collar fan base and it's going to have no atmosphere at all. Which isn't what this club was supposed to be built on."
And as Wallace can tell you, atmosphere is everything. Although she has kept her Galaxy season tickets, at about $36 per seat per game in Section 135 along the east sideline, she said the vibe at games hasn't been the same since the winter of 2017, when the team changed its coaching staff and overhauled its roster, pushing out several fan favorites and finishing the season with the worst record in franchise history.
That left her feeling betrayed. So to afford the growing costs of the flowering romance with her new beau, she's probably going to end the bitter one with her old love, giving up the Galaxy to stick with LAFC. Other fans have quietly been doing the same thing.
And that could make the Galaxy's visit to Banc of California somewhat bittersweet for many.
"Everything they did last season seemed kind of odd to me," Wallace said of the Galaxy. "It sort of felt to me like they weren't taking [LAFC] seriously. If people go to LAFC, just the atmosphere there is so amazing. Unless they're diehard Galaxy fans, I do think they could be wooed over fairly easily."
No matter the cost.
kevin.baxter@latimes.com | Twitter: @kbaxter11