Landon Donovan retires from Major League Soccer, again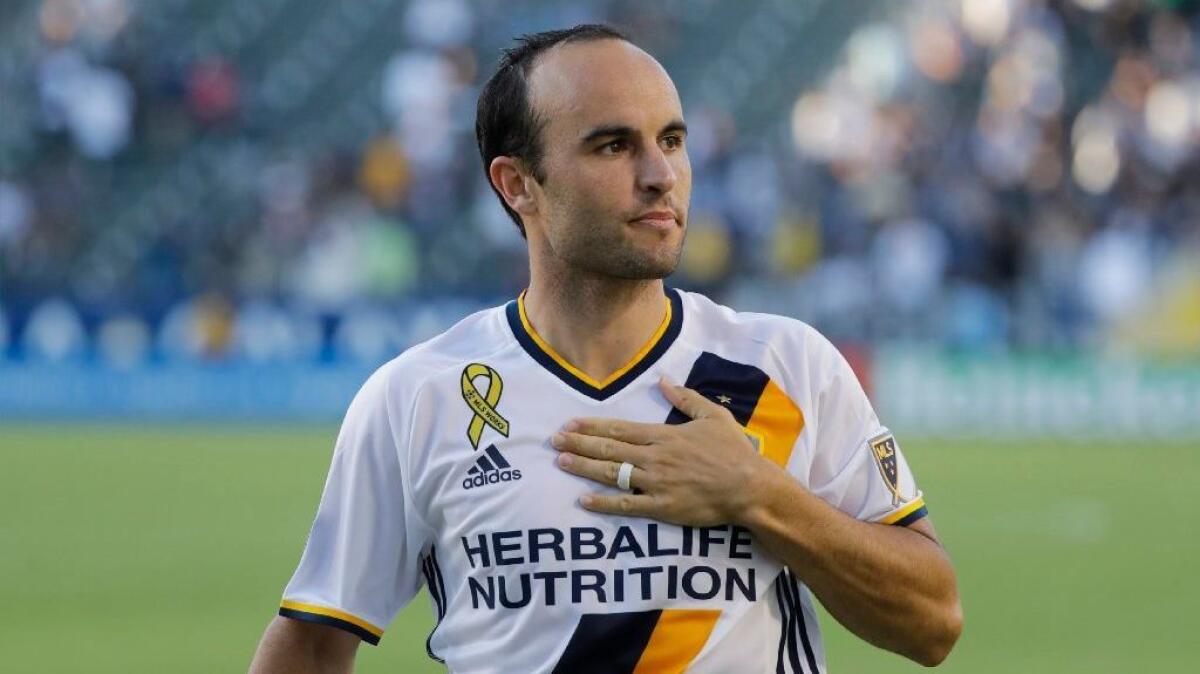 Landon Donovan is retiring – again – Galaxy President Chris Klein said Tuesday, ending a brief but successful two-month return to Major League Soccer in September.
"With Landon, when he came back, it was always going to be a short-term thing," said Klein, a former teammate of Donovan's, both with the Galaxy and the U.S. national team.
"He's enjoying what he's doing and we see we're comfortable in the direction that we're headed."
For Donovan, that means spending time with his family. The direction the Galaxy is headed in, however, is bit more complicated.
With Bruce Arena, the team's longtime coach and general manager, moving to the U.S. national team, Klein has a busy off-season ahead of him. He got a start on that last week, promoting Pete Vagenas, the team's vice president of soccer operations, to general manager. And the team could name a new coach as early as next week.
Curt Onalfo, a Galaxy assistant since 2011 and a former head coach with D.C. United and the Kansas City Wizards, is the top internal candidate. Others reportedly receiving consideration include Columbus Crew Coach Gregg Berhalter, another former Galaxy assistant, and Sigi Schmid, a former Galaxy coach who was fired in July after leading the Seattle Sounders to seven consecutive playoff berths.
On the player front the Galaxy lost designated players Robbie Keane and Steven Gerrard last month but may only fill one of those empty DP spots, turning some of the offensive slack over the Jack McBean, who is returning from loan to Coventry City, a third-tier team in England.
"We fully expect Jack to be back in with us in preseason and to fight for minutes with our first team next year," Klein said.
But aside from the departures of Keane and Gerrard, Klein said the core of last year's team will be back, including defender A.J. DeLaGarza, the team's active leader in games played with the Galaxy. DeLaGarza was reportedly disenchanted after starting just 23 games under Arena in 2016 but he met with Vagenas on Monday and is expected to return.
Donovan, however, won't be back.
The all-time leader in goals and assists, both in MLS and with the U.S. national team, Donovan walked away from the game at 32 after winning the MLS Cup for a record sixth time in 2014. A month later, the league renamed its MVP trophy the Landon Donovan Award.
But last September, after the Galaxy lost forward Gyasi Zardes to a broken bone in his foot and midfielder Nigel de Jong on a free transfer to Turkish club Galatasaray, Donovan agreed to come back. The team first learned of his interest in playing when members of the team's front office gathered for their fantasy football draft. Donovan is part of that league and when one Galaxy employee jokingly asked whether he would be interested in replacing Zardes, Donovan answered yes.
The employee forwarded the information to Arena, who called Donovan to work out a deal.
"It's weird. He really does feel like part of our family," Klein said. "We saw a need and he was open to it and we did it."
Including the playoffs, Donovan played in nine games this season, starting five of them, and scoring once. But he also appeared to play an invaluable role as a unifying force in a locker room that was splintering at the end of the season.
"Landon was brought in to play," Klein said. "Bruce's approach was that we don't need your help as a counselor. What ended up happening, I don't know. The intention with Landon was he's a very smart soccer player, he's only 34 years old and still has something left in the tank. And he did."
Donovan did not immediately respond to messages seeking comment but according to Galaxy officials, he intends to return to broadcasting and coaching and spending more time with his wife, Hannah Bartell, and 11-month-old son Talon. When he returned to the Galaxy, Donovan said one motivation was the chance to carry his son onto the field after a game, something he did after his first game back last September.
Follow Kevin Baxter on Twitter @kbaxter11