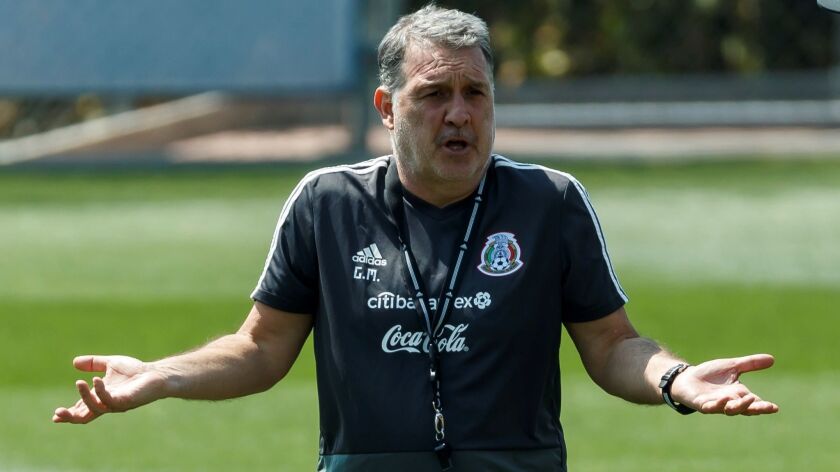 The list of players Tata Martino will not have in uniform Saturday evening for his first competitive game as Mexico's coach is far more luminous than the roster that will be there.
Among the missing are Carlos Vela, Chicharito Hernandez, Hector Herrera, Miguel Layun, Gio dos Santos, Hirving Lozano, Jesus Corona, Javier Aquino, Diego Lainez, Marco Fabian and Jurgen Damm.
Those 11 players have more than 600 games of international experience combined, almost as many as the 23 players Martino will have to choose from when Mexico's "best of the rest" meet Cuba in a CONCACAF Gold Cup opener at the Rose Bowl. The three-week, 16-team tournament will kick off with Canada playing Martinique in the afternoon game at the same stadium.
Organizers said Friday that tickets sales were approaching 60,000.
The reasons for the depleted roster are almost as varied as the players themselves. Hernandez will become a first-time father this summer and Herrera begged out of the tournament following an exhausting summer with his club team in Portugal. Layun, Dos Santos, Lozano and Fabian are recovering from injuries.
And Vela, the LAFC captain who leads MLS in goals and assists, simply didn't want to play for Mexico this summer. Or maybe ever again.
It's complicated.
"I don't think it's very common," Martino, who coached two national teams previously, told reporters last week. "It's not something I've gone through in Paraguay or in Argentina. But it's also true that a call to a national team is a type of prize for a player, recognition of his career. And the moment they don't see it like that, it makes more sense that they not come in."
But those absences are creating rare opportunity for the players who do report. For Galaxy midfielder Uriel Antuna, the Gold Cup marked his first call-up to the senior national team and, though he played well off the bench in two friendlies, he didn't have a spot on the team until being chosen this week as an injury replacement.
"It was a dream since I was little to reach the senior team," said Antuna, 21, who has played 15 games for age-group national teams but didn't make his senior debut until this month. "For me, it's not a problem. Some people get the opportunity before, others later."
As it turns out, the timing is perfect. Mexico had one of the oldest rosters in the last World Cup in Russia, when they exited in the round of 16 for the seventh time in as many tournaments. That led to the departure of coach Juan Carlos Osorio and the January hiring of Martino, who came to Mexico from MLS champion Atlanta United tasked specifically with making the team younger.
"In Russia there were some very experienced players but also some young players like Chucky [Lozano] or Edson [Alvarez] who contributed a lot," Antuna said in Spanish. "Now there are opportunities and a lot of young people are raising their hands."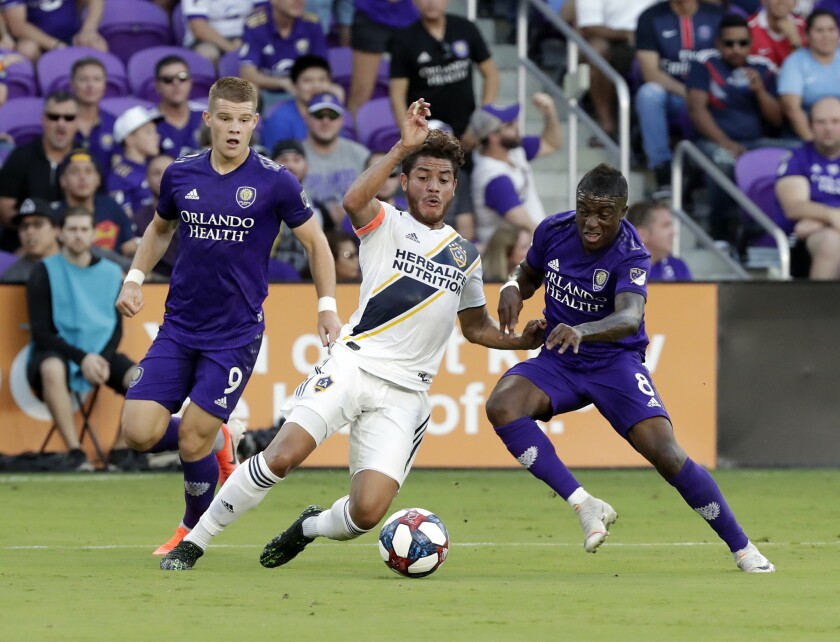 Antuna, who has started all 16 games for the Galaxy and ranks third among outfield players in minutes played, will be joined on the Mexican squad by Jonathan dos Santos, a club teammate. A two-time World Cup veteran, Dos Santos said playing a competitive tournament with a depleted roster will be difficult — but necessary, given Martino's mandate.
"It's a big change. It's a change of generations," Dos Santos said in Spanish. "Obviously we are going to miss them, but we have a good team and surely we are going to have a good performance.
"There are still [three] years left until the next World Cup and now this is the first step. Let's start well."
Sign up for our weekly soccer newsletter »
Dos Santos may have a lot to say about whether or not that happens. At 29, he is the sixth-oldest player on the Gold Cup roster and so he will be expected to help mentor players like Antuna, who are just breaking into the national team.
"I will try to help them in everything I can. I think I can also learn a lot from them," he said.
"There are always cycles in football and maybe it is up to others to start this new cycle."
The U.S., which plays its first game Tuesday in St. Paul, Minn., against Guyana, is the defending Gold Cup champion. But Mexico, unbeaten this year in four friendlies under Martino, won three of the previous four editions of the biennial confederation tournament. The two countries have combined to win 13 of the 14 Gold Cups, with only Canada in 2000 interrupting that string.
The field is divided into four four-country groups, with teams playing three times in the first round. The top two teams in each group then advance to the knockout round. The final is to be played July 7 in Chicago.
---