Column: Banc of California Stadium was the launching pad for an MLS' construction boom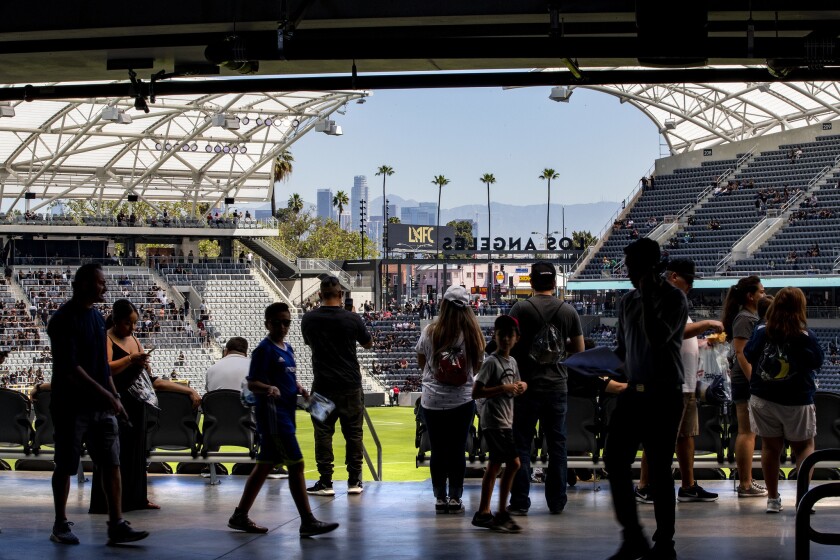 Reporting from St. Paul, Minn. —
When Banc of California Stadium opened last year in Exposition Park, it was the jewel of Major League Soccer. A $350-million venue in the heart of the nation's second-largest city with a huge supporters' stand, 35 suites and a rooftop deck with a pool, the 22,000-seat home of the expansion Los Angeles Football Club was among the most modern and elegant soccer-specific stadiums in the world.
Fifty-three weeks later, the stadium might not be the best in the league's Western Conference, and that says more about MLS, its ambitions and the construction arms race among ownership groups than it does about LAFC's venue.
"Everybody's learning from the last one," said Mark Abbott, MLS president and deputy commissioner. "That's what we keep getting better at."
Two and a half months after BOC played host to its first game, D.C. United opened Audi Field, its $250-million, 20,000-seat riverfront home in southwest Washington. Then last month, Minnesota United, LAFC's conference foe, debuted Allianz Field, a modern, fan-friendly 19,400-seat stadium built on a vacant lot midway between downtown Minneapolis and downtown St. Paul.
Each one, arguably, improved on the last.
"When you begin to look at the number of new stadiums, there is no other league in the world that is developing brand-new facilities for this beautiful game the way this league is," said Chris Wright, Minnesota United's chief executive. "It's just amazing to be a part of that."
This might be only the start. Next month the Portland Timbers will cut the ribbon on an $85-million renovation to Providence Park, which was already one of the league's best stadiums. Austin, Cincinnati and Columbus are all scheduled to open new soccer-specific venues in 2021, followed by Nashville and Miami a year later. If St. Louis and Sacramento are approved this summer as the league's next two expansion franchises, they will join MLS shortly with new stadiums as well.
Add in Orlando City, which opened its stadium in 2017, along with the current franchises in New England and New York City, which are looking for new homes, and the three stadiums that opened in the last year, and MLS could wind up adding 13 stadiums in about six years, the most prolific building boom by a professional sports league since Major League Baseball opened 13 new ballparks from 2000 to 2010.
"We're going to take inspiration from across the marketplace," said Austin FC president Andy Loughnane, whose club will break ground on a privately financed $240-million stadium in September. "We're going to take little bits and pieces from stadiums that we like and try to create something special.
"But we need to make something that's Austin-centric. Every market has its unique difference."
Loughnane said he considers Banc of California to be "the true North Star for the MLS stadium of the future." Designed by Gensler, the global architecture company Loughnane has chosen for his team's stadium, it has a steep 3,200-capacity safe-standing supporters section on the north end, robust Wi-Fi, pitch-side seats that are close enough to touch the field, a three-floor dining space featuring food from award-winning local chefs and a south stand that offers a breathtaking view of downtown L.A.
Allianz Field, a scaled-down replica of Allianz Arena, the 75,000-seat home of Germany's Bayern Munich, is equally as modern and fan-friendly, with its own standing supporters' section, 480 Wi-Fi antennas and a beer hall with 96 taps. (The playing surface, waking from the frigid Minnesota winter, hasn't been nearly as impressive with clumps of grass giving way during a late-April draw with Galaxy.)
The building was designed by Populous, a Kansas City, Mo.-based architectural firm that under its former name, HOK Sport, launched the retro movement that redefined major and minor league baseball stadium construction.
"If you're going to compete and if you're going to have a narrative that is different to all of the other franchises, then you've got to have something that is very unique and very special. So we're very proud of what we've built," said Wright, who joined United after 26 years with the NBA's Minnesota Timberwolves, the last 13 as president. "We anticipate in the next three or four years, as different buildings come on line, somebody will take what we have done here, what they see in other buildings, and what they believe should happen inside of their own market, and they will develop a philosophy of 'this is what we believe that we need to deliver.'
"We believe that we can play a role in that by showing what we have done here."
That visionary sharing began with representatives of fledgling franchises and MLS wannabes from Nashville, Cincinnati, Charlotte and Sacramento touring Allianz Field.
"We're going around [asking] 'What worked for you? What would you do differently?'" said Jeff Berding, FC Cincinnati's president and a former executive with the NFL's Bengals. "We're trying to be smart about it. We're very fan-focused. The stadium experience will be probably among the biggest ways to demonstrate that."
Sign up for our weekly soccer newsletter »
Cincinnati began MLS play this season at 40,000-seat Nippert Stadium on the campus of the University of Cincinnati while construction continues on a permanent $250-million Populous-designed stadium in the city's West End neighborhood.
The stadium will have — stop me if you've heard this before — a standing supporters' area, 50 suites, lots of beer and full-stadium Wi-Fi.
"The look and feel of the stadium is very important. We view FC Cincinnati as the manifestation of a rising city," Berding said. "I think we'll set some new standards."
Without forgetting some old ones.
"They're not sexy," he said, "but you have to have enough restrooms."
kevin.baxter@latimes.com | Twitter: @kbaxter11
---
All about the beautiful game
Go inside the L.A. pro soccer scene and beyond in Kevin Baxter's weekly newsletter.
You may occasionally receive promotional content from the Los Angeles Times.