Galaxy's Ola Kamara pursuing possible transfer to team in China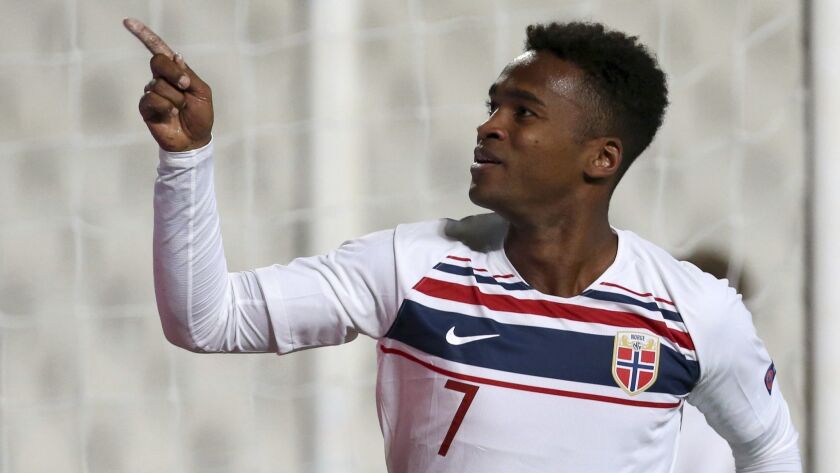 This isn't shaping up to be a good week for Guillermo Barros Schelotto.
After a productive preseason in which he successfully implemented a new formation and imported a new playing style, the Galaxy's new coach ended training Tuesday with a new problem: He has three potential starters injured, a fourth was on a plane to China and a fifth continued to miss practice because of either a leg injury or a contract dispute, possibly both.
And he has just four days to fix all that before Saturday's MLS regular-season opener with the Chicago Fire at Dignity Health Sports Park.
"We are ready," he said twice, repeating the phrase for emphasis.
He could have said it a dozen times and it still wouldn't be true.
In reality the Galaxy are limping toward the weekend with Perry Kitchen in a walking boot with an ankle injury and fellow midfielder Juninho out with a knee injury. Sebastian Lletget is hopeful – but doubtful – for Saturday with a minor tear in his right hamstring. And Giovani dos Santos hasn't played, and has only rarely trained, this winter as the team struggles to rework his contract to get in line with the league's salary rules before Friday's deadline to set regular-season rosters.
Also missing Tuesday was forward Ola Kamara, who had the team's permission to fly to China to pursue an opportunity far more lucrative than the $925,000 the Galaxy paid him last season. A deal, a Galaxy spokesman said, was close but Kamara has just a couple of days to get it done before the Chinese Super League's transfer window closes.
Sign up for our daily sports newsletter »
And the timing couldn't be worse for the Galaxy, who would be hard-pressed to replace his 14 goals from last season.
"Will it hurt not to have him? Of course," goalkeeper David Bingham said. "Ola's a great player.
"[But] that's no way you can tell him not to go if he's going to earn more money for his family."
The Galaxy apparently didn't try, with new general manager Dennis te Kloese issuing a statement that seemed to welcome Kamara's departure — or at least welcome the multimillion-dollar transfer fee and recouped salary his departure would bring.
"Ola has expressed to us his intention to pursue opportunities elsewhere and we have identified an option that would greatly benefit our club financially," Te Kloese said. "We believe that this decision was needed to improve and balance our roster while granting Ola's request. The transfer would allow us to achieve the best solution for addressing our needs both now and in the future."
Kamara, 29, through his agent, alerted the team three weeks ago that he was seeking a transfer but Dos Santos' situation, which has hovered over the team since mid-December, seems more intractable. When the Galaxy re-signed Zlatan Ibrahimovic for a league-record $7.2 million last year, he joined Dos Santos, his brother Jonathan dos Santos and midfielder Romain Alessandrini as designated players whose contracts exceed the maximum permitted under the MLS salary cap.
The league allows teams only three designated-player exemptions, meaning one of those contracts would have to be traded, released or restructured before the start of the regular season. Te Kloese was so confident a deal could be worked out with Dos Santos — who is owed more than $6 million in the final year of his contract — he promised earlier this month all four designated players would be back.
Tuesday things seemed far more uncertain, with Schelotto, speaking in Spanish, saying "let's see what the next step is."
Regardless of what happens with Dos Santos, the injuries and Kamara's likely departure will leave the Galaxy starting the season short-handed after coming up short of the playoffs the last two years.
"With this club the expectations are a lot higher than with other clubs," Bingham said. "This isn't a mid-table club or a low-budget club that's just looking to get by. We're here to win trophies. We know the standard has to be higher.
"And if [Kamara] goes, next guy step up."
kevin.baxter@latimes.com | Twitter: @kbaxter11
---
All about the beautiful game
Go inside the L.A. pro soccer scene and beyond in Kevin Baxter's weekly newsletter.
You may occasionally receive promotional content from the Los Angeles Times.