Soccer chief says U.S. is not discussing joint World Cup bid with Mexico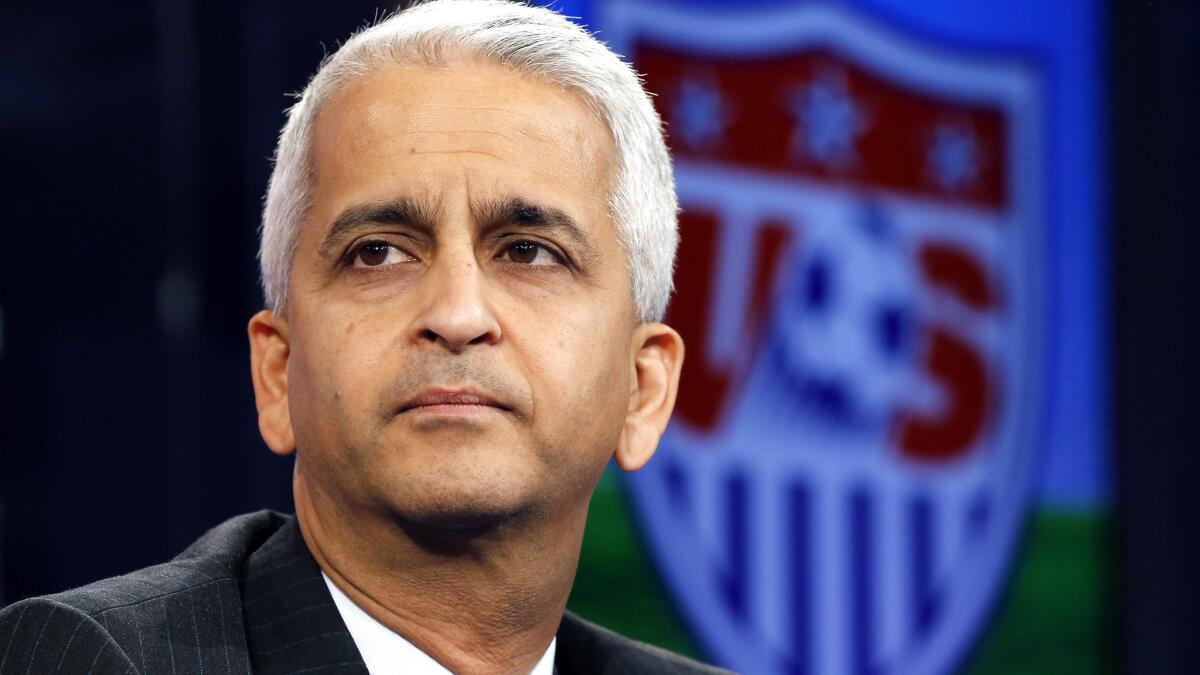 U.S. Soccer Federation President Sunil Gulati says his group has not made a decision regarding a bid for the 2026 World Cup and has certainly not offered to share that tournament with Mexico, contradicting reports from last week's FIFA Congress in Mexico City.
In an online story, ESPN wrote that John Motta, a member of the USSF board, said the U.S. and Mexico had discussed joining forces to stage the tournament. Motta was also quoted as saying that if a sharing arrangement could not be worked out, the U.S. would bid on the event alone.
But this week Gulati took issue with that report.
"We haven't made a decision about the [2026] World Cup. Until we know what the rules are of the bid process -- which won't be until October at the earliest -- we're not going to be making a decision," he said. "And we certainly haven't had any formal discussions with the Mexican federation at this point."
Although the U.S. is considered a favorite to win the 2026 tournament should it submit a bit, Gulati said there's no guarantee the federation will do so. In 2010, the U.S. was widely expected to win the rights to the 2022 event only to lose to Qatar in a vote clouded by charges of bribery and corruption.
A vote on the 2026 tournament is not expected to take place until May 2020.
The only time the U.S. has played host to the World Cup was in 1994, and that tournament remains the most successful ever, drawing 3.6 million fans, an average of nearly 69,000 for the 52 matches. Both marks are still World Cup records despite the fact the tournament has expanded by eight teams and 12 games since then.
"I don't believe that record will be broken until the U.S. hosts another World Cup," Gulati said.
The U.S. will get another chance to show off its organizational muscle next month when it stages the 16-team Copa America Centenario, the oldest and arguably among the most important international soccer events. The 32 games will be played in 10 cities over 23 days, and organizers are hopeful the tournament -- which will feature teams from Brazil, Chile, Argentina, Mexico and the U.S. -- will draw more 1.25 million fans.
"Other than the launch of Major League Soccer, I don't think there has been a more significant happening for the game since 1994," said John Guppy, a former MLS executive who now runs a soccer-specific marketing agency. But Guppy says the idea that a successful Copa America is a necessary audition for a World Cup bid is wrong.
"I don't think the U.S. needs to prove to FIFA or anybody that we have the ability to put on the biggest show," he said. "The U.S. could put on a World Cup in six months' notice. We have the stadiums, we have the infrastructure. It's all here."
Follow Kevin Baxter on Twitter: @kbaxter11