Despite losing two major stars, Major League Soccer is still rising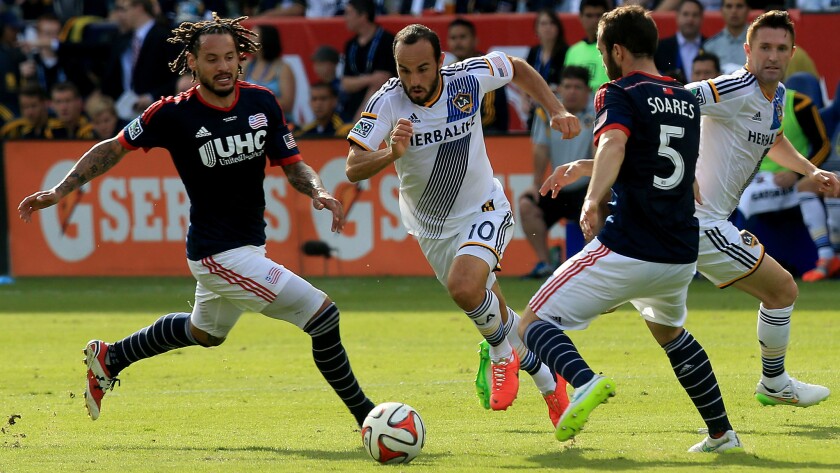 Landon Donovan, the most iconic figure in U.S. soccer history, played his last game for the Galaxy on Sunday.
Thierry Henry, who twice finished second in voting for World Player of the Year, played his final game for Major League Soccer's New York Red Bulls eight days earlier.
With the exception of David Beckham, no two players have done more to build the MLS brand and make the league successful than Donovan and Henry. So their absence will leave MLS with two pairs of big cleats to fill next season.
"We're clearly at another inflection point that we look at as MLS 3.0," Commissioner Don Garber said.
"But when you are an emerging business, like we are, you're constantly going through these new phases of development. And that's some of the excitement and challenges of being 20 years old when the other leagues in this country and abroad are almost 100 years old or more."
This season was, by many measures, the best in MLS's 19-year history. Total attendance topped 6 million for the first time. The league negotiated long-term TV agreements with ESPN, Fox Sports and Univision worth $90 million over the next eight seasons. And the new contracts will generate nearly five times the revenue of the league's previous broadcast deals and it will bring more exposure with the networks committed to showing a combined 102 regular-season games, 18 more than were aired in 2014.
The league also rid itself of Chivas USA, disbanding the long-troubled team and selling the rights to a second Southern California franchise to a deep-pocketed collection of sports and entertainment luminaries who paid a record expansion fee of more than $100 million to join MLS in 2017. That deal puts the league on much sounder financial turf and it brings in the kind of glitz MLS has been lacking by adding Hollywood movie producer Peter Guber ("Batman") as well as Magic Johnson, Nomar Garciaparra, Mia Hamm and self-help guru Tony Robbins to its roster of owners.
"MLS has such a high ceiling to it," said Vietnamese American entrepreneur Henry Nguyen, the principal owner of the new Los Angeles team. "We may only be one of the [world's] top 10 leagues today but in a decade we'll be in one of the top five league. Within two decades, one of the top two or three leagues in the world. And that is a whole different kind of game-changing perspective."
Nguyen's optimism notwithstanding, the recent news hasn't been all good for MLS.
Garber conceded last week that the league, which has never turned a profit, is still losing $100 million annually. And the gap between rich clubs and poor ones, something the league's salary cap was supposed to prevent, is actually expanding with some players — such as the Galaxy's Robbie Keane, at $4.5 million, and the Seattle Sounders' Clint Dempsey ($6.7 million) — making more than entire teams.
That's something that could hinder negotiations over a new collective bargaining agreement between the league and its players. The current four-year contract expires next month and federal mediators were needed to broker that deal, narrowly avoiding a work stoppage.
In addition, talks have stalled over soccer-specific stadiums in New York, New England and Washington as well as in Miami, where Beckham's proposal to base an expansion club there could be derailed if the team can't find a suitable site to build a home.
"If they don't have the right stadium we won't go there," Garber said.
For the commissioner, however, the good clearly outweighs the bad. If Miami doesn't work out, other cities have already lined up to take its place. Last month the league met with representatives from Las Vegas, Sacramento and Minneapolis, who are all vying for one of the league's final two expansion spots, with a decision likely in the next six months.
Garber has said he will cap expansion at 24 teams and the addition of Orlando and New York City next season and Atlanta and L.A. two years later will give MLS 22 teams by 2017.
Expansion is helping the league grow in ways that have nothing to do with geography. The fledgling New York franchise is jointly owned by English Premier League club Manchester City and the New York Yankees, creating a unique synergy that led to the signing of current and former European standouts David Villa and Frank Lampard and gave the team a temporary home in Yankee Stadium.
Orlando, meanwhile, became the league's first team to land a former world player of the year when it signed Brazilian standout Kaka, 32, to a multiyear deal that will pay him a league-record $7.17 million next season.
And almost unnoticed in the coverage of who's coming and who's going are the players who are staying. The top three finishers in this season's league MVP race, for example, each represent different continents with Irishman Robbie Keane of the Galaxy beating out Nigeria's Obafemi Martins of Seattle and American-born midfielder Lee Nguyen of New England.
And all three are signed for next season.
"Every league goes through periods where they lose a transcendent player," Garber said of Donovan and Henry. "As we've seen, somebody else steps into those shoes and takes the league to an even higher level. And that will happen with Major League Soccer as well.
"This league has got momentum. We continue to be a league on the rise."
Twitter: @kbaxter11
---
Get our high school sports newsletter
Prep Rally is devoted to the SoCal high school sports experience, bringing you scores, stories and a behind-the-scenes look at what makes prep sports so popular.
You may occasionally receive promotional content from the Los Angeles Times.