Mexico goes global with makeup of national soccer team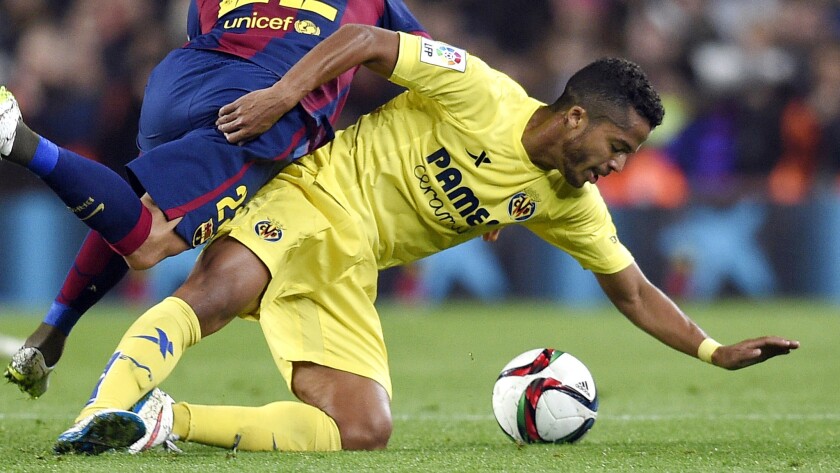 When Miguel Herrera was on the Mexican national soccer team, only two of his teammates played for clubs outside Mexico.
Twenty years later, Herrera coaches the national team, only now the team is Mexican in name only.
The roster Herrera called up for Saturday's friendly with Ecuador and Tuesday's game with Paraguay features players from 16 clubs in five countries, with nearly half coming from European teams. That's a major shift for a Mexican soccer program once considered among the most insular in the world.
"I think it's really good for Mexico," Herrera said. "Mexican players can be seen as reliable players and be starters on [European] teams."
That was once a measuring stick few Mexicans cared about. For decades, a strong sense of national pride — Chivas remains one of the country's most popular clubs largely because it has never used a non-Mexican player — left fans and players caring little for what happened outside the country's domestic league.
And those who challenged that by venturing abroad were often punished for their disrespect. Although Hugo Sanchez, a teammate of Herrera's, scored 218 goals in 318 games with Spain's Atletico Madrid and Real Madrid, Jared Borgetti, the leading scorer in Mexican national team history, made only 19 appearances in the English Premier League for Bolton. And Cuauhtemoc Blanco, who played in three World Cups for Mexico, had an equally brief and undistinguished stay in Spain with Real Valladolid.
Borgetti and Blanco quickly returned to Mexico.
Compare that with this national team, which includes defender Hector Moreno, forward Giovani Dos Santos and midfielders Andres Guardado and Jonathan Dos Santos, each of whom has played more than twice as many games in Europe as in Mexico. And striker Javier Hernandez will join that club this fall.
"Before the national team came only from our league," said Herrera, who has never played or coached outside Mexico. "It was a good league, very solid. But now the Mexican national team has not only the best players from our league but the best from outside our league as well.
"So we have this opening to look at all the players no matter where they are playing."
Not that Mexico had much a choice. With the top European leagues and national teams rapidly integrating players, and playing styles, from around the world, Mexico had to explore the game beyond its borders if it wanted to keep up. And it didn't always have to look far beyond those borders.
Guadalajara striker Erick Torres, who has played for Chivas USA in Major League Soccer and the Mexican national team, said he got better after blending the free-flowing Mexican game he learned as a child with the quicker, bruising MLS style.
"If you're asking about the differences, the league here is a little bit faster, a little more physical. They don't let you have much time with the ball at your feet," said Torres, who was not selected to the team for Saturday's game. "In Mexico, you can have the ball a little longer. But without doubt both leagues are very attractive and very good."
Not surprisingly, Mexico's opening to the world has coincided with the national team's colonization of the U.S., where, lured by packed stadiums and lucrative sponsorship, it has played 60% of its friendlies since February 2010. And that has proved lucrative in another way, earning the Mexican soccer federation more than $10 million a year through marketing and sponsorship deals.
All this has come at great cost to soccer fans in Mexico, though, since they no longer get to see players such as Marquez and Hernandez in domestic league games and have to be content watching the national team on television. But the exodus of talent has also opened up playing time and created opportunities for young players such as Marco Fabian, Hiram Mier and Diego Reyes, who led Mexico's U-23 team to its first Olympic title three years ago in London.
In fact, Herrera said the national team pool is so deep that he's planning to use two rosters this summer, when Mexico plays in the Copa America in June and the CONCACAF Gold Cup in July.
"We're going to look at some other players," he promised. "We want to build two teams, one for each tournament. We can do that because we have very good players. They understand what we want to do. So everything's going well."
Twitter: @kbaxter11
---
All about the beautiful game
Go inside the L.A. pro soccer scene and beyond in Kevin Baxter's weekly newsletter.
You may occasionally receive promotional content from the Los Angeles Times.