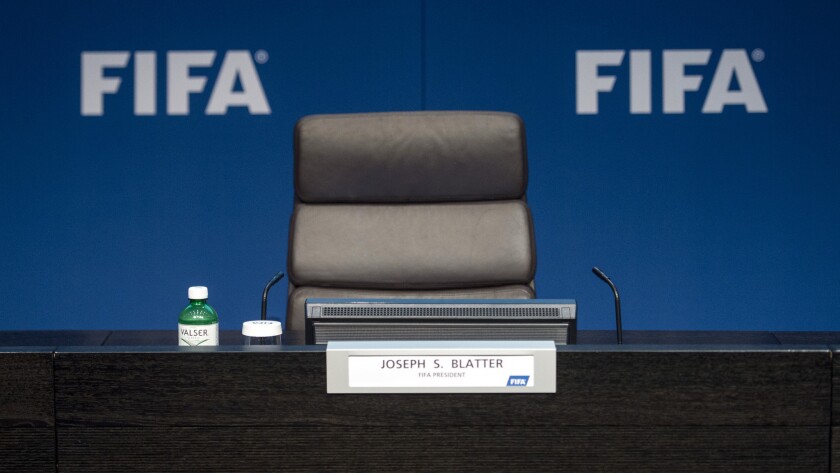 For anyone hoping to understand Friday's vote to elect a new FIFA president, it might help to think of it in terms of the ongoing Democratic and Republican primaries.
Each race has a targeted front-runner and hard-charging challengers. They all feature establishment candidates trying to beat back emboldened insurgents and in the end the winner might not have an easy time governing.
Here's another similarity: TV networks are planning breathless coverage of the FIFA election. ESPN, which apparently has jumped the shark, will devote 13 hours to what it is calling "FIFA in Crisis — A Presidential Election" over the next five days, while Fox Sports will air more than seven hours of live coverage beginning Thursday.
That will mean a week of close-ups for the following five candidates, who are vying to succeed Sepp Blatter as the first new leader of soccer's scandal-plagued world governing body in 18 years.
Sheikh Salman bin Ebrahim Al Khalifa: Head of the Asian Football Confederation, Sheikh Salman is the solid favorite of the FIFA campaign but is weighed down by heavy baggage. A member of Bahrain's ruling family, Sheikh Salman has been criticized by human rights groups for allegedly heading a committee that identified 150 athletes — including soccer players — said to have participated in pro-democracy demonstrations in 2011. Some were later imprisoned and tortured, according to human rights organizations. Sheikh Salman, 50, denies the allegations — but that hasn't stopped his rivals from repeating them.
Gianni Infantino: A lawyer who holds Swiss and Italian nationality, Infantino is the No. 2 official of the ruling European confederation UEFA. Infantino is an establishment candidate who has proposed reform but has been careful not to criticize the leaders who made those reforms necessary. The 45-year-old Infantino has racked up a long list of influential supporters.
Prince Ali Bin Al Hussein: The Jordanian royal is a reformer who has criticized his opponents for caring more about votes than about change. At 40, the former vice president of both FIFA and the Asian Football Confederation is the youngest candidate in the field. He finished second to the now-disgraced Blatter in elections last May.
Jerome Champagne: The 57-year-old Frenchman, a onetime Blatter acolyte, has an establishment pedigree — a former diplomat, he went on to serve 11 years as a FIFA executive. But his campaign has been disappointing and uninspiring and he has made a lot of powerful enemies.
Tokyo Sexwale: The lyrically named Sexwale (pronounced seh-wa-le), is a charismatic South African businessman and politician who was jailed alongside Nelson Mandela for his anti-apartheid activities. But as a FIFA candidate Sexwale has struggled to find focus and coherence. Last month he said he felt sorry for Blatter and called his work "a monument" despite the fact Blatter has been banned by FIFA's own ethics committee, creating the vacancy Sexwale, 62, is running for.
"It's really kind of a shame. FIFA has become kind of a punch line," said Steven A. Bank, a professor of business law at UCLA who lectures on world soccer.
"There is no question that none of these candidates have put forth anything close to a plan that would suggest they are going to radically reform FIFA."
Friday's special election comes nine months after Blatter was reelected to a fifth term as president, only to announce his intention to step down days later after nine current or former high-ranking FIFA officials were charged by U.S. officials in a 47-count indictment that alleged widespread corruption in the sport.
In December, the U.S. indicted 16 additional soccer officials — including five current or former members of FIFA's executive committee and the presidents of the two federations overseeing the sport in the Americas.
In between, Swiss investigators announced they had begun criminal proceedings against Blatter and two weeks later the president was suspended by his own ethics committee over a $2-million payment to UEFA President Michel Platini. The bans of Blatter and Platini were later extended to eight years.
Friday's election is supposed to wipe that slate clean. But Bank has little hope that will happen.
"People are under the assumption that this is a good organization run by bad people. Therefore we change the people and the organization will change," he said. "I don't think that's true."
Even the rules governing Friday's vote aren't clear. Each of FIFA's 209 member nations has a ballot, but two countries — Kuwait and Indonesia — are suspended and their right to vote won't be determined until next week. Plus, FIFA rules say the secret ballots must be cast in person, meaning any delegate who stays away Friday — and many might because the Justice Department arrested nearly two dozen at the last two FIFA Congresses in Zurich — cannot participate.
Two-thirds of the votes cast are needed to win on the first ballot. Sheikh Salman appears closest to that, having received the support of the Asian and African confederations, which represent 100 countries. Infantino has the backing of the Europeans and the South and Central Americans, which could be worth 70 votes. That leaves both shy of what they need to win the election outright.
That would force a second ballot, in which a candidate needs only a simple majority to win.
And that's only if things go smoothly — which Rob Stone, who will anchor Fox's coverage, considers a longshot.
"There's plenty more to come between now and the moment we go on the air," Stone promised. "And when we go on the air, there's going to be some fireworks as well."
Twitter: @kbaxter11
---