Newsletter: Soccer! U.S. men's team remembers 9/11; Sigi Schmid 'resigns' as Galaxy coach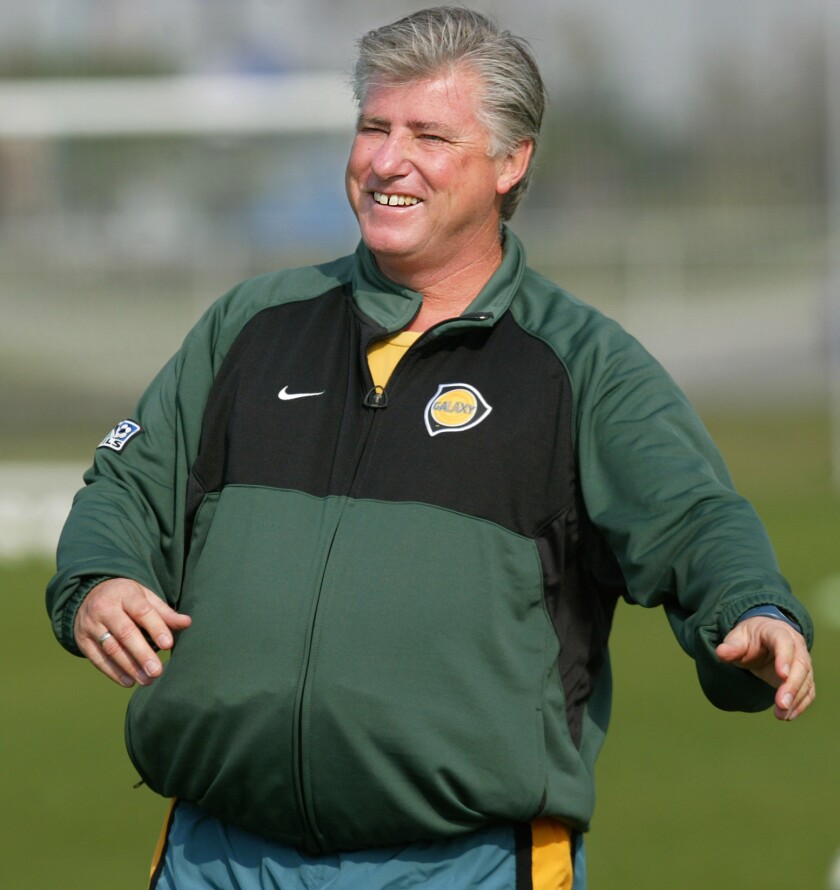 Hello and welcome to the L.A. Times weekly soccer newsletter. I'm Kevin Baxter, the Times' soccer beat writer, and this week I'm in Nashville, where the U.S. men's national team continues its challenging post-World Cup schedule Tuesday with a friendly against Mexico.
The U.S.-Mexico rivalry is one of the most intense in international soccer, although that may be tempered a bit this year with both teams in the midst of massive rebuilding efforts under interim coaches. But the fact that the match will be played on the 17th anniversary of the Sept. 11 terrorist attacks didn't escape the notice of the U.S. team, which visited the National September 11 Memorial and Museum in New York before last week's friendly with Brazil.
"It was very powerful," U.S. coach Dave Sarachan said. "When they walked away from that they had a greater understanding of the sacrifice that took place that day."
But we begin with more recent news — the resignation (wink, wink) of Sigi Schmid as coach of the Galaxy.
With the Galaxy winless since July and in danger of missing the playoffs for a second consecutive season, team president Chris Klein escorted Schmid to the exits on Monday, announcing that the team had parted ways with the winningest coach in MLS history.
The parting, the team said in a statement and a subsequent conference call, was a mutual decision, one Schmid agreed with.
Maybe. But it clearly wasn't an idea Schmid initiated.
And the firing — let's call it what it was — says more about the Galaxy's current state of disarray than it does about Schmid's performance.
Many players were unhappy with Schmid, who was unpopular in the locker room, some veterans said — although a nine-game unbeaten streak earlier in the season glossed over many of the team's weaknesses and lifted the Galaxy into third place in the Western Conference table.
"Winning cures everything," defender Dave Romney said.
But it didn't cure the team's inability to play basic defense.
So with the team winless in its last six and hemorrhaging goals, allowing 12 in its last three games, the front office attacked and pushed Schmid aside, replacing him with assistant Dominic Kinnear, the team's third coach in 14 months and fourth in less than three seasons.
The Galaxy will enter this weekend's game in Toronto two places and three points out of a playoff spot with six games to play.
So how did we get here?
When Bruce Arena left to join the U.S. national team following the 2016 season, the Galaxy promoted Curt Onalfo from its USL affiliate and made him manager of the MLS team. It also cleared out much of the veteran talent and asked Onalfo to try to win with a roster made up mostly of young, untested players from its USL team or its academy system.
After a decent start, injuries began taking a toll on the thin roster, the Galaxy took a nosedive and Onalfo was out after 20 games. Given the magnitude of the changes the front office was asking Onalfo to make, he deserved a longer trial.
As his replacement the Galaxy tagged Schmid, a winner of two MLS Cups and a guy who immediately pointed the team in the opposite direction. Schmid conducted his own housecleaning, getting rid of more than a dozen players — mostly youngsters promoted under Onalfo — hiring his son to direct the team's scouting department and remaking the team's sports science department.
Where Onalfo had been forced to go young and was largely denied resources, Schmid signed veterans and spent money. Then the team added Zlatan Ibrahimovic on top of that.
But it was too drastic a change, and the Galaxy again struggled to find their footing. When they couldn't, the coach took the fall again.
Two coaches, two approaches. And, barring a miracle in the final seven weeks under Kinnear, two seasons without a playoff game.
There is one thing both scenarios have in common, though: the Galaxy front office. Everyone there kept their job after last season, the worst in franchise history.
Klein is promising a more thorough reevaluation this winter.
Before his dismissal, Schmid had quietly expressed surprise at how unorganized the Galaxy were. On Schmid's second day in charge, center back Jelle Van Damme came to him and said he wanted to go back to Belgium. So Schmid asked the front office for its list of potential replacements.
Most teams keep a catalog of several players they've scouted at numerous positions, just in case such a need arises. The response Schmid got was, "What list?"
The point isn't to ask whether Schmid was the Galaxy's savior or not. Clearly he wasn't. And though he didn't get a chance to fully implement his vision, the players made it clear they could no longer play for him, just as they did in Seattle, where — after seven consecutive playoff appearances — the Sounders ousted Schmid 20 games into the 2016 season.
Under his assistant, Brian Schmetzer, the Sounders went on to win the MLS Cup. And, as unlikely as it appears, the Galaxy could do the same under Kinnear, who has won two MLS Cups of his own.
The point is the Galaxy's problems go beyond the coach. In the last two years, they've tried two coaches with two completely different approaches and neither one lasted the season.
The problem, then, lies with the people hiring the coaches, signing the players and running the franchise. Until AEG and Dan Beckerman, its chief executive, get that figured out, the Galaxy could ask Pep Guardiola to replace Schmid and it might not make a difference.
Once the premier franchise in MLS, the Galaxy now lack direction, stability and ideas. And with the Los Angeles Football Club, the team's upstart crosstown rival, enjoying one of the best expansion seasons in league history, the Galaxy is not only in danger of losing their luster, they may be losing their relevance too.
The clocking is ticking.
Under further review ...
In the run-up to the last Women's World Cup in Canada, more than 60 prominent players sued FIFA and other organizers of the tournament in an effort to have the games played on grass rather than artificial turf — a surface the women insisted was both dangerous and inferior.
That's an opinion FIFA at least tacitly agrees with, since it won't allow men's World Cup games to be played on turf.
Now, with the next Women's World Cup in France less than nine months away, U.S. coach Jill Ellis and some of her players are putting FIFA on notice that they won't stand for that kind of blatant gender discrimination this time around.
At issue is the Video Assistant Referee (VAR) system, which was used during the recent men's World Cup in Russia but faces an uncertain future in France.
The system allows for referees to use video replay to review decisions on four types of calls: goals, penalties, direct red cards and mistaken identity in the awarding of red or yellow cards. Because VAR made its World Cup debut in the men's tournament in Russia this summer, Ellis sees no reason why the women can't have it too.
"I can make a big case for VAR right now," Ellis said after Christen Press lost two goals during a recent friendly at the StubHub Center on calls video replay might have overturned.
"There's training involved with VAR. But guess what? There's people trained and they just performed in the men's World Cup so they're there," Ellis continued. "And if it's deserving to be in the men's game then it's absolutely deserving to be our game. My hope is that FIFA will oblige."
The U.S. women's team doesn't take these kinds of slights lightly — nor should it. And in doing so it have set an example that teams around the world have followed.
Not only was it U.S. players such as Abby Wambach, Alex Morgan and Megan Rapinoe who led the Turfgate protest in Canada in 2014-15, but two years ago five members of the U.S. team — including Morgan and Rapinoe — filed a complaint with the Equal Employment Opportunity Commission charging their own federation with gender discrimination regarding wages, bonuses and other compensation.
Twelve months later, the women were rewarded with a new contract calling for sizable increases in base pay and improved bonuses. The Danish and Australian women's teams, among others, have also campaigned for better treatment from their federations.
Rapinoe agrees with her coach that if FIFA was truly invested in the growth of women's soccer, as its leaders say they are, there would no need to even discuss VAR's inclusion in next summer's World Cup since it would already be there.
"If we don't have it," Rapinoe said, "it's just utter discrimination."
Press is more philosophical. Without addressing the issue of equality, she admits she's torn about the use of video replay for other reasons.
"Human error is a part of football. It always has been for me," she said. "But always striving toward excellence is good in theory. And how [VAR] played out in the World Cup, it went really well.
"Moving forward, that's probably going to be solution for the woman's game as well."
The U.S. begins play in World Cup qualifying Oct. 4 in Cary, N.C. The top three finishers in the eight-country tournament — which also includes Mexico — earn automatic World Cup berths, while the fourth-place team advances to a playoff against Argentina with another World Cup invitation at stake.
Podcast
Don't miss my weekly podcast on the Corner of the Galaxy site as co-host Josh Guesman and I discuss the Galaxy each Monday. You can listen to the most recent podcast here.
Schedules
All times Pacific
LAFC
Saturday vs. New England, 7:30 p.m., YouTube TV, Unimas KFTR 46
Sept. 22 vs. San Jose, 12:30 p.m., Univision
Sept. 29 at Chicago, 12:30 p.m., Univision
Oct. 6 at Colorado, 6 p.m., YouTube TV, Unimas KFTR 46
Oct. 18 vs. Houston, 7 p.m., YouTube TV, Unimas KFTR 46
Oct. 21 vs. Vancouver, 2 p.m., YouTube TV, Unimas KFTR 46
Oct. 28 at Sporting Kansas City, YouTube TV, Unimas KFTR 46
Galaxy
Saturday at Toronto, 4:30 p.m., Spectrum SN, Spectrum Deportes
Sept. 23 vs. Seattle, 4 p.m. FS1
Sept. 29 vs. Vancouver, 7 p.m., Spectrum SN, Spectrum Deportes
Oct. 6 at Sporting Kansas City, 5:30 p.m., Spectrum SN, Spectrum Deportes
Oct. 21 at Minnesota, TBD, Spectrum SN, Spectrum Deportes
Oct. 28 vs. Houston, 1:30 p.m., Spectrum SN, Spectrum Deportes
Until next time
Stay tuned for future newsletters. Subscribe here, and I'll come right to your inbox. Something else you'd like to see? Email me. Or follow me on Twitter @kbaxter11
---
All about the beautiful game
Go inside the L.A. pro soccer scene and beyond in Kevin Baxter's weekly newsletter.
You may occasionally receive promotional content from the Los Angeles Times.