Hello and welcome to this week's edition of the L.A. Times soccer newsletter. I'm Kevin Baxter, The Times' soccer writer.
We're seven weeks into the MLS season, and Southern California's two teams have lost just one game. Combined.
Together, the Galaxy and LAFC are 11-1-1, have outscored opponents 32-11, haven't given up a goal this month and have the two best players in the league in Zlatan Ibrahimovic and Carlos Vela.
And here's something else they have in common: After their latest victories last Saturday, both insisted they can only get better.
The Galaxy (5-1-0) beat Philadelphia 2-0 on a pair of first-half goals from Ibrahimovic, giving him six in four games, three of them game winners. Add in his assist and Ibrahimovic has had a hand in seven of the team's 11 scores this season. At 37, two years removed from reconstructive knee surgery and six weeks removed from an Achilles tendon strain, Ibrahimovic is making it look far too easy.
Yet he's far from satisfied. In fact, Ibrahimovic and many of his teammates were visibly angry after a poor second half in which they were arguably outplayed.
"First half was amazing. We had rhythm. We were aggressive. We had possession. We were direct," Ibrahimovic said. "Second half, we say it enough times, we [must] go out to kill, to score three or four and keep going. After two seconds, we almost conceded.
"Either everybody was not on the same side or we just relaxed and that cannot happen. When you go out and relax, you get punished, and when you get punished, it's difficult to come back, because remember last year when it happened." (Watch Ibrahimovic's latest game-winning goal here.)
Midfielder Jonathan dos Santos agreed.
"We have to improve in the second half," he said. "The team has to keep being aggressive, work defensively and offensively. We have to work on that minor detail."
But Dos Santos, who is playing under his third coach since joining the Galaxy less than two years ago, also accented the positive in the Galaxy's fast start under Guillermo Barros Schelotto.
"It's not easy starting the season with a new coach, new teammates and after the past two seasons where Galaxy wasn't in a place where we wanted," he said. "This is the Galaxy. We are demonstrating it now."
Philadelphia coach Jim Curtin certainly noticed. He team came in riding a three-game win streak and four-game unbeaten streak — yet they were never in the match.
"They played at a tempo that was faster than we've seen this season," he said of the Galaxy.
Not only have the Galaxy won their last four in a row, but they also haven't allowed a goal in 226 minutes.
Meanwhile, LAFC (6-0-1) has been even better, with only a road draw against New York City FC keeping it from a perfect start through seven games. The team's 21 goals are the most in MLS history through the first seven games of the season, and Vela's eight scores are as many as or more than the totals for 12 teams.
In addition the second-year team's 22-9-10 record through its first 41 games marks the fastest start since the 1998-99 Chicago Fire, who played in an era when games could not end in draws.
But the consensus in the LAFC locker room is that the team hasn't been good enough.
"We were all right. I don't think it was our best performance," defender Steven Beitashour said after last Saturday's 2-0 win over FC Cincinnati.
His coach was even stronger in his critique.
"I don't think we were as sharp as I'd like," Bob Bradley said. "The kind of football we want to play in terms of the quality of every pass, the timing, finding the right spaces. Some of those things still went up and down.
"Still a lot to work on."
As with the Galaxy, there's also a lot to be pleased about. The team has earned a league-leading 19 of a possible 21 points, has won four in a row, hasn't allowed a goal in three games and 325 minutes, and its five goals allowed are tied for fewest in MLS.
Then there's Vela, who is tops in both goals (eight) and assists (five). (Watch Vela's most recent goal and assist.)
"I'm trying to be a good leader and a good teammate," he said. "I'm trying to do it all in the right moment and in the right situation. So I'm pushing myself. I'm trying to be the best Carlos Vela possible, and I think I'm doing well.
"So I've started really well this season, but it's long. I have to keep working. I have to show something for my team every game. I hope we can have a great season."
They're certainly off to a great start.
Alumni watch
Remember Ola Kamara? He was the guy who was going to settle the Galaxy attack after being acquired in a trade with the Columbus Crew in January 2018.
Then the Galaxy signed Ibrahimovic two months later and gave him the target striker job, forcing Kamara to play out of position the rest of the season. He still scored 14 goals, but over the winter he told the Galaxy he wanted out, eventually arranging a $3.5-million transfer to Shenzhen of the Chinese Super League four days before the 2019 MLS season opened.
Kamara hasn't gotten off to good start in China, however: Five games into Shenzhen's season, he has yet to play a minute.
Here's a look at how some other notable Galaxy/LAFC alumni are doing:
Gyasi Zardes: The player the Galaxy traded for Kamara leads the Columbus Crew with three goals, including a game-winner, in six games. A career-high 19 goals in his first year in Columbus made him the MLS comeback player of the year.
Benny Feilhaber: The veteran midfielder, who led LAFC in appearances last season before leaving for Colorado as a free agent, has played all but 37 minutes for the Rapids this year, scoring two goals and adding a team-best two assists.
Bradford Jamieson IV: Jamieson made his Galaxy debut as a teenager and was the last remaining link to the 2014 MLS Cup team when he was lent to USL side San Antonio in February. Last Saturday he reminded the team what he can do, scoring his second goal of the season in a 2-0 win over Galaxy II.
Joao Pedro: The Galaxy signed the Portuguese midfielder to considerable fanfare in 2017, but injury and inconsistency limited him to 31 appearances over two seasons, leading to a February loan to Portugal's Tondela, for whom he has played in nine games — including six consecutive starts.
Laurent Ciman: LAFC's first captain left the team in midsummer for Dijon of France's Ligue 1, only to return to MLS with Toronto this season. He has started twice and picked up his first assist of the season in Saturday's loss at Seattle.
Ari Lassiter: A star with Galaxy II, where he averaged a goal every two games, Lassiter struggled in 25 appearances with the Galaxy and was released last year. In December he signed with Alajuelense, the Costa Rican club his father once played for, and has scored twice in 13 appearances.
Steven Gerrard: The former Liverpool and English national team captain finished his playing career with the Galaxy in 2016 before embarking on a coaching career this season with Rangers of the Scottish Premiership. With five games left on the schedule, Gerrard's team has a tight hold on second in the standings and the Europa League invitation that goes with that.
Landon Donovan: A six-time MLS champion, Donovan, 37, retired three times — twice with the Galaxy — before returning yet again this winter with the San Diego Sockers of the Major Arena Soccer League. In eight games he has five goals and 11 assists.
Jermaine Jones: Donovan's former teammate with the Galaxy and U.S. national team followed him to the MASL with Ontario, where he has scored 10 times and assisted on three other goals in five games.
Brian Rowe: The goalkeeper on the Galaxy's last playoff team, Rowe spent 2018 as a backup in Vancouver before winning the starting job this season for Orlando City, where he's made a league-high 24 saves while giving up 13 goals in seven games.
Ashley Cole: The former Galaxy captain was not re-signed for 2019, so he returned to England to play for former teammate Frank Lampard with Derby County of the second-tier Championship. Cole, 38, who has started the last two weeks, has played in eight games and picked up his first assist of the season last Saturday.
Jelle van Damme: Another former Galaxy defender and captain, Van Damme abruptly left the team in the middle of the disastrous 2017 season to return to his native Belgium and Royal Antwerp of the first division. Van Damme, 35, has made 28 appearances and scored one goal.
The underdog gets a bone
It won't affect the title race in La Liga. Nor is it likely to save Huesca from relegation. But when the tiny team from northern Spain played mighty Barcelona to a scoreless draw last Saturday, it struck a blow for every outclassed, outspent and overlooked team in European soccer.
Granted Barcelona played its first-even La Liga match in Huesca's 7,600-seat stadium without Lionel Messi, Luis Suarez and Gerard Pique — more about which later. But it still had the ball 75% of the game and made three times as many passes — yet Huesca held it to just two shots on goal.
And that makes the draw a huge victory for a team whose entire operating budget is $10 million less than Barcelona will pay Messi alone this season.
If you had never heard of Huesca — a city of 52,000 — or its soccer team before this season, you're hardly alone. Although the club's history dates back more than 100 years, it has never been very good, spending all but eight of the last 58 years playing in the third and fourth tiers of Spanish soccer.
It finally broke through last season, earning promotion to the country's top league for the first time.
"We never thought that we could reach the best division in the world, squeeze in with Barcelona or Madrid," team president Agustin Lasaosa, 60, who played with the team through some of its darkest years in the 1970s and '80s, told me in a phone interview. "This is a year to enjoy. The fans, our audience, have had a good time."
"For us," he continued, "it is a great experience because it has meant that Huesca, the team and its city, is known worldwide."
But the huge step up in class has brought with it a steep learning curve. After opening its first La Liga season with an August win over Eibar, Huesca didn't win again until January — a slide that included an 8-2 trashing at Barcelona.
Huesca has lost just six of its last 14, however, and with the tie against Barcelona it is unbeaten in April.
The team is unlikely to remain in the top tier though, needing to make up eight points on Celta Vigo in the final six games to avoid relegation. Which brings us back to Barcelona's decision to leave Messi and friends home from the trip to Huesca.
Yes, it's a smart decision. With the league title well in hand and the second leg of the Champions League quarterfinal with Manchester United on Tuesday, Ernesto Valverde's decision to rotate his squad against a weak foe in a meaningless game was both smart and obvious. But it also disrespected the laudable accomplishment of Huesca and the dedication of its fans, who deserved to see La Liga's top stars after waiting so long for a chance to play in the first division.
When Real Madrid visited in December, it played Sergio Ramos, Thibaut Courtois, Gareth Bale, Luka Modric and Karim Benzema before the biggest crowd of the year in Huesca, a still-modest 7,341. When Atletico Madrid played there in January, it brought Luis Hernandez and Antoine Griezmann.
But that's OK, Lasaosa says. Maybe Barcelona will bring its first team the next time it plays in Huesca — and despite the long odds, he's sure there will be a next time. It's already happened once, hasn't it?
"There is absolutely nobody, neither in the public opinion or in Spanish journalism, that has given Huesca up for dead," he said. "Huesca is still very alive."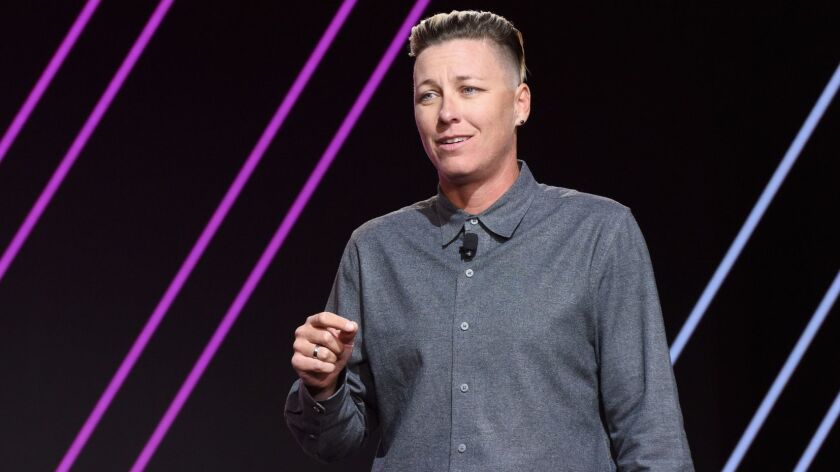 If at first you don't succeed ...
When she was a young player striving to make the U.S. national team, Abby Wambach looked at the players on that roster as goddesses who, she figured, hardly ever experienced defeat.
She soon discovered not only had that team — which included Mia Hamm, Julie Foudy, Brandi Chastain and Briana Scurry — been beaten, but it also used those failures as fuel to get better.
During a youth training camp in Chula Vista, a 16-year-old Wambach got a peek inside the senior team's locker room, and as she looked around she noticed a poster hung near the exit. The last thing the women saw on their way out to the practice each day was a picture of the Norwegian team celebrating its semifinal victory over the U.S. in the previous year's World Cup.
"I thought, 'Wow, that's weird,'" Wambach remembered in a recent phone call. "Why would they have this thing here to be the reminder of this really heartbreaking thing that happened to them? Then I realized that in order to play at the highest level and to keep reaching even when you do fall down, you have to be reminded of that failure.
"You can't be scared of taking the risk so much that you don't accomplish something. The most successful people in the world are the ones that, when they look back, they're not going to tell you all the times that they were successful. They're going to tell you all the times that they persevered, that they fell down and got back up. It was this very moment that allowed them to course-correct in certain ways."
A few days after the locker room visit, she got a chance to see how hot that fuel could burn when Michelle Akers, a World Cup champion, came over to scrimmage with Wambach's U-18 team.
"She realized her team was down by like four or five goals and [confronted] her own goalkeeper, who had the ball. Got like an inch from her face and she was like 'Give me the ... ball,'" Wambach said. "It was the first time in my life I had ever seen a person, let alone a woman, be so loud and assertive."
The frightened keeper gave the ball to Akers, who dribbled through the opposing team and scored. Then she did it again. And again. And again, until her team had the lead.
It was a meaningless practice game on a back field against players half her age. But Akers, fueled by a hatred of failure, refused to lose.
"I have never seen somebody step into their full power like that," Wambach said. "Even now I have times where my own power scares me a little. The best things in my life have happened when I've actually ventured off the path.
"I can demand what I want, but when I do, I've got to follow through. It doesn't mean you have to be successful every time. But you've got to follow through."
And it helps to keep a picture of the times you've failed.
Podcast
Don't miss my weekly podcast on the Corner of the Galaxy site as co-host Josh Guesman and I discuss the Galaxy each Monday. You can listen to the most recent podcast.
Until next time
Stay tuned for future newsletters. Subscribe here, and I'll come right to your inbox. Something else you'd like to see? Email me. Or follow me on Twitter: @kbaxter11.
---