U.S. undefeated in regulation play for 2016 after 5-0 win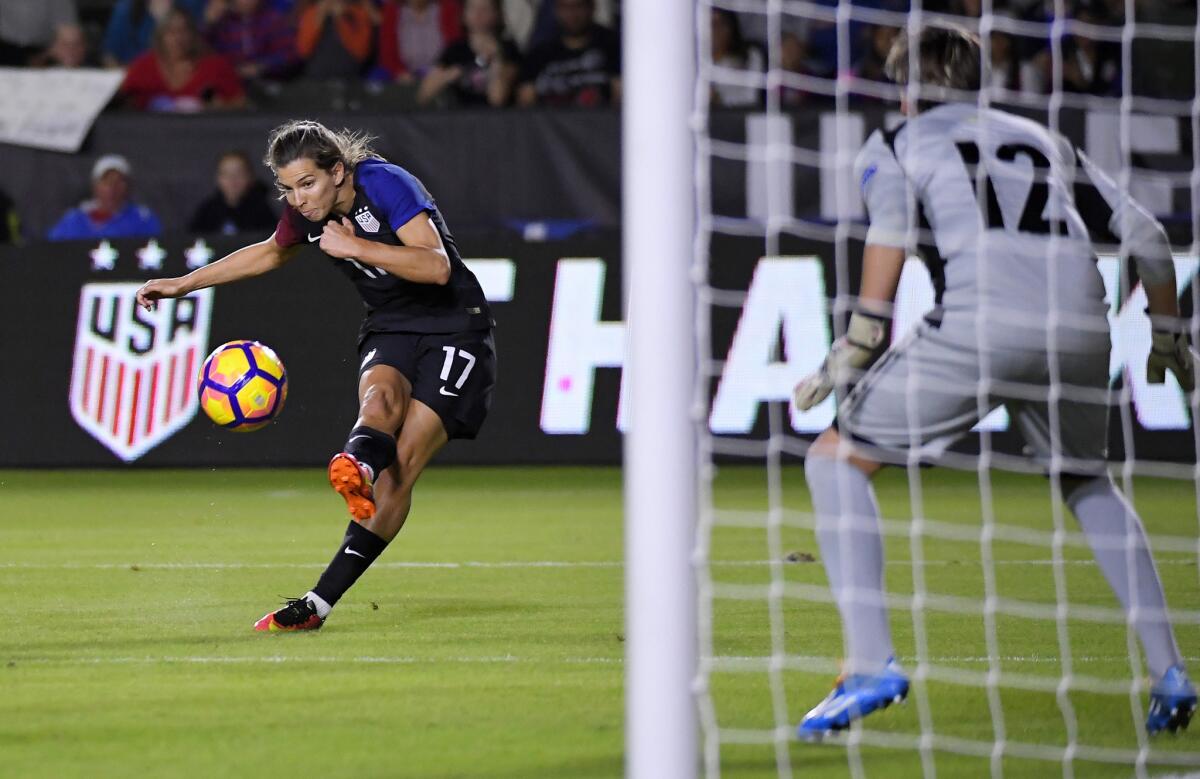 Reporting from CARSON —
It was an eventful year for the U.S. women's national team off the field, with Hope Solo's suspension after the Rio Olympics, lawsuits over the expiring collective bargaining agreement and Megan Rapinoe's protest during the national anthem dominating the headlines.
But in their final match of the year, the Americans offered a summary of how things played out on the field in equal parts fulfillment and disappointment, with Crystal Dunn, Christen Press, Morgan Brian and Samantha Mewis scoring to help the U.S. beat Romania 5-0 on Sunday night
The U.S. blistered Romania with 31 shots and did not allow a shot, but U.S. coach Jill Ellis was not happy with the team's wastefulness.
"I think we left a lot to be said," Ellis said.
The same could be said of a year in which the Americans went 22-0-3 in regulation play, scoring 92 goals and conceding 10, but failed to defend their Olympic gold medal after losing to Sweden on penalty kicks in the quarterfinals. Still, the U.S. ended on a largely positive note.
"I think we all reacted well to it and 2017 is going to be an intense year," Dunn said.
An own goal in the 20th minute opened the scoring for the U.S. when Dunn's cross was chested into the net by Teodora Meluta. Dunn scored her 14th goal this year in the first minute of first-half stoppage time, sprinting past two defenders to take a pass from Press and put a shot between Roxana Oprea's legs.
Press made it 3-0 in the 55th minute, connecting with Tobin Heath on a give-and-go and scoring for the fourth consecutive game. Press had a hat trick Thursday night in San Jose in the Americans' 8-1 victory over Romania.
Brian scored on a penalty kick in the 88th minute and Samantha Mewis added a goal in the first minute of additional time.
Rapinoe wasn't included on the U.S. roster for the second consecutive match.
Ellis is planning to hold camps for the national team and the Under-23s in January, operating on the assumption that they will be conducted under the current contractual structure. But Ellis did not know the status of negotiations between players and U.S. Soccer.
"I don't get involved in that," Ellis said. "That's between them and lawyers and all that good stuff."