World Cup in 1994 gave U.S. soccer the kick in the pants it needed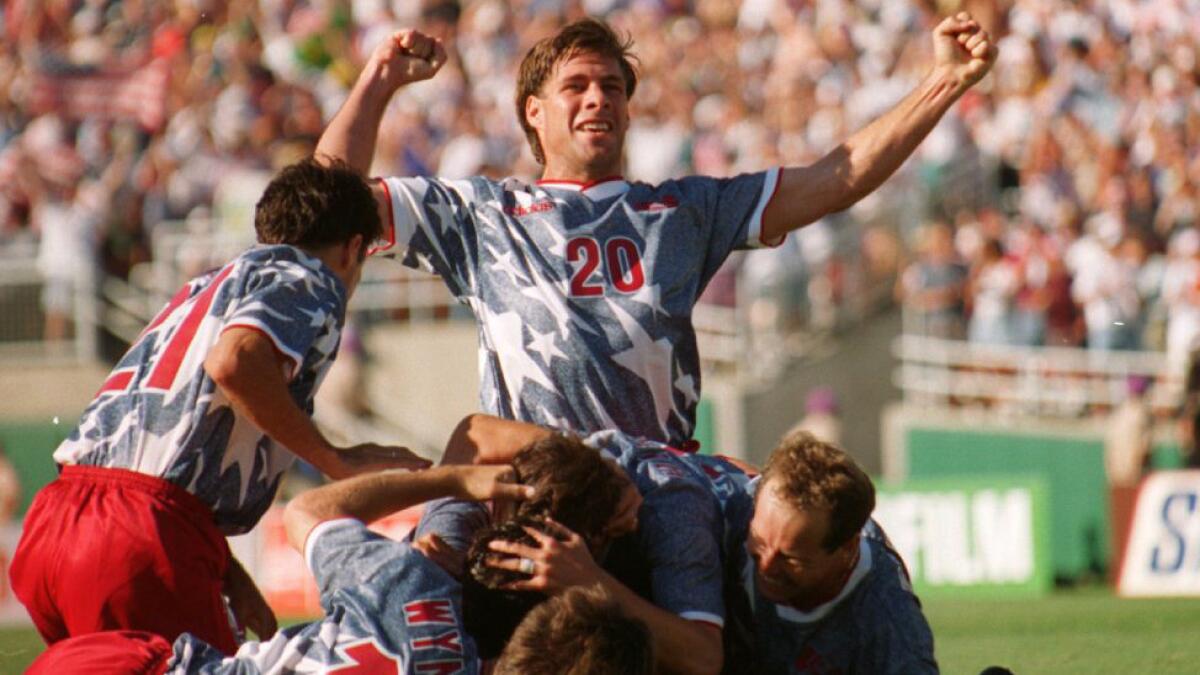 Reporting from Palo Alto —
Ask just about anyone on the U.S. soccer team for their earliest World Cup memories and chances are they'll point to 1994, the only time the tournament was held in this country.
Michael Bradley, then an impressionable 6-year-old living in New Jersey, remembers going to watch the Norwegian and Italian players train. Same with Chris Wondolowski, who peered through the holes in a fence to see Brazil practice at Buck Shaw Stadium in Santa Clara, where he now plays for the San Jose Earthquakes.
Graham Zusi, who was 7, was in the opening ceremony, racing around Chicago's Soldier Field with an inflatable soccer ball as Diana Ross sang. Later that same day a 5-year-old Omar Gonzalez made a career choice after taking part in pregame festivities at the Cotton Bowl in Dallas.
"It was a really special experience. And that's when I basically told my mom I wanted to be doing this one day," he said.
"To a man it definitely played a big impact on us," Wondolowski added. "And it definitely just opened our eyes to the game of soccer."
But the 1994 World Cup did more than just inspire a future national team. Twenty years later it remains the most transformative event in U.S. soccer history, one that rescued the national federation from bankruptcy, gave birth to a top-tier professional league and proved to doubting sponsors and a skeptical public that the sport could make it here.
"The development of the national team and the creation of Major League Soccer wouldn't have happened without the World Cup," Los Angeles lawyer Alan Rothenberg said. "The whole sport got elevated from what was essentially a hand-to-mouth grassroots operation to a well-funded, well-run professional organization."
Rothenberg should know. Not only was he president of U.S. Soccer and chairman of the World Cup committee in 1994, but he also founded MLS, fulfilling a pledge he made to FIFA when the U.S. won the vote to host the World Cup in 1988.
At the time the U.S. was a soccer backwater. Attempts at building a first-division league here had failed and the national team hadn't qualified for a World Cup since 1950. When it finally earned an invitation to the 1990 tournament two years later, its roster included two college students, three players from an indoor league and one who didn't have a team at all.
"When I took over, literally the federation was bankrupt," recalled Rothenberg, now in the National Soccer Hall of Fame. "None of our players could get contracts abroad."
Predictably the Americans were routed 5-1 in their opener, and eliminated a week later after losing all three of their games.
Then came 1994 and the most successful World Cup in history, one that drew a record 3.6 million spectators and a U.S.-record 11 million domestic TV viewers for a second-round game between Brazil and the U.S. And while Brazil stands to lose billions of dollars on its World Cup this summer, the 1994 event left behind a surplus, $50 million that funded the creation of the U.S. Soccer Foundation and has supported its mission to grow the game at the grassroots level.
Twenty years later, U.S. Soccer has gone from the brink of bankruptcy to annual revenues of more than $60 million while MLS, which began play with 10 teams in 1996, will start next season with 21 franchises and a new eight-year, $720-million TV deal.
And where once no foreign club would take a chance on a U.S. player, this spring more than 85 Americans were playing abroad.
"They got together," Rothenberg said of U.S. Soccer and MLS. "You're not going to have a top-notch national team unless you have a world-class professional league. Nobody's lost sight of that, including the leadership of MLS.
"By combining forces, both entities are much better than had they tried to do it separately."
There's no clearer example of that then this year's national team, which will go to Brazil ranked 14th in the world with a roster that includes 10 current MLS players.
In 2010, only four MLS players made the U.S. team.
"So yes, the 1994 World Cup was crucial in giving that opportunity, to not only [to] American kids but other people as well," said U.S. captain Clint Dempsey, who returned from England last summer to sign a four-year contract with the Seattle Sounders that will pay him a league-record $6.695 million this season. His first MLS contract in 2004 had a guaranteed salary of $40,625.
"It gives kids an opportunity to try to become professional in their own country," Dempsey said of a healthy MLS. "That's something that every kid dreams about. Being able to play a game that they love and then also being able to provide for their family."
Bradley, whose father coached the national team in the last World Cup, was making less than $36,000 when he left MLS for a 10-year playing tour in Europe. When he returned in January, he got $6.5 million to play with Toronto FC.
"The difference is night and day from when I left. In all ways," he said. "You have new clubs, new ownership groups. You have the media that pays so much more attention to the MLS. And we have fans that identify with teams and with clubs.
"So it's coming together very well."
With the national team as well. Once a laughingstock, the U.S. squad is now well-respected — and facing increased expectations as a result.
"The bar in the U.S. has been raised," said Roberto Abramowitz, the New York-based editor of Futbol Mundial magazine. "Cries of 'atta-boy' and 'good try' will no longer do."
Brazilian legend Pele, who tried and failed to help the sport gain a foothold in the U.S. when he played during the mid-1970s in the now-defunct North American Soccer League, agreed, saying the progress over the last 20 years has been impressive.
And that, to him, is both the legacy and the lesson of 1994.
"People should be careful," he warned. "Here in the United States today they play more soccer than they play in Brazil. It's important the American kids know that. Soccer is becoming very big in the United States.
"The base, with the kids, is more organized than Brazil, Argentina, Uruguay. No doubt."