Playing the hosts — and beating them — is a dream for U.S. women's soccer team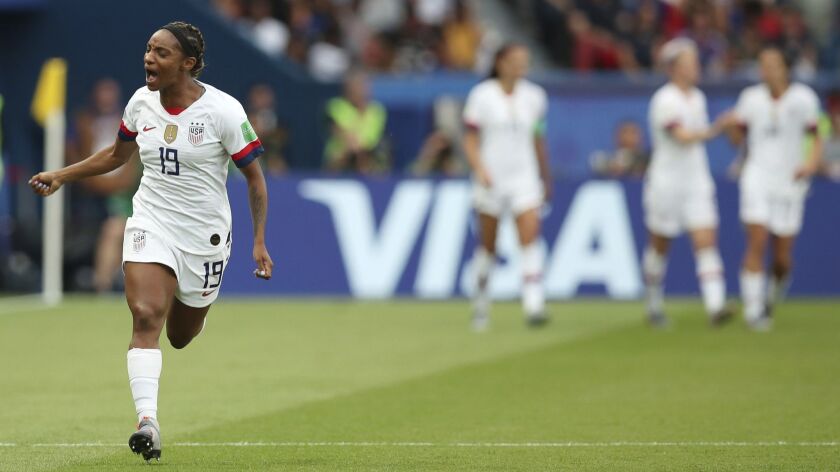 Reporting from paris —
The U.S. has two more games to win if it wants to repeat as Women's World Cup champions. But for many players, the title match will have to go some to match the sold-out quarterfinal Friday with France.
"Those are the games that you dream about playing in," goalkeeper Alyssa Naeher said. "A quarterfinal match against the host country, this is what it's all about."
Added forward Alex Morgan: "You couldn't ask for anything better. To play France in Paris in front of 46,000 fans, completely sold out. People talking and watching all around the world. It was pretty incredible.
"And then to come out on top? These are the moments that we live for."
The day before the match, tickets were listed for more than $11,000 on the secondary market. And the crowd that showed up gave France a huge hometown advantage.
"Our fans were amazing. They screamed their little hearts out," forward Megan Rapinoe, who scored both U.S. goals in the 2-1 win, said. "[But] they were no match for the Frenchies. It was unbelievable. Obviously there was so much energy in the stadium tonight."
Defender Becky Sauerbrunn wondered if playing at home might have hurt France. The U.S., in 1999, is the only country to have won a Women's World Cup that it hosted. In fact, it's the only team to get past the quarterfinals in a Women's World Cup it hosted.
"Hosting a World Cup puts pressure on a team," Sauerbrunn said. "The past few World Cups that I've been a part of, you see the host countries not make it as far as they would like.
"Tonight could have gone either way. France is an excellent side."
On the men's side only France, in 1998, has won a tournament at home since 1978.
'It is a failure'
French coach Corinne Diacre refused to make excuses, calling the loss a failure. Les Bleues came into the tournament with both high hopes and No. 4 world ranking, only to bow out of a major tournament in the quarterfinals for a sixth straight time.
But her team's five games were watched by more than 50 million people in France, which should count for something she said.
"Yes it is a failure from a footballing level. I don't think we should shy away from that," she said through an interpreter. "But I hope we have won the hearts and minds of the public. I hope it will help women's football going forward.
"I'm not trying to get off the hook here. I'm not making excuses. That's not what I'm about. But we came up against the United States in the quarterfinals."
France was bidding to become the first country to hold both the men's and women's World Cup titles at the same time. The French won their second men's world championship last summer in Russia.
Sign up for our weekly soccer newsletter »
Five of a kind
Midfielder Julie Ertz — she was Julie Johnston then — played in central defense for the U.S. team that won the Women's World Cup four years ago. And her ability to play both in the midfield and as a defender gives U.S. coach Jill Ellis a lot of flexibility.
Ellis took advantage of that Friday, moving Ertz to the back line to give the U.S. a five-player wall late in the game. It was a look Diacre said she had never seen from the U.S., although Ellis said it's one her team often practices.
"It's just seeing what the game gives you," Ertz said. "We take a lot of pride in having a lot of tools in our tool box. It gives us confidence going forward that if we need to switch and adapt, we can on the fly."
Etc.
With her two goals Friday and her four in two elimination-stage games, Megan Rapinoe has been directly involved in 14 goals in 16 appearances (eight goals, six assists) in her three Women's World Cups. And the U.S. hasn't lost game in which Rapinoe has scored since a 2014 game in Brazil. … The game Friday was Ellis' 125th as U.S. coach, breaking a tie with April Heinrichs for most in U.S. history. The win was the 100th of her career; the late Tony DiCicco had 105.
kevin.baxter@latimes.com | Twitter: @kbaxter11
---
All about the beautiful game
Go inside the L.A. pro soccer scene and beyond in Kevin Baxter's weekly newsletter.
You may occasionally receive promotional content from the Los Angeles Times.