Column: Tears of joy for Sebastian Lletget after leading U.S. to victory over Costa Rica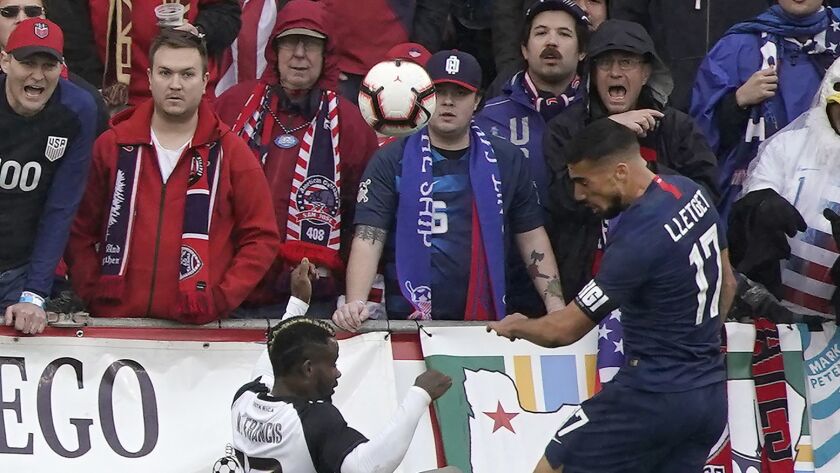 Reporting from SAN JOSE —
The U.S. national team played 28 games, changed coaches twice and missed a World Cup between Sebastian Lletget goals.
Lletget went through even more.
So after scoring the first goal and assisting on the second in a 2-0 win over Costa Rica on Saturday, Lletget stood at the center of Avaya Stadium's rain-soaked field and wept.
"It's just a sense of relief," said Lletget, who learned to play soccer at a park just a couple of miles from Avaya. "I'm a little overwhelmed at the moment. It's my hometown. My family is here. And everything that happened last time I was in this stadium."
Last time he was in this stadium Lletget scored what proved to be the winning goal in a World Cup qualifying victory over Honduras, then limped off the field minutes later with a foot fracture that would sideline him for a nearly a year – and nearly ended his career.
"People don't realize what it is for an athlete when you get injured like that," the Galaxy midfielder said. "It was really emotional. I didn't know if I was going to play again.
"I thought it was a sprain and then you go [to], 'OK, I don't know when you're going to walk.' I overcame a lot."
His coach knew that. So Gregg Berhalter presented Lletget with the game ball afterward.
His teammates understood what it meant, too.
"Just knowing how driven he is, not only to get on the field but to work his way back after the horrific injury, you couldn't be happier for a guy," Wil Trapp said.
The win marked a milestone for Berhalter, too. With Sunday's victory his young, inexperienced team concluded its first month under the new coach 2-0, just the third time in 10 years the U.S. has started a new year with two wins. And both of them were shutouts.
That's an exclamation point to Berhalter's effort to remake a U.S. team coming off its first World Cup qualifying failure in more than three decades.
Berhalter took over in December and opened his first training camp four weeks ago in Chula Vista, where the players stayed in dorms (two to a room), ate in a large dining hall where cell phones were banned, and basically spent every waking hour together, the first baby steps in an effort to team 28 individuals into a team.
"It's a work in progress," Berhalter said. "It's easy to talk about culture and chemistry, but we know it takes time. We know it takes a concerted effort to do things that bring the guys together, to create an environment where the guys enjoy being around.
"We feel like we made progress with this camp but we know there's a long ways to go."
Berhalter also introduced an ambitious new playing style and a heavy emphasis on analytics, making the camp challenging both mentally and physically for the all-MLS roster — which may be why some players literally skipped off the field after their final training session Friday.
How many of them will be invited back for Berhalter's next camp in March is uncertain. While some of the newcomers were impressive at times — including Chicago Fire forward Djordje Mihailovic and San Jose Earthquakes defender Nick Lima, who both played in their second game for the national team Saturday — they're likely to be pushed out by European-based players such as Christian Pulisic, John Brooks, Bobby Woods and Tyler Adams, who will be eligible for call-ups in the spring. That's something Berhalter and his staff accounted for in rolling out their new philosophy.
"When we're deciding about the specifics of our formation, the roles and responsibilities of each position, we had in mind the larger group," Berhalter said. "We took some of the higher-profile players into account."
Costa Rica, which played in the last two World Cups, a claim the U.S. can't make, is undergoing a transformation of its own under Argentine Gustavo Matosas, a former Leon and Club America manager. Gone is the team's patient, counter-attacking style, replaced by an aggressive, pressing approach similar to the one Berhalter favors.
And the roster Matosas introduced it to is as young and inexperienced as Berhalter's, featuring 11 players young than 25 and 18 with fewer than 10 international caps.
The teams played through an even if physical first half Sunday in which the U.S. had a slight advantage in possession but Costa Rica got off one more shot. So Berhalter made some adjustments at halftime, urging his team to be quicker and more aggressive, and they worked, with the U.S. dominating the second 45 minutes.
What they couldn't do is find the back of the net. Gyasi Zardes blew one chance when he lost the ball on his first touch in front of the goal, Cristian Roldan shanked a try at an open net high and wide to the left, and both Lima and Roldan bounced shots off the post.
All that frustration only made the script better for Lletget, 26, who nodded home a Jonathan Lewis cross across the penalty area with a well-timed header in the 80th minute to break the tie.
His timing on the second goal, eight minutes later, may have been even better.
The sequence started with keeper Zack Steffen booming a goal kick to midfield for LAFC striker Christian Ramirez, who headed it forward for streaking Lletget. With his first touch Lletget sent the ball into the path of Paul Arriola, who lifted it over Esteban Alvarado and into the net before toppling over the Costa Rican goalie.
After that Lletget, who wore a black armband in memory of former Galaxy coach Sigi Schmid, said he concentrated on getting off the field without another injury. So when the final whistle sounded, he couldn't hold back the tears — though he tried to hide them behind a towel.
"I'm really glad that I have another good memory to kind of overcome everything that happened," he said. "I couldn't have written it any better.
"But this is just the start for me."
Sign up for our daily sports newsletter »
kevin.baxter@latimes.com | Twitter: @kbaxter11
---
All about the beautiful game
Go inside the L.A. pro soccer scene and beyond in Kevin Baxter's weekly newsletter.
You may occasionally receive promotional content from the Los Angeles Times.